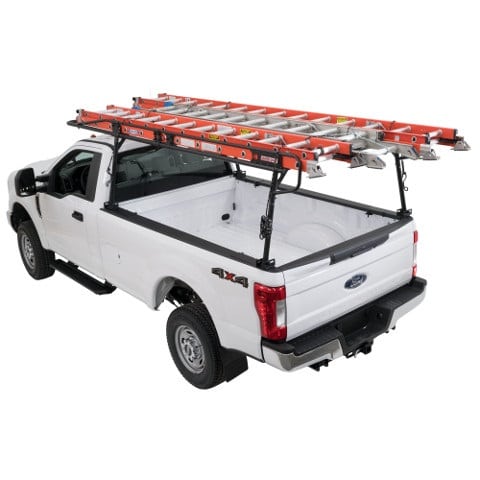 Weather Guard, a manufacturing leader in truck and van storage equipment, recently introduced at NTEA a redesigned truck rack with features that are pushing the boundaries for today's industry standard. The one-hour installation time and no-drill process will make the new Weather Guard Steel Truck Rack a top pick for professional contractors.
"Our new Steel Truck Rack offers additional security while helping our customers fully utilize their truck's capabilities — without the hassle," said, Karolina Lernacinska, associate product manager for Weather Guard truck equipment. "This product is a real game-changer for our industry and we are thrilled about what this truck rack offers our customers."
The new Weather Guard truck rack's universal design utilizes clamps, stake pockets and front leg adjustments in order to accommodate any full size truck bed. The new design includes an airfoil — which reduces drag — to increase driver safety and annoyance by cutting down on excessive noise. Users can now assemble the product before attaching the rack to their vehicle, which helps reduce the risk of damage, while creating a faster and easier installation process.
Weather Guard Compatibility, Durability and Fast Installation
The Weather Guard Steel Truck Rack maximizes tie down capabilities with four large top and bottom tie down hoops across the rack. With this enhancement, the rack is able to better secure loads up to 1,000 lbs. These tie points are spaced from front to the rear of the rack and give flexibility to add taller loads. The new Weather Guard rack is a three component system, including a cab protector screen and cross member bar, and is compatible with Weather Guard truck boxes.
Additional product highlights include:
● Durability: Matte black powder coat finish comes standard to ensure years of dependability.
● Compatibility: Professionals can continue using Weather Guard truck boxes without worry of fit, including hi-sides and lo-sides.
● Installation: It only takes 15 – 20 minutes to assemble and around 30 minutes to install on a truck –– all without using a drill.
● Accessories: Additional accessories also require no drilling and are easy to install.
The new Weather Guard Steel Truck Rack will be available through national distributors beginning in April 2018.