Thunder Creek Equipment recently introduced the industry's first combination diesel and diesel exhaust fluid (DEF) transfer tank for pickup trucks. This exclusive combo tank provides 100 gallons of diesel and 18 gallons of DEF capacity that fits seamlessly into the bed of pickup trucks (half-ton and larger — including goosenecks and fifth wheels) with both pumping systems concealed within its structure — no elements protrude from the tank. The sleek design ensures excellent rear visibility by taking up no more than half of the rear window.
"We know that many equipment owners are still in the early stages of determining the best way to handle DEF in the field," says Luke Van Wyk, national sales manager and owner, Thunder Creek Equipment. "This combination tank – which takes up a similar footprint as today's pickup truck tanks – provides owners with an efficient and contained way of transporting both diesel and DEF out to the field in a design they are familiar with."
The combo tank features a 100-gallon steel diesel tank, and an 18-gallon polyurethane DEF tank that can be substituted with a tank and pumping system for engine or hydraulic oil. Both fill nozzles (available in automatic or manual) are located on the driver side of the truck and extend out 10 feet from the tank.
An optional thermostatically controlled DEF heating system is available for use in northern climates that ensures that the temperature of the DEF tank, pumps and hoses doesn't dip below 25 degrees Fahrenheit. The 12V Webasto heating system is entirely self-contained and runs off diesel from the tank.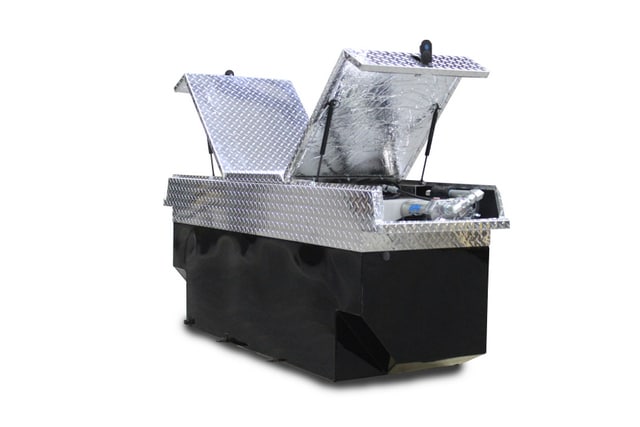 Diesel is pumped at 15 gallons per minute (GPM) via an industrial-grade 12V pump, while DEF is pumped at up to 10 GPM. Thunder Creek's proprietary 2-in-1 DEF pumping solution, which pumps DEF in and out of the tank via a closed system to ensure fluid quality, is also available as an option.
The entire transfer tank and all of its components are concealed within a lockable, weather-sealed enclosure, and comes with diamond plate aluminum doors as an option.
For more info on Thunder Creek, click this link. Really, what else are you doing?
Tags:
DEF
,
Thunder Creek
,
Thunder Creek Equipment