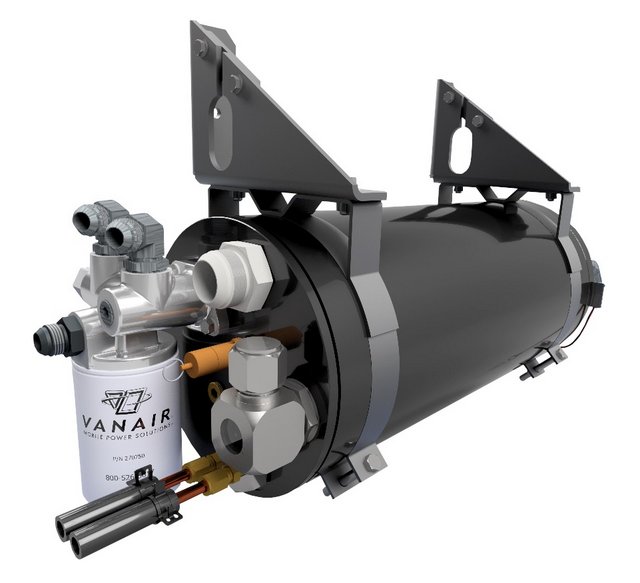 Vanair Manufacturing continues its long tradition of unveiling new innovations with plans to introduce a new, patent-pending Integrated Separator Tank at ICUEE 2019 in Louisville, Ky.
The new separator tank design features integrated manifolds containing a minimum pressure valve, thermo-valve, thermistors, transducers, pressure regulators, oil filter, ultrasonic oil level sensors, and optional cold-weather oil heater. It also features SAE O-Ring and JIC connections, virtually eliminating leak points associated with conventional galvanized pipe fitting designs. The Integrated Separator Tank is shipped fully assembled and ready for final mounting, which reduces installation time by approximately two hours. The result of these innovations is an impressive 60% plus reduction in leak points compared to competitive tank designs.
Another Vanair first is a new optional redundancy provision feature for thermistors and transducers. "Just like a sophisticated aircraft, this option provides backup if a fault exists on the primary transducer and thermistor," says Ralph Kokot, CEO of Vanair. "It virtually eliminates potential downtime due to failed primary transducers and thermistors, allowing for uninterrupted operation."
A cold-weather oil heater is an additional option Vanair offers on the Integrated Separator Tank. This feature preheats the compressor oil using engine coolant while driving to the job site. The benefits include increased oil flow in frigid temperatures while reducing emulsification in system.
The new Integrated Separator Tank will also feature a redesigned coalescing element with 50% greater surface media, doubling the design life up to 6000-hours. "The life of the coalescer will typically last beyond the vehicle life cycle, meaning most customers will NEVER have to change the element which equates to substantial cost savings over competitive designs," says Kokot.
"Vanair is always pursuing advanced engineering designs for increased reliability, durability and the lowest cost of ownership for those we seek to serve. These are the most advanced improvements in the tank design in our 48 years of history," adds Kokot. "Vanair ingenuity means lower operating cost, with greater dependability."
As the leading provider of mobile power solutions, Vanair Manufacturing offers a comprehensive line of vehicle-mounted air compressor, generator, welding, hydraulic, charging/boosting and engine starting equipment as well as customized solutions. Through innovative design, training and support, Vanair engineers rugged and dependable products to improve efficiency and productivity on jobsites worldwide. With over 70 standard commercial models, ranging from 10 CFM to 1500 CFM and available in multiple configurations, Vanair serves many industries including municipal, utility, railroad, mechanic and service, general construction, mining, and the Department of Defense.
For more info on Vanair, click this link. Hurry! Before it's too late!
Tags:
#ICUEE19
,
ICUEE
,
Vanair
,
Vanair Manufacturing