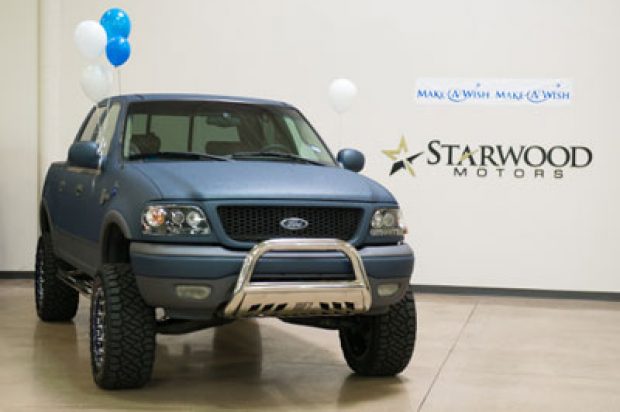 ARIES, Starwood Motors and Others Collaborate to Transform Ford F-150
ARIES Automotive, a fast-paced marketer and innovator of truck, Jeep, SUV and CUV accessories, is proud to announce its partnership with the Make-A-Wish Foundation in another exciting build project. This build was a collaboration with Starwood Motors and several other companies within the automotive aftermarket to turn one man's Ford F-150 into a dream truck.
The build started with a young man, Jordan Shrum, who merely wished for a new paint job on his 2001 Ford F-150 SuperCrew 4×4. The wish was granted by the North Texas Make-A-Wish Foundation, and after several discussions and an inspection of the vehicle, it was decided that the young man and the truck deserved much more.
Make-A-Wish reached out to several large aftermarket manufacturers to deliver far beyond a new paint job. With contributions and collaborative efforts from ARIES Automotive, Center Line Alloy Wheels, Fabtech Suspensions, Nitto Tire USA and others, the truck was given a new exterior finish, suspension components, leather interior, wheels, tires and several accessories.
ARIES Automotive was proud to donate one of our 3" bull bars #35-3004 with a polished 304 stainless steel construction, and a set of 3" round side bars #203009-2, featuring the same highly rust-resistant stainless steel construction and custom, non-skid step pads.
For more info on ARIES Automotive, click this link. We know you can do it.