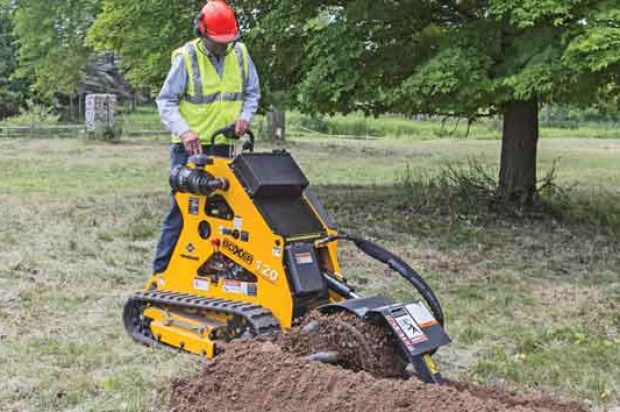 Favorite Unit: Boxer 120 Trencher
Available in two boom lengths, the Boxer 120 trencher is a dedicated, ride-on trenching unit, allowing increased visibility to the trencher and reduced operator fatigue. The unit is designed for hands-only operation — eliminating foot controls, cable or linkage adjustments. The 120 trencher features a planetary trencher drive with spring-loaded boom, packed with power to tackle the most demanding trenching projects.
Advice to Buyers
Dedicated trenching units are a useful tool designed to minimize the hand labor associated with installing irrigation lines or laying pipe, cable, drainage and more. The question often arises on when to purchase a dedicated trenching unit. Is it better to have a dedicated unit or purchase an attachment for a compact tool carrier? The answer depends on the application and the utilization of the equipment. A dedicated trenching unit is an excellent choice for professionals trenching on a regular basis as the machine is specifically designed to perform the task in terms of hydraulic output to the trencher and ground drive. Some important characteristics to consider when purchasing a dedicated trenching unit would be the ergonomics of the operational controls, looking for features like a planetary drive, spring loaded boom to absorb impact from rocks and tree roots, nose cone roller protection, chain options and output torque.