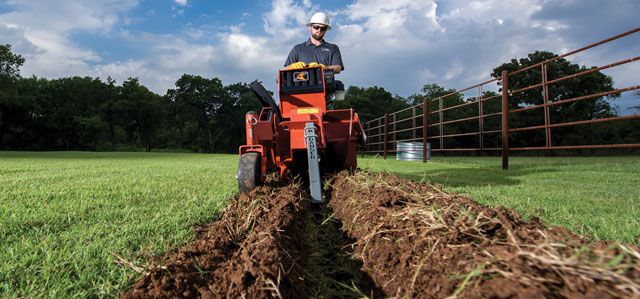 Walk-behind trenchers have been around long enough to have lost their novelty. When was the last time you saw someone laying open a trench with a spade? Yet the pedestrian trencher continues to evolve, and trend lines are not yet fully formed. Ditch Witch invented the market and the name sometimes still is a stand-in for any trencher. Yet the manufacturer has proprietary features that separate it from the pack. One is the exclusively short track-long track configuration. The patent-pending CX Track system has a shorter track on the left side to accommodate the auger that deposits trenched dirt alongside the moving machine.
"The shorter left track on CX models allows us to have tracks and still have a compact design," says Christopher Thompson, product manager for compact equipment at Ditch Witch. The system eliminated a trailing rear wheel and otherwise snugged features into a more maneuverable package. Three CX tracked models are powered by 16-, 24- or 31-hp gasoline engines.
"The C16X is by far the most popular model," Thompson says. "It is the right combination of power and size." The general market trend is for tracks instead of wheels, with some exceptions. The trend is partly attributable to the fact contractors increasingly rent walk-behind units, and tracked models are the ubiquitous choice for contractors. Ditch Witch walk-behind trenchers go out the door on tracks at least 85 percent of the time.
The company's newest walk-behind models, introduced a year ago, feature controls designed with operators in mind. "We made a concerted effort to focus on ergonomics, with hand lever controls that respond to hand pressure. They are much easier to operate if you're going to be trenching for a long time."
Vermeer has its own take on steering a trencher. Since 2008, Vermeer walk-behinds have been controlled by its patented VZ steering system. "It allows an operator to more intuitively guide the machine," says Matthew Hutchinson, product manager for tree care/rental and landscape at Vermeer. "An operator can guide it by just holding one lever for ground drive. You are not having to manipulate an extra handle at the control station to move the machine."
Operator safety is something the manufacturer is "very passionate" about, according to Hutchinson, a 20-year Vermeer employee. "Safety is a big concern to us. We put an extra level or two in safety considerations. By thinking through where we position steering handles, we try to ensure that operators can't get themselves entangled in the machinery. We make it so you have to hold the handle during operation so the operator is guarded by distance and can't get into the cutting part of the machine."
Of the three Vermeer walk-behind trenchers, the RTX250 is a 25-hp tracked unit with hydrostatic drive that can lay open an 8-in.-wide, 48-in.-deep trench. The RTX130 and RTX200 trenchers were released in 2016. The RTX250 is the largest and a dedicated track unit. The 200 and 130 were released to capture the growth in the lower horsepower segment of the market. They can be configured with tracks or tires.
Hutchinson sees a positive turn in the market for walk-behind trenchers.
"In the last three or four years, we've seen the market grow back to the 2007 level," he says. "Some of that is the walk-behind's lower acquisition cost for customers who just want a trencher."
Chains seem so old-school compared to newer technology. Hutchinson was asked if some new digging component is coming. "We can configure chains 20 different ways," he said, dismissing the idea. "We are always looking at new and better methods to remove soil in an efficient manner, but to date we haven't come up with a system more productive than the proven trencher chain."
Toro has been a bellwether in the walk-behind market in respect to tracks. From the early stages of product development, Toro recognized that tracks would enhance maneuverability regardless of terrain. Toro subsequently was the first to offer tracks on its walk-behind machines. Its current three models still move exclusively on tracks.
The brand has other calling cards. "We hear a lot from customers about our controls, how easy it is to learn to operate a Toro," says Sean O'Halloran, Toro marketing manager. The company has built on that attraction by offering a common operator control system across its product lines, decreasing learning time for people renting Toro machines. "People like that commonality."
Toro sales people also stress what O'Halloran calls "the whole package," that is, the lineup of attachments for its walk-behind trenchers. A return on investment is leveraged when a machine's versatility grows. "We hear back from customers about the other things that can be done with the trencher," he says. "The backhoe blade to fill in the trench. The boring attachment to run a wire under a sidewalk. The dedicated trailer for hauling away excess soil. We show the whole package."
As is the case with other manufacturers, gasoline is king with walk-behind Toro trenchers. Sixteen, 20 and 26-hp Kawasaki engines power the Toro lineup. O'Halloran says company engineers are always looking for ways to improve products, but customers aren't asking for alternative power options like batteries or diesel. "Trenchers require a lot of power. For that reason, hybrid technology currently isn't the right option. On the flip side, gasoline engines have proven to deliver ample power and are typically less expensive than their diesel counterparts."
Barreto Mfg. may not be a household name, but it is well known within the industry as an innovative West Coast maker of hydraulic walk-behind trenchers. In fact, the company built the first all-hydraulic wheeled trencher in 1995. Today it offers several walk-behind variations in horsepower ranges from 6 to 23 hp. Its product line also includes a unique machine introduced two years ago that has a detachable trencher head, which can be switched out for a blade.
What characterizes a Barreto trencher? "I would say reliability is what stands out most," says Tim Phelps, product manager. "We design our units with three things in mind — for the machine to be safe, simple and easy to work on. The machines need to be safe for the operator to run. They need to be simple to operate and understand. The components of the unit need to be easily accessible for maintenance or repair."
Barreto promotes itself as the "home of the best wheeled trenchers in the world." That seriously flies in the face of the industry's wholesale shift to tracked walk-behind trenchers, a trend attributed in large part to the rental industry's preference for tracks on trenchers. Barreto itself sells fully 95 percent of its trenchers to rental houses. Nonetheless, wheeled trenchers are the company's mainstay product.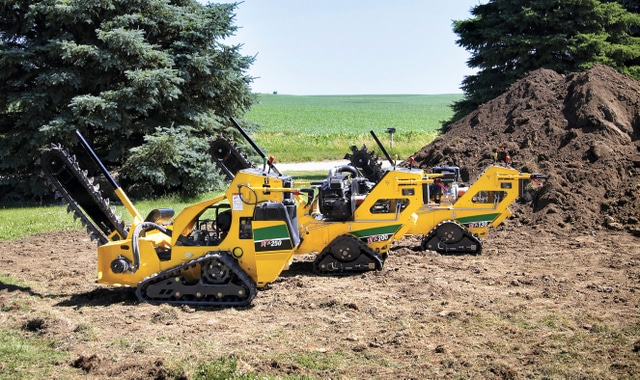 "We do sell a lot of tracked trenchers," Phelps says, "but they still don't outsell our wheeled units. Keep in mind we have three different wheeled units, and the 712MTH and 912HM models are very popular models." The two trenchers cited by Phelps are 6- and 9-hp units, respectively.
If that isn't enough market contrariness, Phelps says the company's most popular model is a ride-on trencher, the 20- or 23-hp RTK. So are ride-on models the next big market wave? "We feel that walk-behind trenchers will always have a market. We do see that our RTK stand-on unit has done very well, but we certainly don't think the entire market will change."
Giles Lambertson is a freelance writer for Compact Equipment.
---
Mini Trenching: The Kwik-Trench Provides Safe and Efficient Micro Trenches
Do you need a small and precise trench? Maybe consider Little Beaver's Kwik-Trench mini-trencher, offered in two models, the KT 200B and KT 2400B, both able to trench up to 30 ft per minute. A compact design paired with durable construction and components allows the Kwik-Trench to tackle a multitude of projects, including landscape edging, root pruning, as well as installations of plumbing and drainage lines, low-voltage wiring, silt fences and sprinkler systems. Featuring carbide-tipped teeth and a powerful drive system, the mini trencher cuts through tough surfaces such as compacted clay, road fill, asphalt and tree roots up to 10 in. thick. Featuring a triple V-belt drive system, the Kwik-Trench achieves rotation speed up to 800 rpm. Precise cutting depth is achieved with a manual crank, while each trencher's locking swivel wheel guides the unit, ensuring straight trenches. For more info, visit littlebeaver.com.
Tags:
Barreto Mfg
,
Ditch Witch
,
home
,
September 2017 Print Issue
,
Toro
,
Vermeer