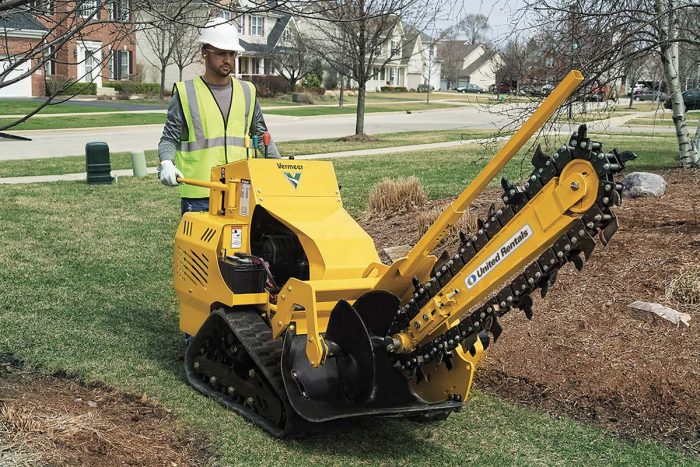 In terms of portability, operator training, ease of use and productivity, it's hard to beat a walk-behind trencher for many light urban, suburban and commercial excavation jobs. Because of these qualities, the machines have remained a steadfast tool in many contractors' work arsenals, popular as both owned and rental pieces of equipment.
The most interest in walk-behind trenchers comes from contractors working on drainage and irrigation applications, notes Kaitlyn Ingli, associate marketing manager, Toro. She says that walk-behind trenchers are the perfect size for creating the narrow, medium depth trenches contractors need when installing drainage lines or irrigation, which makes them particularly popular for these applications.
"For most landscapers and rental customers, smaller walk-behind trenchers have everything they need to accomplish small- to mid-duty trenching applications such as installing irrigation lines, landscape lighting, telecommunications cables, power lines and electric dog fences," Ingli adds. "Their smaller footprint allows the machine to fit into tight or hard to reach areas. Larger walk-behind trenchers are often used for large landscaping projects, trenching in hard-packed rocky ground, creating drainage ditches and installing sewer lines."

One obvious knock against walk-behind trenchers is that, in an age multi-purpose machine functionality, trenchers are designed to do a singular job, albeit very well. But, Ingli says, "While it is true that compact tool carriers can be leveraged to perform a multitude of different tasks on the jobsite, there's still an important place in the rental industry for dedicated machines — meaning a piece of machinery that was designed for one task alone and to perform that task with remarkable efficiency — in this case, trenching."
"Walk-behind trenchers are still a popular rental item, mainly because of what they're typically used for," says Josh Vrieze, product manager for Vermeer Environmental Solutions. "They're helpful for getting into tighter areas where a mini skid steer or a larger machine can't fit and are more accessible for people who may not do a lot of trenching. That is why that overall, the walk-behind trencher market has stayed steady the last five years."
Usually, Vrieze says, walk-behind trenchers are rented by irrigation professionals for their compact size. Sometimes general contractors or landscape professionals will rent them for one-off projects. But, he notes, that regardless of the application, they tend to be more common in southern climates where there's warmer weather for most of the year. "In northern climates, the trench has to be deeper to avoid frost, so usually those areas use stand-on trenchers to get that extra depth," he adds.
Digging Depth and Horsepower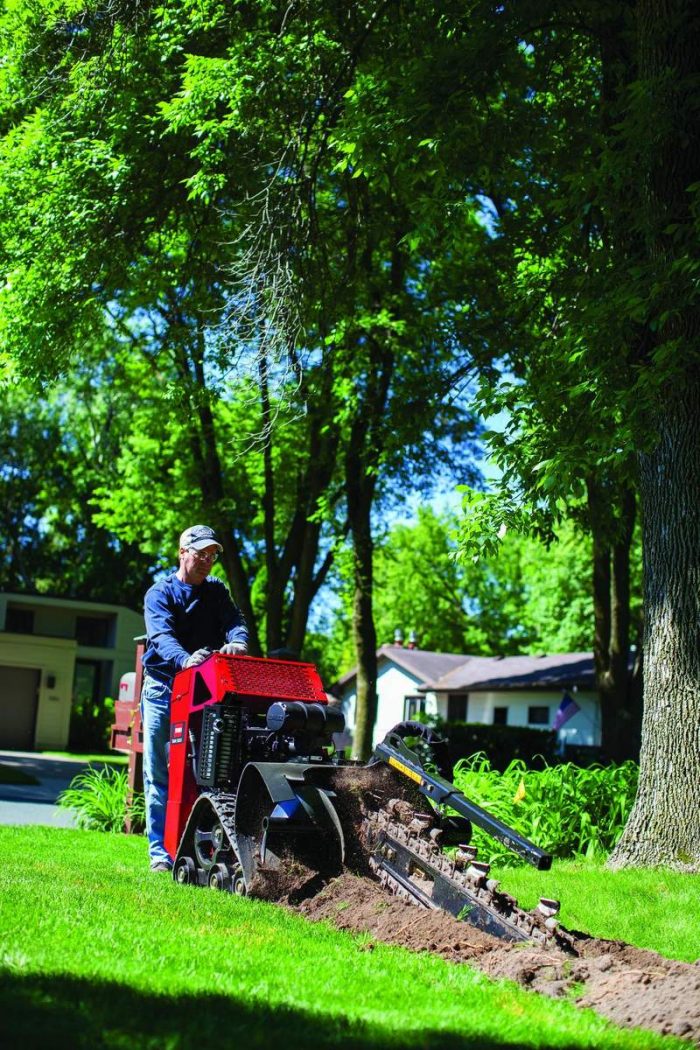 As with any piece of equipment, getting the right trencher depends on the job and conditions of the worksite at hand, says Albert Hernandez, branch manager, United Rentals. "Walk-behind trenchers are good for digging dirt for utility work like cable, telephones or pipes," he says. "They are designed to move soil so if the ground has roots to clear or other the terrain is rough, customers will opt for a ride-on trencher or machine with more horsepower."
To make a determination on a walk-behind trencher, Vrieze recommends first considering the job's conditions, particularly looking at how tight of a space they have to work with. "Then," he says, "they should consider the depth and width of the trench they want to dig and select the walk-behind trencher that's capable of performing the job well. That likely means looking at the size of engine and digging depth."
Once again, Vrieze cautions, this specification can depend heavily on what geographic region you're operating in, since those will be the primary concerns dictating what trencher chain configuration you'll need. "Most of the time, though," he says, "that's going to be a standard chain setup with a boom."
At this point, horsepower considerations come into play, Vrieze adds. "The most popular compact trencher sizes are usually those with 25-hp and a 36-in. boom," he notes. "For most irrigation jobs, it will get the job done, but it all depends on the desired speed. An irrigation professional may want extra horsepower to get the job done faster."
Compact track loaders are the most popular category of compact equipment in America. Learn why with loads of track loader features right here.
"All walk-behind trenchers have a specific trench depth," Hernandez adds. "But sometimes the trench soil falls back into the opening which can make it seem like the machine isn't digging to its full depth capacity. Ensuring customers have the right add-ons are important in scenarios like that. Trenchers come with an optional crumber, or trench cleaner, a helpful attachment that can remove spoils from the trench floor. Also be sure to use the right type of chain for the project at hand."
Toro also supports customers by providing a range of accessories that make jobs easier, according to Ingli. These include different chain types for specific needs, a backfill blade installed in less than a minute without tools, a trencher crumber to ensure a clean trench bottom and a bore drive head for simplified boring under sidewalks and driveways. There are also custom trailers for easy transport, some with built-in securing systems with no straps or tie-downs needed.
Operator comfort is a hallmark of all Toro equipment, including walk-behind trenchers," Ingli adds. "Toro walk-behind trenchers include differentiated traction controls that are easy to learn and use, including our TRX trencher valve handle and boom lift lever, as well as independent traction control for the left and right track. The hydraulic valve enhancement on boom lifts ensures that the boom moves up and down smoothly."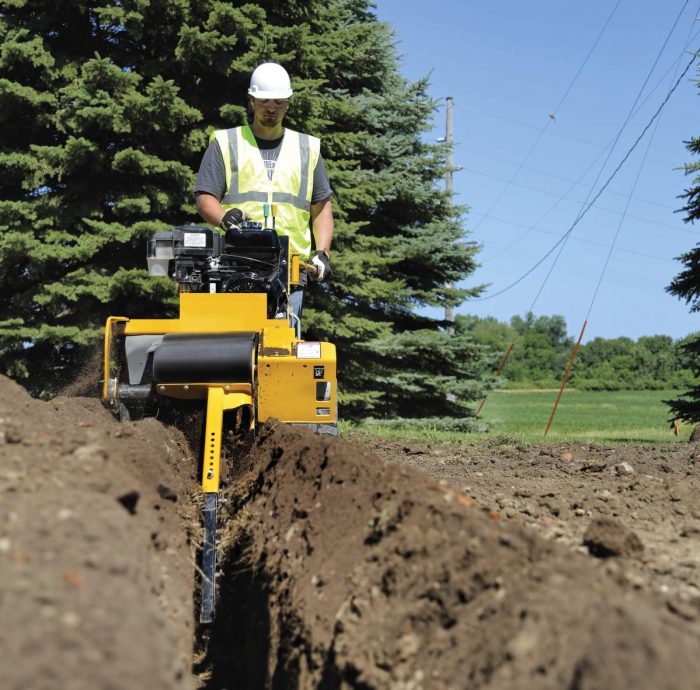 Ingli also touts Toro's Intelli-Trench technology, an innovation that she says optimizes the machine's hydraulic flow for the digging conditions, automatically diverts the hydraulic flow from the traction motors, providing more power for the trencher head. "Using this system, the traction handle can be held in one place without requiring constant adjustment, reducing operator fatigue and optimizing performance," she explains. "In addition, the Intelli-Trench feature decreases track wear and maintains engine rpm for efficient engine cooling."
Vermeer also offers its trencher models with dedicated trailers for easy transport, Vrieze says, adding that it is always important for potential renters to work through logistical details with the rental store ahead of time.
"That said," he notes, "Walk-behind trenchers are simple to load onto any trailer and can be secured with chains and tie-down straps. Many rental stores can also deliver the unit to the customer for an additional fee. Another option to consider is the dedicated trailer that is designed specifically for transporting trenchers. These trailers come standard with a built-in securing system, which eliminates the need for straps or tie downs. Some rental centers may rent the trailer and the trencher together, depending on availability, for simple, worry-free transport."
With intuitive, easy-to-use controls, it doesn't really matter if you're the most novice do-it-yourself weekend warrior, a landscape contractor with moderate knowledge of walk-behind trenchers or the most seasoned utility contractor. Walk-behind trenchers are simple to understand, easy to use and produce fast results. It's a simple formula for success. But one that contractors have come to rely on for fast, safe and low-cost trenching jobs.
"Renters that are looking at walk-behind trenchers should always consider the jobsite before selecting their machine. Each site varies in its soil conditions, obstacles, ideal trench size and timeline constraints, so renters should weigh all of those factors when deciding which machine is best," said Brant Kukuk, compact equipment product marketing manager at Ditch Witch. "They should consider the same factors when determining their chain, tooth and sprocket (CTS) system. While the standard utility tooth is a cup tooth, most dealers also offer the durable shark tooth for tough or frozen soils or a rotating-edge alligator tooth for rocky conditions."
What if You're Renting a Trencher?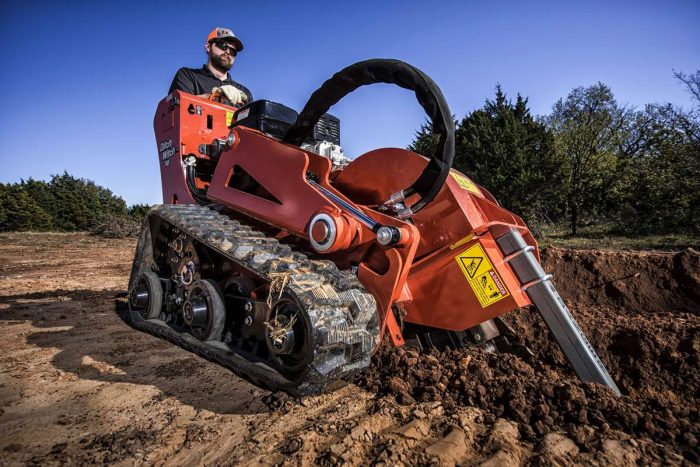 Hernandez says that walk-behind trenchers have remained a consistently popular rental machine for a variety of small excavation jobs — from do-it-yourself homeowners to contractors needing to knock out a quick excavation job on lawns or in tightly confined working spaces. To help out occasional trencher rentals, Hernandez says a Texas United Rental location has worked out a list of questions and considers its staff asks customers calling about renting walk-behind trenchers, to help match them with the best possible machine to get their job done quickly.
"First off, we ask them what type of soil they will be trenching in, and how long of a trench do they need to cut," he says. "And there are a couple of reasons for these questions. First off, these machines normally work best in regular soil and struggle to trench in rocky environments. If you have rocky soil, maybe we should consider using a rock saw machine instead of this trencher?"
Trench length is also an often misunderstand operational demand, Hernandez says. "If a customer has a need to trench down to 12 in., but wants to do a half of mile trench, then that's going to be a problem. Because technically this machine can do that job, but it will take a long time. So perhaps a ride-on trencher will be more suitable from a time perspective."
If the branch staff determines that a walk-behind unit is the best fit for the customer, then a few follow-up questions are in order:
These machines come with 4-in. cutting width teeth. Will that work for you?
Do you have your own trailer or vehicle that can tow a trailer with this machine?
Will the customer need a trailer or a way to transport the machine?
Do you have the proper PPE and are you aware of the proper safety procedures to safely operate this machine?
Finally, Hernandez says, the staff stresses that customers should make sure to follow the necessary safety procedures and wear proper PPE as well as advising the customer to read the operator's manual and consult an equipment specialist for safety and use considerations before beginning operation. Finally, he says, it is crucial to call 811 before you dig to make sure you're not trenching into city gas lines, water lines or electrical cables.
Jack Roberts is a freelance writer for Compact Equipment. Tags: Ditch Witch, Toro, United Rentals, Vermeer, Vermeer Environmental Solutions