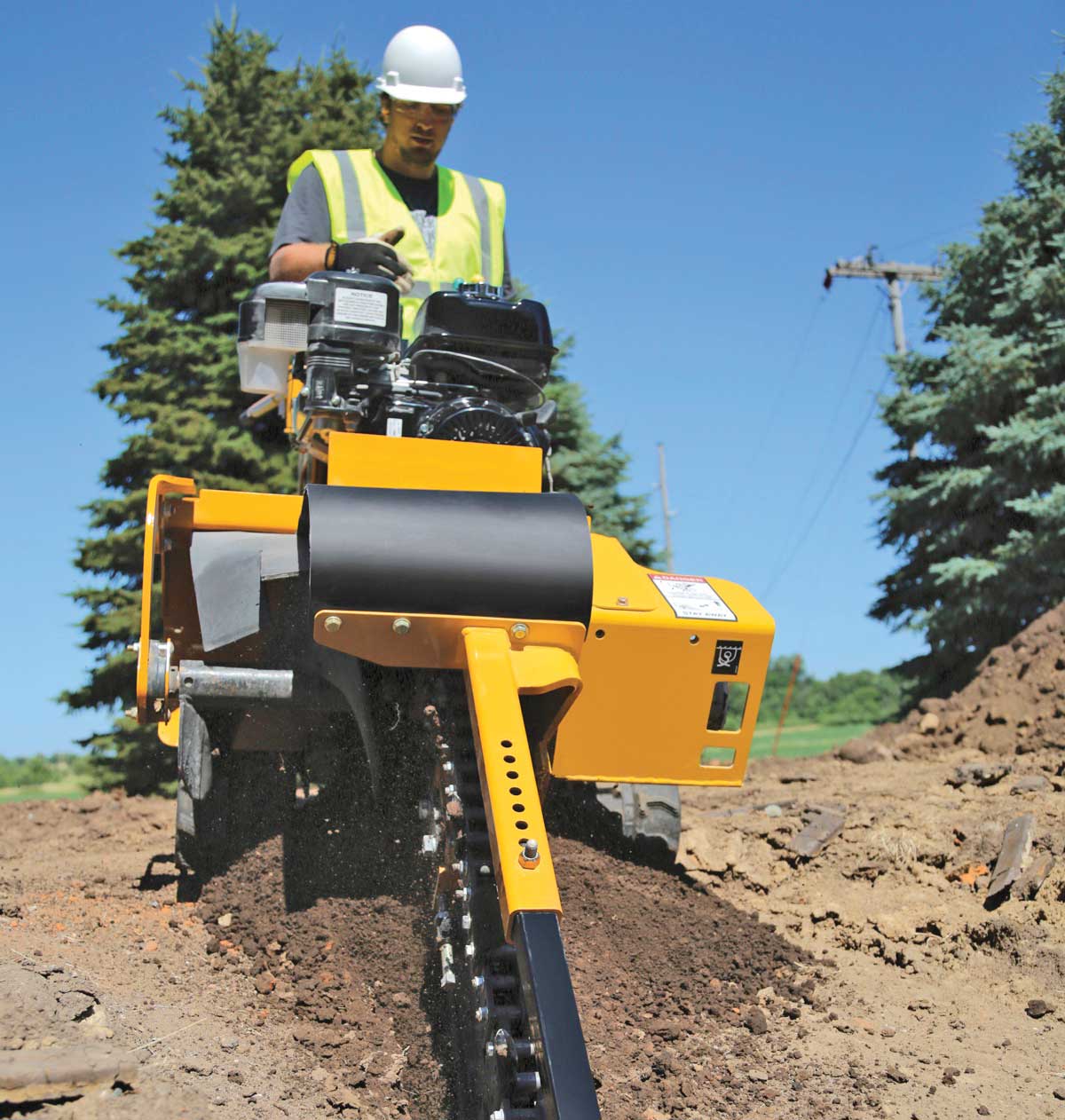 Walk-behind trenchers are a popular choice for contractors who perform small- to mid-duty trenching applications. Think tasks such as installing irrigation lines, landscape lighting, telecommunications cables, etc. These machines are easy to transport, learn and use — making them great options for novice operators, renters and crews that perform excavation jobs. Want to know more about walk-behind trenchers? Check out Vermeer's product line below.
Three Pedestrian Models to Diversify Your Operations
The first Vermeer trencher was introduced in the 1960s. Today's trencher lineup includes pedestrian models, ride-on tractors for utility work (ranging from 46.8 to 127 hp) and large, heavy-duty track machines from 185 to 600 hp for cutting through rock and difficult soils. The line also includes vibratory plow models, and many utility-sized tractor models can be outfitted with interchangeable attachments, including trenchers, vibratory plows and utility backhoes.
Vermeer offers three different pedestrian trencher models — the 13-hp RTX130, 20-hp RTX200 and 25-hp RTX250. Vermeer pedestrian trenchers feature an intuitive design with an industry-exclusive VZ steering that allows ease of movement through difficult ground conditions.
The Vermeer RTX130 pedestrian trencher has a 13-hp Honda gas engine and is typically paired with a 24- to 30-in. trenching boom to optimize efficiency. The more powerful RTX200 offers a 20-hp Kohler gas engine and can be paired with a larger 30- to 36-in. trenching boom.
The Vermeer RTX250 pedestrian trencher is a compact, powerful machine that provides 25 hp in a slender profile, allowing the unit to move through narrow gates and navigate an array of residential jobsites. The gas-powered, air-cooled engine powers a hydrostatic ground drive system with rubber tracks that help provide strong traction, even in wet, soft or rocky conditions.

Advice for Buyers
"Adding a dedicated trencher or compact utility loader with a trencher attachment is an excellent way for landscape contractors to diversify their services with irrigation and shallow utility installation work," says Matt Hutchinson, Vermeer product manager for tree care, rental and landscape. "A trencher is a great fit if a contractor only needs to trench or requires a machine that can fit in tight spaces. Don't get confused by the term 'dedicated' though — many dedicated trenchers can also be outfitted with backfill blades for filling a trench back in and hydraulic boring attachments for going under hard surfaces. For contractors looking to do more than just trench, adding a compact utility loader and trencher attachment may be a better route to go. The right setup will deliver a similar performance as a dedicated machine, but the ability to add several other attachments opens up the possibility to expand into other areas as well."