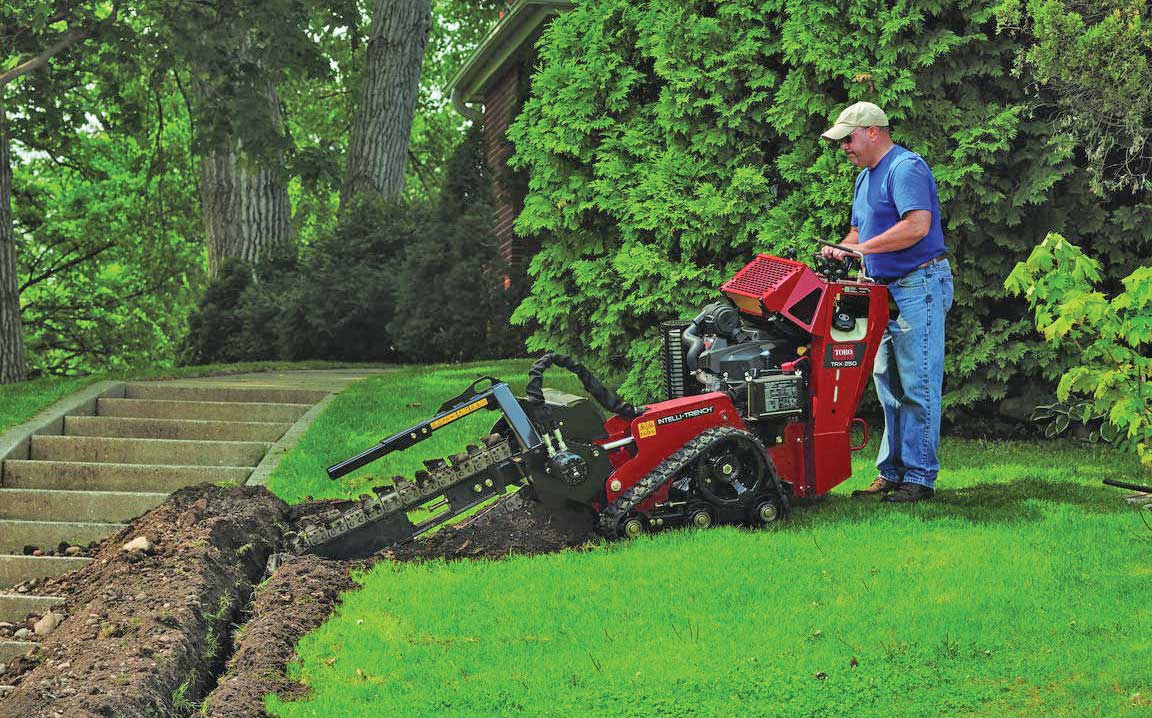 Walk-behind trenchers are a popular choice for contractors who perform small- to mid-duty trenching applications. Think tasks such as installing irrigation lines, landscape lighting, telecommunications cables, etc. These machines are easy to transport, learn and use — making them great options for novice operators, renters and crews that perform excavation jobs. Want to know more about walk-behind trenchers? Check out Toro's product line below.
Trenchers Designed with More Than Two Decades of Expertise
Toro's versatile walk-behind trenchers have been relied on by contractors for more than two decades. Durability, reliability and simple-to-use controls — features that are engineered into every single Toro TRX trencher — set the lineup apart.
Toro's line of TRX walk-behind trenchers includes the TRX-16, TRX-250 and TRX-300. The TRX-16 features a 14.5-hp Kawasaki twin-cylinder engine and has a maximum forward speed of 3.1 mph. The TRX-250 is equipped with a 24.5-hp Toro engine and offers a maximum forward speed of 2.4 mph. The TRX-300 has a 26.5-hp Kohler EFI engine and has a maximum forward speed of 2.3 mph. Both the TRX-250 and TRX-300 models are 82.5 in. long, 33.8 in. wide and 46 in. tall, with a ground clearance of 4.3 in. and a fuel capacity of 4.8 gal.
The TRX-250 and TRX-300 feature exclusive Intelli-Trench technology, a Toro innovation that optimizes the machine's hydraulic flow for the digging conditions and automatically diverts the hydraulic flow from the traction motors, providing more power for the trencher head. As a result, the traction handle can be held in one place without requiring constant adjustment, reducing operator fatigue and optimizing performance. In addition, the Intelli-Trench feature decreases track wear and maintains engine rpm for efficient engine cooling.
Toro walk-behind trenchers also include differentiated traction controls that are easy to learn and use. Operators appreciate Toro's easy-to-use TRX trencher valve handle and boom lift lever, as well as independent traction control for the left and right track. The hydraulic valve enhancement on boom lifts ensures that the boom moves up and down smoothly.
Toro supports customers by providing a range of accessories that make jobs easier. These include the different chain types for specific needs, a backfill blade installed in less than a minute without tools, a trencher crumber to ensure a clean trench bottom, a bore drive head for simplified boring under sidewalks and driveways and custom trailers for easy transport.

Advice to Buyers
"Anyone purchasing a walk-behind trencher should look for versatility, reliability and easy-to-understand controls, regardless of the application," says Kaitlyn Ingli, associate marketing manager at Toro. "Ease of operation saves time and money by letting the operator get right to work. Independent traction control for the left and right tracks eases maneuverability, and the boom lift should have hydraulic enhancements to ensure smooth operation. These features not only help maintain trenching control and accuracy but also reduce operator fatigue."