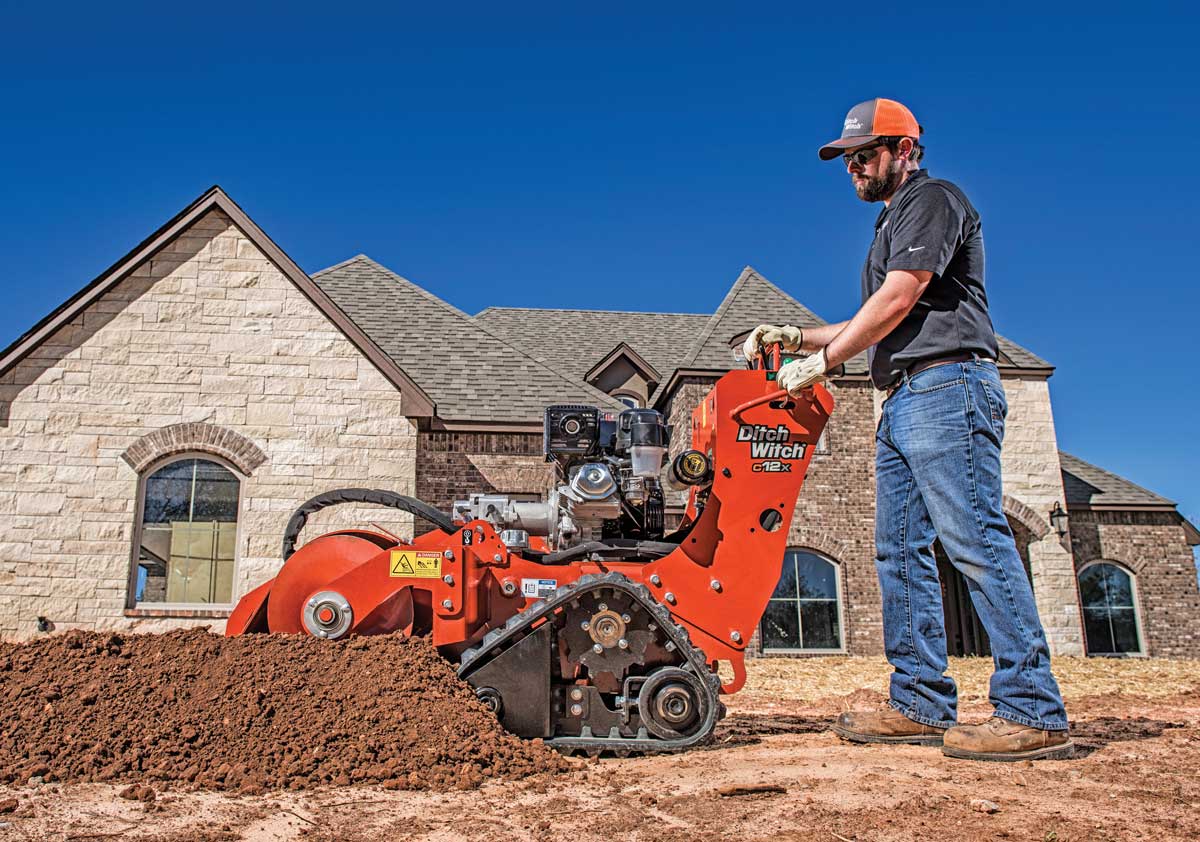 Walk-behind trenchers are a popular choice for contractors who perform small- to mid-duty trenching applications. Think tasks such as installing irrigation lines, landscape lighting, telecommunications cables, etc. These machines are easy to transport, learn and use — making them great options for novice operators, renters and crews that perform excavation jobs. Want to know more about walk-behind trenchers? Check out Ditch Witch's product line below.
Five Walk-Behind Machines to Maximize Trenching Efficiency
After realizing that there was no equipment to assist workers in installing residential utilities, Ditch Witch founder Ed Malzahn created the world's first utility trencher in 1949, the Model DWP Service Line Trencher. The Model DWP Service Line Trencher has twice been named as one of the 100 best products manufactured in the United States. Ed Malzahn's innovation paved the way for trenchers across the underground construction industry. For over 70 years, Ditch Witch has been the leader in the trencher market. Today, the Ditch Witch Division designs, manufactures and markets the most complete line of trenchers, which includes five walk-behind models, the C14, C12X, C16X, C24X and C30X.
The C14 walk-behind trenchers feature an exclusive, offset rear-tire design that delivers balanced traction and stability for increased production. The unit is equipped with a 13.5-hp Briggs and Stratton engine and offers up to 24 in. of digging depth, helping contractors increase productivity.
Exclusive to Ditch Witch, the CX-Series trenchers are equipped with the new patented CX Track system. The design includes a shorter left track and longer right track, allowing better traction and a shorter overall length for superior maneuverability in tight spaces. The CX-Series trenchers share a common, compact frame of 35.8 in. wide.
With its 12-hp Honda engine and 24 in. of trenching depth capability, the C12X delivers the power and efficiency needed to maximize performance on any jobsite. Operators can rely on its ability to handle tasks that require heavy-duty power with up to 1,360 lbs of operating weight.
The C16X features a 16-hp Briggs and Stratton engine for increased reliability and productivity for efficient installation of pipe and cable. The unit features an operating weight of 1,895 lbs and a 36-in. trench depth, helping operators tackle tough jobsite conditions.
The newest addition to the Ditch Witch walk-behind trencher lineup is the C24X. The unit boasts a 24-hp Honda engine that is fuel-injected to improve performance and reduce maintenance frequency. The C24X offers the ability to create a trench depth of 36 in. and features an operating weight of 1,915 lbs.
The C30X is the most powerful walk-behind trencher offered by Ditch Witch. The machine features a 31-hp Briggs and Stratton engine, up to 48 in. of digging depth and 2,100 lbs of operating weight for efficient installation of pipe and cable on even the most challenging jobsites.

Advice to Buyers
"Obstacles such as landscaping settings, residential streets and fences can complicate a trencher job, but with its compact design and maneuverability, walk-behind trenchers keep operators nimble enough to avoid those obstacles and increase jobsite efficiency," says Brant Kukuk, compact equipment product manager at Ditch Witch. "When looking to buy or rent a walk-behind trencher, it's important for an operator to consider the jobsite and project tasks. This includes soil conditions, obstacles and the specifications of the project at hand."
For reprint and licensing requests for this article, please click here.