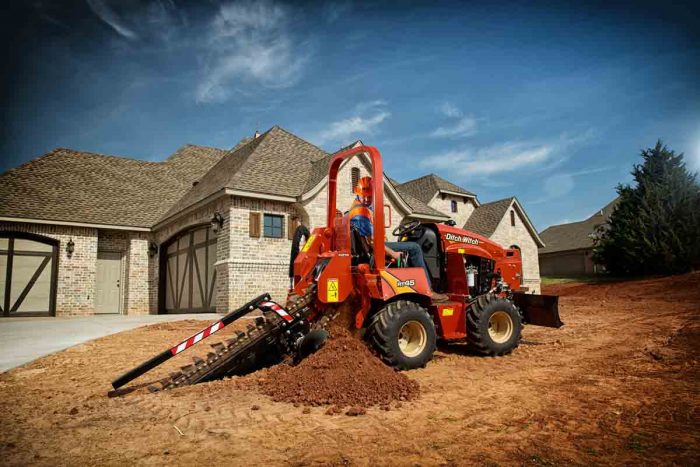 Ride-on trenchers have been a staple of the underground construction industry since Ed Malzahn invented the world's first trencher – the DWP Service Line Trencher – in 1949. In the 70 years since the ground-breaking trencher was introduced, the technology and efficiency of ride-on trenchers has become even more cutting edge. The crux of the machine segment hasn't changed though – when you need a quick, deep cut for utility installation, a ride-on trencher is your best bet.
But how do you decide which trencher is the best option for your operation? Afterall, the DWP Service Line Trencher isn't the only option on the market anymore. And even more, once you settle on a machine, how do you decide whether you should rent or purchase it?
Well, first it's important to understand the trenching options on the market. Modern trenchers are available in a variety of sizes to meet different jobsite needs, however, across the board they're being designed for more horsepower, increased operator ease and a higher level of versatility. Specifically, today's ride-on trenchers are being designed to combat the high demand for work – and the small crews created from the workforce shortage – that underground professionals are facing every day. Once you understand your options, you can start thinking about which machine is best for your operation.
Look at Your Operation
The first step in buying or renting a ride-on trencher is to look at your operation and your needs as an underground professional. What applications do you typically install? How many crew members do you have? How often will you plan to use this machine? The answers to these questions will not only narrow down the wide selection of available trenchers, but also will be a primary determining factor in whether you should rent or buy a machine.
The most important question of the bunch is the first one. The type of utility that you typically install is a key choice in the type of trencher you need. If you typically only install 4-in. pipes, then a more compact, ride-on trencher would be a good option. However, if you're installing or planning to expand your operation to include the installation of sewer or water lines, those can be 8- or 12-in. pipe and will require a larger ride-on trencher. So before you invest in a ride-on trencher, make sure you understand what you will be installing with it. The size of your crew is another factor to consider. If you have a smaller crew, it may be a good idea to invest in a trencher with more horsepower to improve jobsite efficiency. It also would be a good idea to consider a machine with less daily maintenance, to limit crew members downtime.
How often you will use your ride-on trencher is not as much a factor in which machine you should invest in, but whether you should purchase or rent the machine. Some contractors are just looking to install pipe on a specific job and they will only use their trencher for that job and not use it consistently afterward. If you fit into that camp, renting a trencher is the best investment. However, if you will be consistently using a trencher for your business and you'll be installing miles and miles of pipe, then buying a trencher is a better option. Understanding how often a trencher will be used and for what purpose will help you get the most ROI out of your machine.
Understand Your Jobsite
After looking internally at your operation, it's important to look externally at the jobsites that you'll be working on. This will not only narrow down which specific trencher you should invest in, but also will help you determine what other parts of a trencher are important to consider. If you're looking to rent a machine, look at the specific jobsite you'll be working on. If you're looking to purchase a ride-on trencher, then consider the typical jobsite that you work in.
First look at jobsite obstacles. Does your actual or typical jobsite have any hazards that need to be avoided, such as existing landscaping or fence gates? If your jobsite does have these types of hazards, then you should consider a machine with better visibility and operator control to assist in avoiding those hazards.
Another jobsite aspect to consider is the ground conditions. Contractors facing difficult or rocky ground conditions should be sure to look at a ride-on trencher with more horsepower to cut through the tough soil. If you're facing difficult ground conditions, you should also be sure to discuss chain, teeth and sprocket (CTS) systems with your dealer or rental yard. Most ride-on trenchers come equipped with a standard, cup tooth chain. When working in rocky conditions, however, an alligator or shark tooth chain may be more efficient.
It's also important to consider operator comfort, particularly if your job will require long stretches of trenching. Some trenchers are designed for operator comfort, for example, by reducing the impact of heat from the engine. If your jobsite will require long trenches without breaks, investing an ergonomically designed machine will significantly improve the jobsite experience for the crew.
Finally, considering transportation to and from the jobsite is important. Modern ride-on trenchers are increasingly compact, but many ride-on trenchers are still large, powerful machines. Before purchasing or renting a trencher, know its weight and dimensions and be sure that you'll be able to transport it to the jobsite. If you don't have a trailer big enough to transport the ride-on trencher, you'll either need to consider a different trencher or discuss transportation options with your rental yard or dealer.
Consider Attachments
When renting or buying a ride-on trencher you should always consider ways you can expand your business. One of the best ways to do that is by considering attachment options. Whether you're renting or buying a machine, attachments can help you be more efficient and open up the possibility to take on new jobs. For example, two of the most popular attachments for ride-on trenchers are rock saws and microtrenchers. Rock saws are specifically designed to cut through difficult rocky conditions, so investing in a rock saw attachment will allow you to more efficiently trench should you come across difficult conditions.
Due to the 5G boom and increased demand for fiber, microtrenching is on the rise in the underground construction industry. If you're buying a ride-on trencher, adding a microtrencher to your cart will open up a whole new sect of jobs to your operation. And if you're renting a ride-on trencher, discuss the opportunity to rent microtrenching attachment with your rental yard in case you come across a microtrenching job in the future.
Make an Informed Investment
The key to buying or renting a ride-on trencher is to be informed. Understand the needs of your business and know what to expect on the jobsite. Being informed is the best way to invest in the right machine and get the most ROI out of your ride-on trencher.
Brant Kukuk is a compact equipment product manager for Ditch Witch. Click here for more info.