Is digging on your to-do list? Whether you need an auger to install a new fence or a trencher for an irrigation project, we got you covered. Below, six manufacturers share info on their attachments. Enjoy!
John Deere TC36 and TC48 Trenchers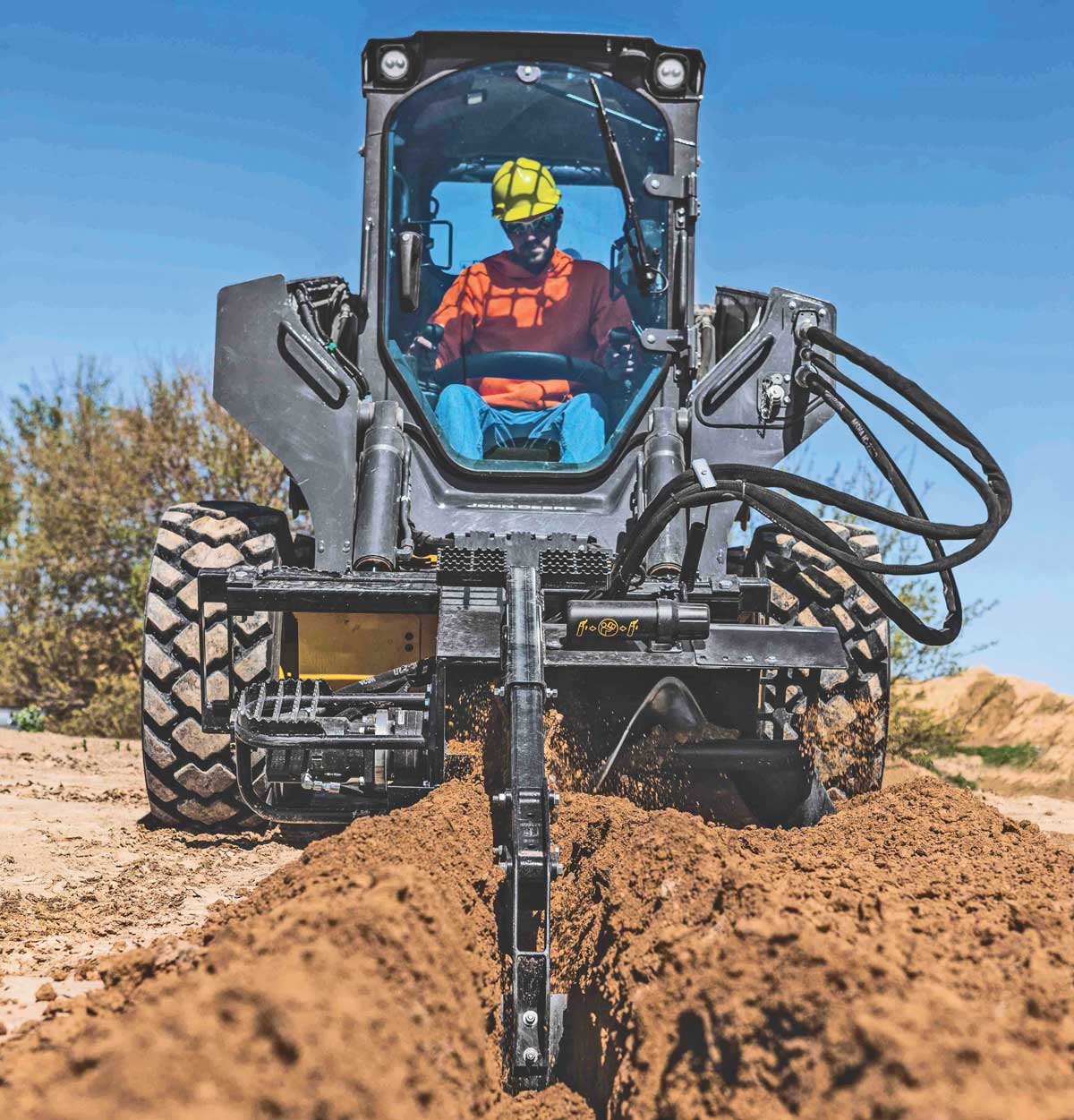 Designed to fit the needs of construction, agricultural and landscaping professionals, the John Deere TC36 and TC48 trencher models are ideal economic models for lighter-duty tasks and equipment rental. Compatible on John Deere skid steers and compact track loader models, the TC-Series trenchers are designed for lower duty-cycle customers with several configurations to match most soil conditions or trench requirements. Equipped with a spring-loaded trencher boom that reduces system shock, the TC36 and TC48 offer a carefully designed frame that provides easy ingress and egress during use. The crumber boom pulls loose soil into the trenchers, leaving a clean bottom, and an auger removes spoils from trenches, increasing productivity on the job. An angle indicator allows for more accurate and precise digging, increasing operator uptime. The multiple digging chain options combined with the low-profile drive system and side-shift help incur lower daily operating costs. For more info, visit deere.com.
Takeuchi TADV36 Auger Drive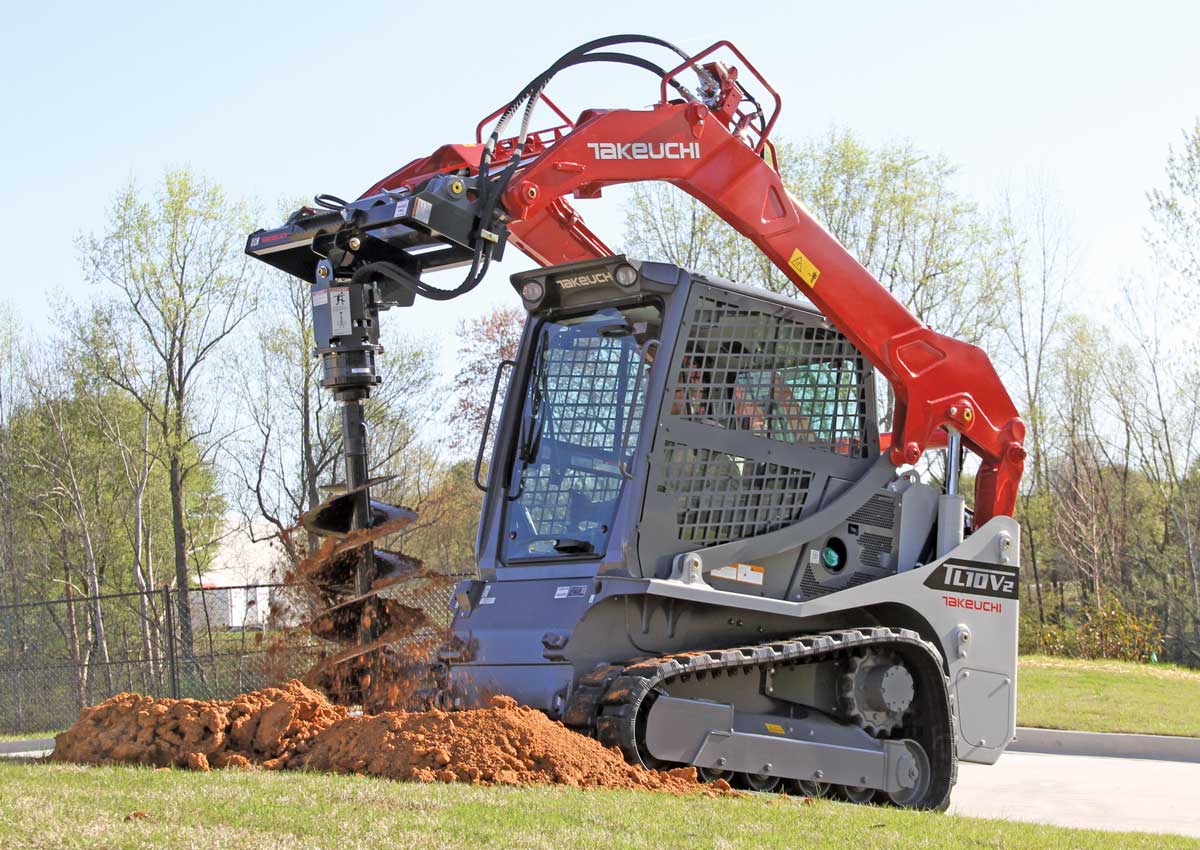 Ideal for a wide range of applications from digging fence post holes to tree planting to cement mixing, Takeuchi's TADV36 auger drive attachment features planetary gear reduction to ensure consistent high-torque output and long lifetime usage. Designed to accommodate a maximum 36-in. bit size, the auger drive requires a flow rate of 15 to 25 gpm and is recommended for use on loader machines with load capacities greater than 1,500 lbs. The auger drive's American-made Parker motor with hydraulic pressure relief protection provides optimal performance and longevity while allowing both forward and reverse operation. A 2-in. hex output provides a stronger, more durable interface that makes it possible to handle tough digging tasks with ease. Standard bits and tree bits are available for light to moderate ground conditions, while rock bits can tackle rock, compacted soils, frozen ground, asphalt and concrete. For more info, visit takeuchi-us.com/attachments.
Ditch Witch MT26 Microtrencher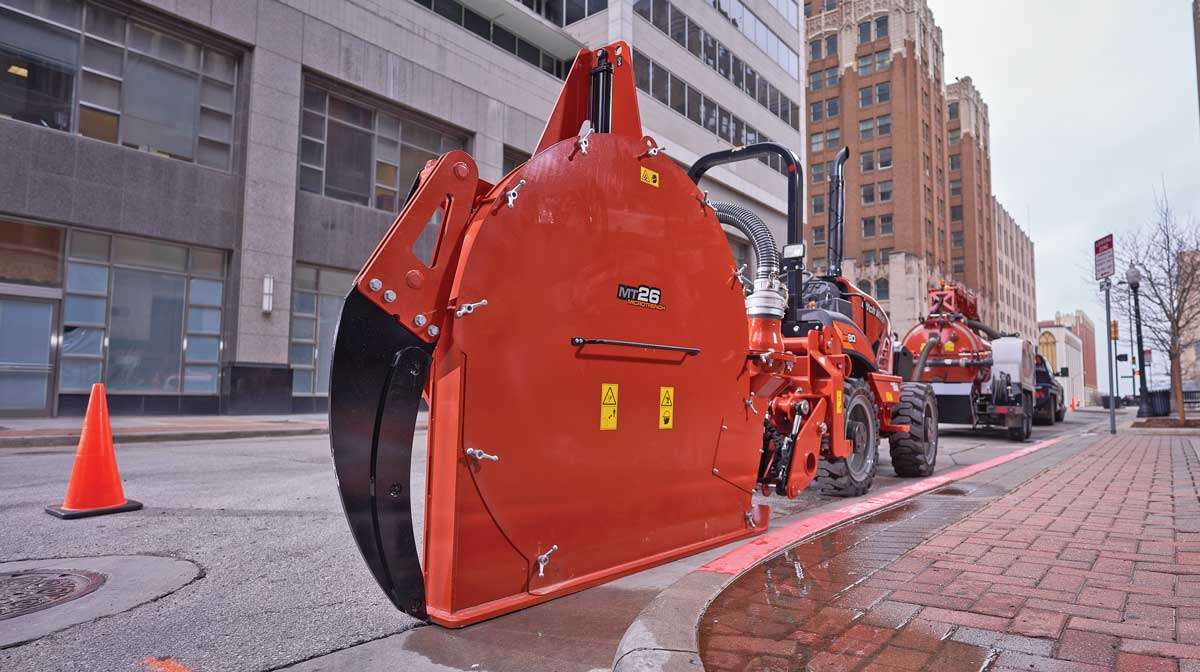 To help power and fiber-optic cable contractors reliably and efficiently use microtrenching for cable installation, Ditch Witch has introduced the MT26 microtrencher. With the MT26, operators can create a clean, deep, narrow trench in one easy pass and easily install cable deep enough to meet most requirements with minimal disruption to the surrounding infrastructure. Designed with a standard hydraulic plunge to provide variable depth control, the MT26 can cut a clean trench from 1.5 up to 3 in. wide and down to 26 in. deep. Reaching depths of up to 26 in. allows contractors to install a typical 2-in. fiber or power cable line with the required 2 ft of ground cover all at the same time. Additionally, the ability to create a trench up to 3 in. wide — a wider cut than any other microtrencher on the market — helps simplify the trench cleaning process for operators. For more info, visit ditchwitch.com.
I hate to be the bearer of bad news, but sometimes you can't have it all… unless you rent. From finding the right dealer to scoring the perfect rental machine, we have you covered!
Danuser EP Auger System
Danuser's EP Auger System features a planetary gear drive with up to 42 percent more output torque strength than the competition, with quick and easy maintenance and multiple mounting options for tractors, backhoes, excavators, mini skid steers and skid steers. The robust planetary gear drive and motor rated up to 3,500 psi deliver greater torque for drilling through hard, compacted surfaces. The planetary also features easily accessible check-and-fill plugs, which means fast, simple maintenance. An array of models range from 6 to 35 gpm and from 1,500 to 3,500 psi, making this a very versatile tool for the industrial and agricultural industries. Hoses are routed out of the top of the drive unit, secured with bulkhead nuts, to allow for deeper digging in tighter spots with better hose protection. The auger is offered with a five-year warranty and a lifetime warranty covering the unit from output spindle pullout. For more info, visit danuser.com.
Vermeer STR48 Trencher Attachment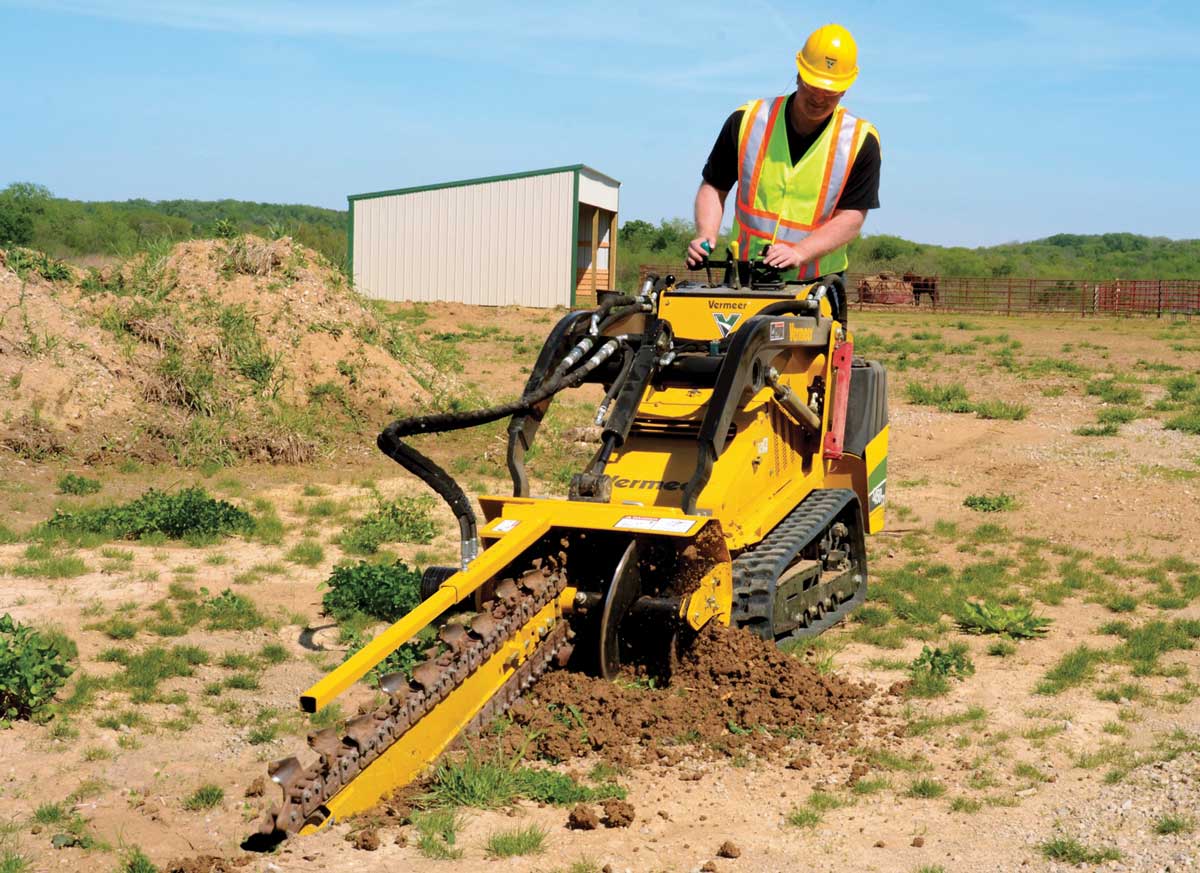 The Vermeer STR48 trencher attachment was developed to help contractors install phone, fiber, cable, gas, irrigation, water and sewer lines. The attachment can also be used to install downspout and drainage lines or excavate a footing for a wall or building. Designed for use with the Vermeer mini skid steer line, the trencher attaches to a universal mounting plate that's locked in place by two quick release pins. An 18-in. diameter discharge auger moves the excavated material away to help prevent it from circulating back into the trench. The trencher attachment is powered by the auxiliary hydraulics of the mini skid steer and requires a minimum of 10 gpm for optimal performance. The maximum digging depth is 48 in., and the maximum width is 8 in. An optional trench cleaner is available to remove residual material while trenching. For more info, visit vermeer.com.
Kubota Compact Trencher and Skid Auger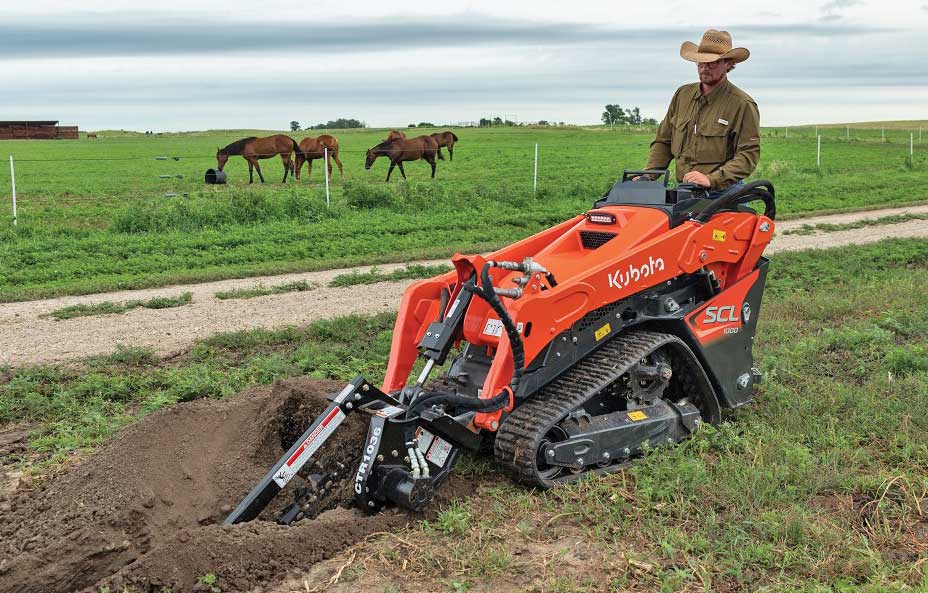 Kubota Tractor Corp. recently announced a new line of attachments now available for its SCL1000 stand-on track loader, which hit the market itself just this year. The new attachment package boasts five tools, including a compact trencher and skid auger. The CTR compact trencher is available in three sizes with 30-, 36- and 48-in. trenching depths and ranges in chain widths from 4 to 10 in. Chain styles are designed for efficient digging of trenches and ideal for irrigation and utility contractors, making it a popular rental tool. The CSA10 compact skid auger has a pendulum mount and features a reversible gearbox with a 2-in. hex output shaft to attach to a variety of augers. Landscapers and contractors will find the CSA10 is a durable tool for digging holes for footings, fences, signs or trees. For more info, visit kubotausa.com.
For reprint and licensing requests for this article, please click here.