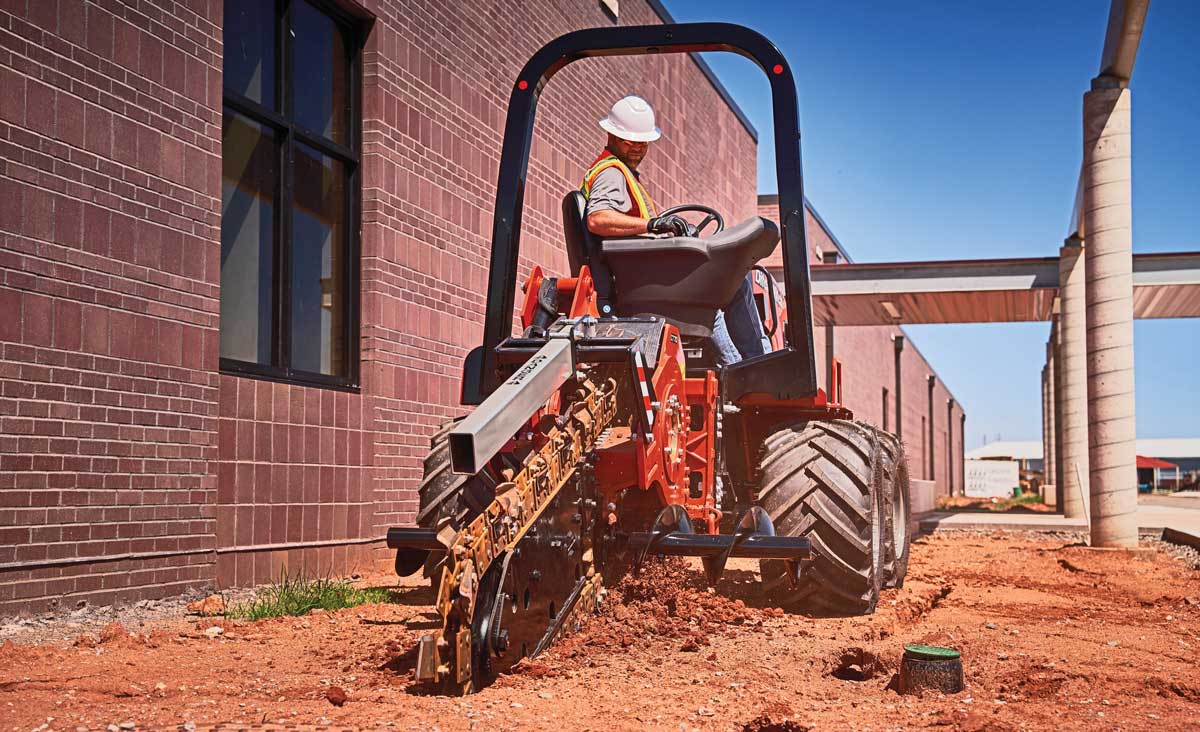 Urban utility excavation continues at a rapid pace, as aging infrastructure from sewer to gas is replaced or whole new subterranean systems like fiber-optic networks are installed. Machine makers are focused on creating new equipment (from mini excavators to compact directional drills) that can install or revamp varying utilities with minimal footprint and great maneuverability (on the side of a road or in someone's backyard). Ditch Witch's newest RT70 ride-on trencher fits that mission statement.
Powered by a 72-hp Yanmar Tier 4/Stage V compliant diesel engine and built with a narrow footprint of 73 in., the RT70 rubber-tire trencher can handle heavy-duty jobs and still easily maneuver around tight jobsites, corners and cul-de-sacs with ease. It is also the only ride-on trencher available with crab and coordinated steering modes, which allows operators to turn the machine with a steering wheel instead of using two separate levers. This makes it easier to use and install utilities. The RT70 is somewhat similar to Ditch Witch's heavy-duty midsize RT80 model, but it's a lighter, nimbler, more cost-effective variant.
"When you look at weight, the RT80 is good for guys that want to do plowing work," explains Steve Seabolt, product marketing manager with the Ditch Witch Organization. "It's all about horsepower and weight equaling tractive effort, drawbar. So, the 80 is a great tractor for that at 22,000 lbs with a ROPS, but to be able to do that you end up with components that are also rated to handle 22,000 lbs — behind the engine, the pump, the axles and the frame. The RT70 sits at 17,000 lbs with a ROPs. That 5,000 lbs is significant. You end up with less weight and less cost for the contractor. Even though the RT80 has been wildly popular with guys looking for productivity when plowing, we heard it's a little big for some other applications and it should fit on a trailer and be a little easier to haul. So that's some of the feedback that went into the RT70."
To match that size and efficiency, the RT70 is equipped with features that increase operator comfort and visibility, helping to boost profitability on the jobsite. For example, the ergonomically designed operator station features an open layout with a 120-degree swivel seat, more leg room and intuitive controls. This enhanced visibility gives operators a full view of the machine — from front tire to back tire and the attachment — helping operators of any experience level increase productivity. There's also a metric ton of flexibility here. The machine's modular design features a single base unit with the option to move from tires to tracks. With different attachments and a variety of optional add-ons, operators can reconfigure their machine for present and future applications. For starters, there are trenching, vibratory plowing, backhoe, reel carrier and microtrenching attachments and add-ons likes sunshades, backfill blades and chain configurations.
Know the Product Being Installed
The first step in buying or renting a ride-on trencher is to look at your needs as an underground professional. What applications do you typically install? How many crew members do you have? How often will you plan to use this machine? The answers to these questions will not only narrow down the wide selection of available trenchers but also will be a primary determining factor in whether you should rent or buy a machine. The type of utility that you typically install is a key choice in the type of trencher you need. If you typically only install 4-in. pipes, then a more compact, ride-on trencher would be a good option. However, if you're installing sewer or water lines, those can be 8- or 12-in. and will require a larger ride-on trencher. Now, how often you will use your ride-on trencher is not as much a factor in which machine you should invest in, but whether you should purchase or rent the machine. Some contractors are just looking to install pipe on a specific job, and they will only use their trencher for that job. If you fit into that camp, renting a trencher is best. However, if you will be consistently using a trencher for your business and you'll be installing miles and miles of pipe, then buying a trencher is a better option.
— Brant Kukuk, compact equipment product manager, Ditch Witch
"The unit has advanced cruise control similar to some of our other units on the market," says Seabolt. "One thing that is new with this unit is if you have it equipped with a trencher, we have an anti-stall technology that's been developed. What that does is, if you encounter an obstruction, you pull a rock up into the digging chain, for example, rather than that killing your engine, it will automatically stop the digging chain and stop the ground drive and save the engine from dying."
The RT70 also includes a patented cooling fan to reduce temperature levels in the operator station by moving hot, uncomfortable air out of the side of the machine rather than toward the operator like traditional fans. This helps keep workers safer and more content during long days. Maintenance was also a big focus. The RT70 is built to increase operator productivity with daily maintenance points in one easy-to-access location and a single-piece, easy-open hood. This fast and simple maintenance means that operators can spend their valuable time where it matters most — on the jobsite.
"It uses a single one-piece hood with rear gas struts," says Seabolt. "It's very quick and easy. You don't have the individual side covers that you have to lift off and get hooked back in. There are no bolts to remove to get access to what you need. All the daily maintenance points are on one side of the unit. Engineering really kept a focus on serviceability and maintenance as the unit was designed, staying under that 75-hp threshold, which means, of course, no DEF and no DEF service issues."
The RT70 is the latest addition to the Ditch Witch family of ride-on trenchers, which includes the RT45, RT80, RT120 and RT125. The company also has its Quad line of ride-on trenchers on tracks, C line of five walk-behind pedestrian trenchers and its stand-on skid steers that can wield attachments from trenchers to buckets to breakers. The brand aims to have the right trenching solution for nearly every application.
"It's all about ROI for these guys, right?" says Seabolt. "Productivity and versatility result in ROI. If you're only going to buy a couple of units for your fleet, you want those to be as versatile and reconfigurable as possible to keep them working more of the year, doing more and more jobs without having to acquire more pieces of equipment. You also obviously want those to be as productive as possible when they go to the job to minimize the learning time for the operator to keep them on the machine for extended periods of time. It's also less fatiguing for an operator to run. With this RT70, we have a new type of compact versatility, being able to fit the unit onto the jobsite, making it easier and more productive, generating more ROI."
Keith Gribbins is publisher of Compact Equipment.
For reprint and licensing requests for this article, please click here. Tags: Ditch Witch, October 2021 Print Issue, Your Utility Construction Connection