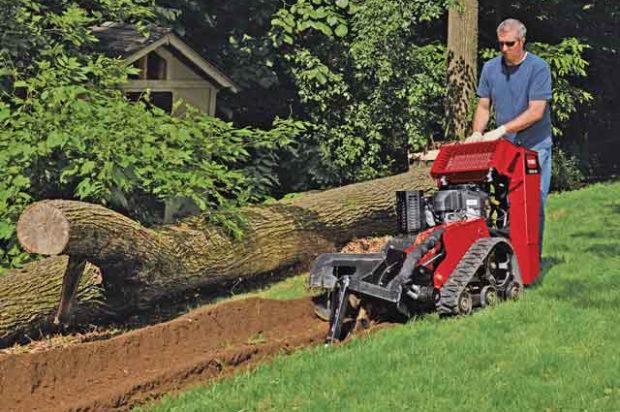 Favorite Unit: TRX-16
The Toro TRX-16 walk-behind trencher delivers 10 gpm of hydraulic flow at 2,900 psi to the boom to help maximize digging efficiency. Its easy-to-use-control system uses three basic controls to operate all traction and trenching functions. The unit's low center of gravity design aids in performance on side hills and uneven terrain. It can be outfitted with a 24-, 36- or 48-in. boom.
Advice to Buyers
Routine maintenance on a trencher can be the difference between an overall productive machine and an unexpected breakdown. Because trenchers have many ground-engaging parts, it's typical for some components to wear with use over time. Although routine wear and tear is inevitable, the following preventative maintenance tips can help extend their life:
•  Retain proper chain tension. When a chain is tensioned too loosely or too tightly, the trencher will not perform to full potential, prematurely wearing parts due to unnecessary stress.
•  Check chain wear. Chains wear at each pivot point at each link. To properly check chain wear, the chain needs to be removed from the trencher and boom and laid out and straight and measured on a hard, level surface. If the length of the chain is more than 3 percent greater than the length of the compressed chain, the chain should be replaced.
•  Examine tooth condition. Trencher teeth come in three basic styles: "cupped" for breaking up loose soil, "rock" used in loose rock and "bullet" for use with solid rock. Many of these tooth styles include carbide inserts on their sides, tops or faces. When this carbide is worn flat or worn away, the tooth needs to be replaced.
•  Grease all moving parts. Greasing all moving parts is one of the most important preventative maintenance measures you can take with a trencher. Fleet managers and technicians will want to pay particularly special attention to the nose roller, trencher head and all parts of the drive mechanism.
•  Perform daily maintenance. At the beginning of the day, check the engine oil and the tracks. Adjust the track tension if necessary. Inspect, clean and grease the trencher at the end of the day. Dried mud and debris lodged in trencher parts can cause increased wear on the components.
•  Follow the manufacturer's recommended service for each indicated hour interval. These service intervals can be found in the owner's manual and will ensure that your trencher provides you with long-lasting performance.