Two Series of Tractors, Ranging from 21 to 59 HP
Yanmar America Corp., located in Adairsville, Ga., is the regional headquarters of Yanmar Co. Ltd., a global company based in Osaka, Japan. Yanmar was originally established in 1912, and in 1933 became the world's first manufacturer to develop a practical small diesel engine. In 1937, the company built upon its engine expertise by producing a simple diesel tractor popular with farmers in Japan. Ever since those early days, Yanmar has been a pioneer in high-quality diesel engine machinery. This is evidenced by the numerous accolades the company has received such as the Gold Diesel Medal from the Inventors' Association of Germany and the prestigious Deming Prize for excellence in quality control.
In April 2014, Yanmar launched the SA Series of sub-compact tractors, the models 221, 324 and 424. The three SA tractor designs focus on ease of operation and operator comfort. And, like all Yanmar tractors, they are powered by Yanmar diesel engines that provide a combination of power, fuel efficiency and durability, says the company.
In 2016, Yanmar introduced the YT Series tractors in North America. All YT tractors feature dramatic new styling created by Ken Okuyama, the industrial designer famous for his design of the Enzo Ferrari automobile. The YT347 and YT359 models both have the new i-HMT (Integrated Hydro Mechanical Transmission) technology that combines hydrostatic ease of use with mechanical powershift transmission levels of efficiency. In addition to efficiency, the i-HMT technology delivers automated operator control and tractor management technology previously only available on larger, higher horsepower agricultural machines. The YT235 at 35 hp features the proven Yanmar hydrostatic transmission with two-pedal control that increases operator ease of use and comfort.
All Yanmar tractors feature an ergonomic design and come standard with features like selectable four-wheel drive and fully hydraulic power steering. Yanmar designs and builds all of its own major power train components called Yanmar Performance Link Technology. This design and manufacturing philosophy delivers smoother operation and a more comfortable ride with less noise, says the company. Carefully matched, designed together tractors are more efficient, experience less wear and better use available engine horsepower, notes the company.
To put tractor power to productive uses, Yanmar also offers a complete line of attachments and implements that are available through the Yanmar authorized dealer network. Today, all Yanmar North America tractors come from Yanmar America assembly operations in Adairsville, Ga., located north of Atlanta.
Advice to Buyers
"Working with an experienced dealer that you can trust goes a long way to ensure peace of mind in the tractor buying process," explains Ben Housch, product manager for the agriculture division of Yanmar America. "Not only can a strong, committed dealer recommend the right tractor for your application, they can show you how to use attachments and use your new tractor to its full potential."
[prettyPhoto title="Yanmar Specs" link="https://compactequip.com/wp-content/uploads/2019/07/yanmar-tractor-specs.png" type="link" ]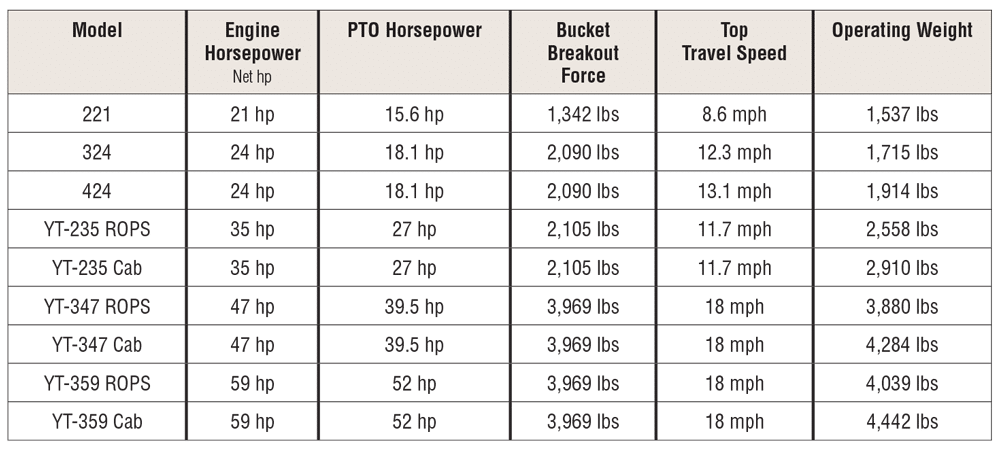 [/prettyPhoto]
Tags:
2019 Spec Guide
,
2019 Spec Guide- Tractors
,
July/August 2019 Print Issue
,
Spec Guide 2019
,
Yanmar
,
Yanmar America