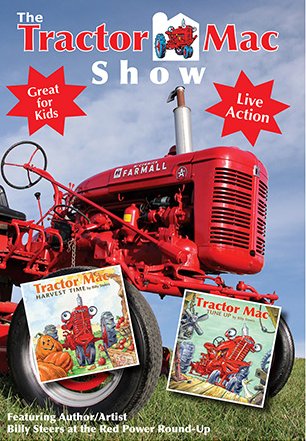 For 14 years, families have come to know and love the Tractor Mac children's book series of stories about a Farmall tractor down on Stony Meadow Farm. Now, Case IH brings this fun and educational series to DVD.
"'The Tractor Mac Show' is the first children's video that Case IH has produced," says Sarah Pickett, Case IH licensing and merchandising manager. "We're proud to partner with TM Books and Video to bring the Tractor Mac series to DVD so families can enjoy and share the tradition and heritage of Case, International Harvester and Farmall tractors."
Tcator Mac (TM) Books and Video has been producing family entertainment since 1984. Their shows have appeared on network TV, PBS, and cable stations around the country. In addition to Case IH, TM is also licensed by Boeing, Lionel Trains, and Chicago's Museum of Science and Industry to produce shows that may be enjoyed by the entire family. TM has received numerous awards, including the prestigious Parents' Choice, and currently produces a weekly show for the RFD cable network.
The 45-minute "Tractor Mac Show" features children's book author and illustrator Billy Steers reading aloud two Tractor Mac stories — "Tune Up" and "Harvest Time." Interludes in the story include live-action scenes of vintage tractors. Lively songs and educational clips about tractor parts and how a gas-powered tractor engine works are intermingled with the stories. The film also includes footage of new Case IH tractors working around the farm, to teach kids how tractors are used in a modern, real-life setting.
A bonus feature shows the step-by-step process Steers uses to bring Tractor Mac and his friends on the farm to life with his drawings and painting. The adventures of Tractor Mac come alive through colorful pictures and engaging stories in a series of 10 children's books and one board book for boys and girls. Tractor Mac has many friends on the farm that all help him learn about friendship, teamwork, the joy of winning, and how to lose gracefully. These books for children accurately depict life on the farm through fun and heart-warming stories and illustrations that are certain to delight the young reader.
"The Tractor Mac Show" is available for purchase through your local Case IH dealer, ShopCaseIH.com, www.tractormac.com, and Amazon.