As part of its commitment to help farmers embrace the everyday challenges and opportunities of agriculture and encourage involvement and leadership within the industry, Case IH awarded brand new Farmall tractors to four American Farm Bureau Federation (AFBF) Young Farmer & Rancher 2011 Achievement Awards finalists.
The four finalists, announced at the AFBF annual convention in Atlanta, Ga., were selected based on their demonstrated growth and financial success of their agricultural operations, as well as their Farm Bureau leadership and community involvement. To be eligible, participants had to win their state Farm Bureau Young Farmer & Rancher Achievement Award competition.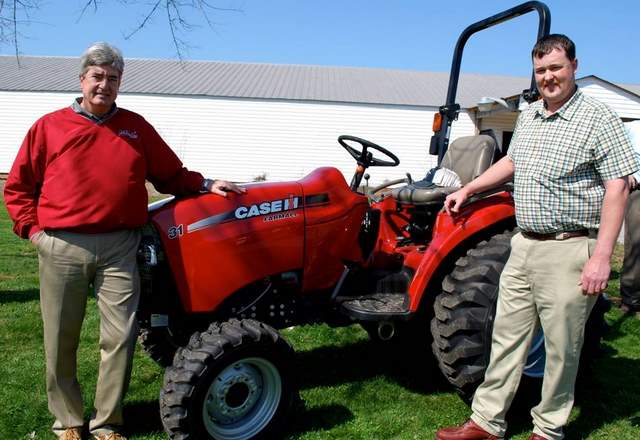 The finalists include:
1. Brian Flowers, Lynnville, Tenn.
2. Steven and Richelle Bach, Mount Sterling, Ky.
3. Matt and Kim DeBlock, Aledo, Ill.
4. Brent and Susan Leggett, Nashville, N.C.
"The AFBF Young Farmer & Rancher Achievement Award recognizes those who have excelled in their farming or ranching operations and exhibited strong leadership in both Farm Bureau and their communities," said Scott Raber, Case IH manager of livestock marketing. "These four finalists truly demonstrate the kind of leadership that farmers need to meet the daily challenges of an ever-evolving agriculture industry — the same challenges Case IH is committed to meeting — and we're proud to sponsor these leaders."
Achievement Award finalist, Brian Flowers, a dairy farmer from Lynnville, Tenn., said Case IH support of this award is a great gesture to agriculture. "The AFBF annual meeting is like the Super Bowl in that there are winners and runners-up. I'm thankful for Case IH support of AFBF and that they recognize Achievement Award finalists with such nice prizes as brand new Farmall tractors."
Brian developed a passion for dairy farming while growing up on his family's dairy farm. In 1996, at the age of 20, he started his own dairy farm, where he currently milks 100 Holstein cows and raises 95 replacement heifers, along with his commercial herd of 56 beef cows. Besides raising cattle, Brian also farms 1,380 acres of corn, soybeans, wheat, and hay.
Brian's local Case IH dealer, Perry Bros. Tractor Co. Inc. in Lawrenceburg, delivered the Farmall tractor and will provide service and support. He said he plans to use the tractor to scrape feed down the alleyway and aerate the bedding pack for his cows. "Everything I own is 100 hp or more, so this smaller tractor will come in handy on the farm," he said.
Brian first got involved in Farm Bureau through the Young Farmer & Rancher program and proceeded to serve in various roles in the Giles County Farm Bureau. He currently serves on the board of directors.