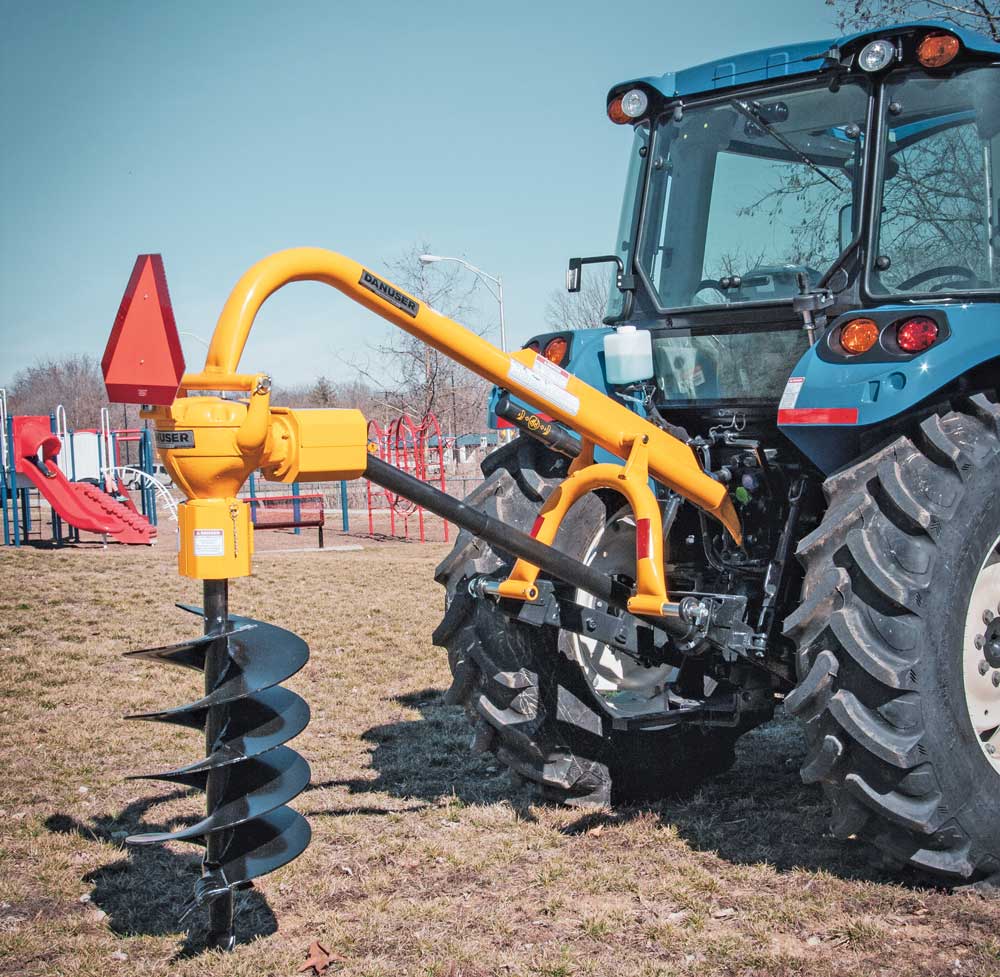 The widespread adoption of tractors equipped with power take-offs (PTOs) and three-point hitches following the Second World War allowed the first powered attachments to come into use, and chief among these early attachments was the posthole digger. Though their dominance is now challenged by hydraulic auger systems mounted on skid steers, backhoes and excavators, posthole diggers — or, as they are more commonly called today, auger systems — powered by tractor PTOs are still in common use around the world, and a PTO auger system can be a good choice for the farmer, rancher or large estate owner.
PTO auger systems have a straightforward design that allows for one-person operation from the tractor seat. A typical PTO auger system utilizes a gearbox with ring gear and pinion to transfer the rotation from the PTO driveline through a right angle to drive an output spindle, where the auger bit attaches. The ring gear and pinion function as a gear-reduction to multiply torque, allowing for more effective digging. The gearbox is mounted to a boom and yoke arrangement, which allows for the raising and lowering of the posthole digger. Most PTO auger systems incorporate shear bolts or pins to reduce the possibility of damaging the gearbox, driveline and auger bit, though some make use of slip clutches or other torque-limiting devices.
PTO auger systems should be selected based on the size, horsepower and three-point hitch of the host tractor. Typically, manufacturers rate their PTO auger systems with tractor horsepower ranges — for example 20 to 40 hp for use with a small tractor with a Category I three-point hitch. Auger bits should be selected based on desired hole diameter and depth. Fence posts will require 4 in. diameters up to 18 in. diameters for large corner posts, while tree planting may require a 30-in. diameter auger. PTO systems are less effective at larger diameters, and hydraulic auger systems are preferred for holes above 30 in. in diameter. It's also worth putting thought into accessories, such as hydraulic down-force kits, which add pressure to the auger bit to assist digging in difficult ground conditions, and auger extensions, which can be added for deeper hole depth. A complete PTO auger system with auger bit can command prices between $500 for a house-brand, low-quality unit up to $4,000 for a top-of-the-line model.
Safety is of the utmost importance when operating any attachment, including PTO auger systems. Everyone involved in the assembly, operation, transport, maintenance and storage of a PTO auger system must be aware, prudent and properly trained in its safe and proper use and should read and understand the instructions in the operator's manual and on the safety signs. A rotating driveline or auger bit poses an entanglement risk with a potential for serious injury or death. The entanglement risk becomes greater when the shear bolt or auger retaining bolt is replaced with one that does not meet the original equipment manufacturer's specifications.
Posthole diggers include safety signs and guards for auger adapters, auger extensions, gearbox inputs and PTO drivelines. Before operating, ensure all shields, guards and safety signs are in place. If your three-point auger system does not have these safety items, be sure and contact your equipment dealer or auger system manufacturer. Never operate a posthole digger with anyone near or in contact with any part of the attachment, PTO driveline or auger bit. No one should be within 25 ft of a posthole digger when it is started or in use. Absolutely never use body weight or any body part to "help" position or force the auger into the ground.
PTO auger systems are easy to use, but using them safely and effectively requires a cautious operator who recognizes potential hazards, follows reasonable safety practices and operates the posthole digger per the instructions stated in the operator's manual. Prior to digging any hole, call 811 to have underground utility lines, pipes or cables marked. Clear the area of objects that could wrap around the auger bit or might be thrown. Mark out where holes should be dug. Be sure to perform all pre-usage maintenance and be aware of all safety hazards. When transporting the PTO auger system to the worksite and between holes, make sure to keep the PTO disengaged and the three-point hitch raised high enough for the auger bit to clear the ground.
When ready to dig, lower the three-point hitch until the auger point rests on the ground. Make sure all bystanders are at least 25 ft away from the auger. When you engage the PTO, start with the tractor engine at idle and increase the PTO speed as required to allow the auger bit to penetrate the ground. Lower the three-point hitch to continue digging the hole, holding back against the auger screw-suction when necessary. Every 12 to 18 in., raise the three-point hitch to partially remove the auger bit from the hole, aiding the dirt removal process. Once the hole reaches the desired depth, allow the auger bit to dwell in the bottom of the hole for a moment to further clean out the hole. Then disengage the PTO and raise the auger bit from the hole.
As with any attachment, regular maintenance following manufacturer's specifications is vital to a long, trouble-free service life.
Check the auger system for loose fasteners and worn auger cutting edges and points before each use. A worn cutting edge or point will have rounded surfaces, making penetrating the ground more difficult, especially in hard digging conditions. When changing augers or adding an auger extension, coat the inside of the auger adapter liberally with grease. Check the universal joint, bushing and gearbox lubrication levels at the manufacturer's recommended intervals and take care to use the correct lubricant. A common false symptom of seal failure is leakage due to the use of incorrect lubricants. If in doubt, ask an equipment dealer or the auger system manufacturer for guidance.
Though their heyday is now past, the proven durability and dependability of PTO auger systems ensures them a continuing place in the stable of attachments. With some research of the options and safety requirements, a PTO auger system can save labor and time on lots of operations.
---
Ransome Attachments Inks Deal to Distribute Grab-N-Drive in U.S.
Ransome Attachments is bringing another cool and unique European implement to American excavator operators. The company has signed an agreement with U.K.-based Exac-One Ltd. to become the first distributor of the Grab-N-Drive Post Driver in the United States. Ransome will offer the GD30S initially, although all other Grab-N-Drive models will be available upon request. Designed by Exac-One and manufactured in the United Kingdom, the GD30S allows an operator to handle, place and drive wooden, concrete and metal posts without the assistance of a person on the ground. The multifunctional attachment consists of a grab to handle and set posts and a hammer to drive them. The hydraulic GD30S can deliver as many as 1,250 blows per minute (bpm) at up to 502 ft-lbs. The Grab-N-Drive can be fitted to excavators from 1.5 to 14 tons within minutes through the use of an interchangeable mounting bracket. It is also possible to remove the grab and install a top-mounting bracket, allowing the breaker to be used in a traditional manner for breaking rock and concrete. For more info, visit ransomeattach.com.
Tags:
Attachment Central
,
augers
,
Danuser
,
home
,
May 2019 Print Issue
,
PTOs