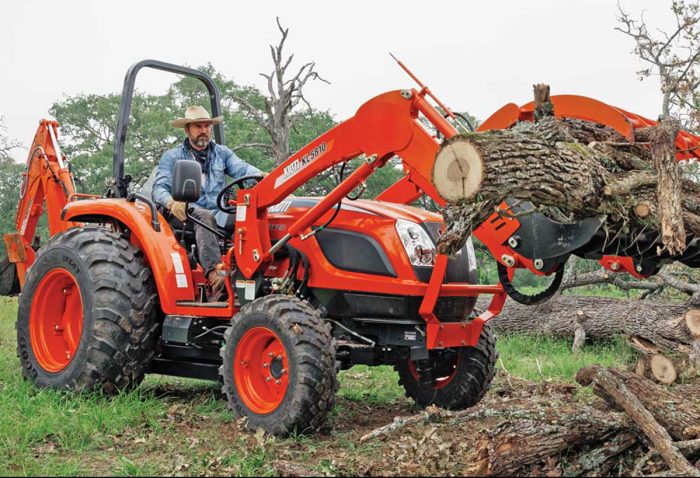 The tractor pull is a great tradition. Souped-up, dragster-style tractors, spitting smoke, noise and dirt, pull increasingly heavy sleds of weight to see who can tow the most, the farthest, through 300 yds of muddy track. However, real tractor users aren't looking for a machine with heavy drag.In fact, owners of utility tractors — those do-it-all tool carriers used by farmers,landscapers and large estate owners — need equipment that goes beyond just strong and focuses on streamlined, efficient and versatile operation. That latter quality might be the most important.
A compact tractor needs to be versatile — able to mow grass, dig trenches, auger holes and pick and place large piles of dirt or gravel, using implements that are powered off the tractor's power take-off attachment system (PTO) or even via a hydraulic diverter valve kit to run hydraulic implements. In fact, without an attachment off the front, back or belly, compact tractors are only good for carting around the grandkids. But with the right set of implements, a utility tractor will pull more than its weight on most project sites.
"Compact tractors can be equipped with a variety of attachments and implements," explains Stephen Barcuch, product marketing director of agriculture products at Kubota Tractor Corp. "Most are sold with front-end loaders, rotary mowers and box blades. These attachments provide the ability to do a lot of landscaping and are simple to use. Other popular attachments include backhoes, rotary tillers, finish mowers, post hole diggers, scraper blades and many more. So the amount of tasks that an owner can accomplish is endless. Hobby farmers make up the majority of compact tractor users, but landscapers, rental yards, parks and recreation and municipalities are also common operators. Population drives the industry, so larger states such as California and Texas are significant, while most of the Southeast and Northeast regions have large markets for these tractors too."
Today's compact tractors are defined as small tractors equipped with a 540-rpm PTO and a three-point hitch designed for Category 1 implements. Compact tractors generally have a mass less than 4,000 lbs and use less than 40 PTO hp to run their attachments. Today, big name brands like John Deere, Kubota, New Holland, Kioti, Yanmar, Case IH and Massey Ferguson are all bringing innovative alternatives to the small utility tractor market. All of those big brands offer tractor implements, and so do a ton of aftermarket specialty manufacturers with brand names like Edge, Land Pride, Erskine, Attachments International, Anbo, Loftness and others.
These attachments have come a long way. Early on, implements were connected to the tractor via a drawbar, a simple steel bar attached to the tractor (or in some cases cast as a part of the rear transmission housing) to which the hitch of the implement was attached with a pin or clevis. In 1926, Harry Ferguson (of today's Massey Ferguson) patented the three-point "linkage" for agricultural tractors in Britain. Before the 1940s, each manufacturer used their own systems for hitching or attaching implements to tractors, but by the 1960s tractor and implement manufacturers would eventually agree on the three-point hitch as the one standard system to hitch implements. As patents on technology expired, manufacturers were able to refine the system and create useful modifications. Today, almost every tractor features a three-point linkage or a derivative of it.
"Most three-point implements are rated for specific horsepower ranges by the manufacturer," says Dee Warren, marketing manager for Land Pride. "It is important to follow the manufacturer's suggested range — not following the horsepower recommendations can damage the implement, the tractor or possibly cause injury to the operator or bystanders. Pros typically buy what they need specific to their profession. Landscapers will buy rotary tillers, seeders and landscape rakes. Mowing contractors look toward grooming mowers, flail mowers and snow tools for the winter months. Land owners will gravitate toward rotary cutters, rear blades, wood chippers, grapples and other land maintenance tools. In recent years, grading scrapers have become popular road maintenance tools for their ease of use and exceptional results. Other implements and attachments, such as powered rakes, bale spears, post hole diggers and pallet forks, certainly have their place — even ranking ahead of more popular items if it's the right tool for the job. Once a professional acquires several implements, a quick-hitch makes implement attach and detach quick and efficient."
Mowers, backhoes, augers, stump grinders, balers, box rakes, snowblowers and trenchers can all be powered off the compact tractor. A PTO system works by taking the engine horsepower and transferring it through a driveline to a series of gears in the transmission housing. This drives a PTO shaft that can be attached to an implement. What is important is how efficiently the machine accomplishes this task, so it's always important to compare PTO horsepower.
Ever since International Harvester (in a tight race for market share with Ford) introduced the first PTO in 1922, this valuable tool has been sending tractors into new applications and markets. Buying a tractor without attachments today is like buying a computer without software. Attachments such as rotary cutters, tillers, posthole diggers and snowthrowers can run off your tractor's PTO, which can drive attachments in the front, middle and rear of the tractor. Overall, technology has not changed too much over the years in terms of PTO systems. There are three major types of PTO systems on the market today:
Independent PTO allows you to engage and disengage the PTO regardless of the transmission or clutch operation. It's the most popular and easiest to use.
Live Two-Stage PTO uses a dual-stage clutch pedal, so depressing the clutch pedal completely disengages the transmission and PTO and releasing the clutch halfway engages the PTO. Fully releasing the clutch pedal engages the transmission; this allows the PTO-driven implement to get up to speed before forward/reverse travel starts (so a mower starts cutting grass before moving and doesn't leave skips).
Transmission Driven PTO uses the clutch pedal (when it's depressed) to disengage both the PTO and the transmission. It's the most economically priced, but not as functional as the other options.
There is also a mid-mount PTO, used mostly to operate mowers. A mid-mount PTO is center mounted below the transmission. A mid-PTO differs from the rear PTO in rotational speed and type of shaft used. A mid-PTO generally operates at 2,000 rpm at rated engine speed. The faster shaft speed is necessary to supply the proper speed in order to reach the high blade tip speeds associated with grooming style mid-mount mowers.
Interesting Attachment Options
Once you choose the right tractor size, PTO system and PTO horsepower, you're going to want to figure out which attachments you will need — because it's always wiser (i.e. cheaper) to buy extra attachments with your initial purchase and get a package deal. Returning to our early purchasers of compact tractors — a common product fitted to them was a front-end loader or bucket, and this remains the most popular attachment for tractors today.
Most compact tractors never take the bucket off the front, and options can range from general buckets to high capacity, snow, 4-in-1, grapple and way more. But buckets are just the tip of attachment iceberg. More than ever, utility tractors are powering more and more complex implements. Here are three cool ones.
Horizontal Drum Mulcher
When it comes to right-of-way and land clearing, a PTO-driven horizontal drum mulcher is a cost-effective method for mulching thick grass, brush and trees. From cutting teeth options to the drive system, the machines can be configured many different ways to meet individual needs. For mowing applications where the mulcher will mostly be pulled, any tractor with a standard three-point hitch, PTO shaft and operator protection system is fine. However, if the mulchers will be pushed for a large portion of the time, reversible platforms are preferable. Swinging the seat around to face the rear of the tractor provides a much more comfortable and natural position for the operator to work for extended periods of time.
"Mulching attachments generally work best when the tractor has a hydrostatic drive, which allows the operator to ease the attachment into material," explains Bill Schafer, product development coordinator for Loftness. "Mechanical transmissions can be jerky, and the tractor may stall if the attachment is driven into a large tree too abruptly. When purchasing a drum mulcher, customers are faced with a variety of cutting teeth options. This choice is dependent on operator experience, desired performance and personal preference. No matter which tooth option is selected, customers should ensure the mulching drum has a heavy-duty drive system and thick steel construction to handle the abuse of this type of work."
The best place to start is by deciding between swinging-hammer and fixed cutting teeth. The two types require different rotor configurations, so this decision needs to be made right away. After deciding on the cutting teeth, consider the components of the cutting chamber. Most manufacturers offer counter teeth, which are welded inside the housing to enhance the grinding performance, but some units are also available with a shear bar. It increases efficiency and provides a cutting edge to help reduce particle size. Also, it minimizes wedging from root balls or other debris in the tapered chamber. Requests for PTO-driven horizontal drum mulchers have grown in recent years because of their extreme versatility, durability and productivity.
Brooms and Sweepers
A broom or sweeper implement is a great choice for clearing leaves and snow, as well as every other mop up job — from caked on dirt to grass clippings. Most broom attachments for compact tractors are categorized by width (like sizes from 48 to 84 in.), the way they attach (rear or front) and the style of sweep (angle, rotary or push). Manufacturers typically offer similar hydraulic-powered brooms, but most tractors would need a PTO-driven hydraulic pump to operate these brooms.
"Push brooms are highly versatile with mounting options for attaching them to the front bucket of a compact tractor or mounting them on the rear three-point hitch on a tractor," says Barry Truan, vice president of marketing for SweepEx. "The brooms are also offered with various brush options to accommodate a variety of worksites. For instance, a broom with five brush rows may work well for light- to medium-duty jobs. For heavy-duty jobs, a broom with 11 brush rows may be a better option. Additionally, because push brooms have no moving parts, they are many times a more cost-effective option than rotary brooms."
If a tractor has a universal mount on the loader and has around 10 or 12 gpm of hydraulic flow, a hydraulic-powered rotary broom can usually be run from the front of the tractor. Other options are available for the tractor and are usually powered from the rear PTO. There are also push brooms available for the rear and front of the tractor; this is a static-mounted broom that does not require PTO connection, but can be angled with a hydraulic cylinder if hydraulics are available. Push brooms can be very efficient and cost effective for light sweeping jobs, but angle brooms are most common.
Snowblowers
The most common and traditional way to mount a snowblower on a tractor is the three-point hitch. This universal hitching system is easy to hook up, and it allows direct access to the tractor's rear PTO shaft. The PTO transfers full engine horsepower to the snowblower, resulting in reliable, high-performance operation. Additionally, a rear-mount snowblower allows full use of the tractor's front loader bucket (if one is equipped). Therefore, the operator can use the front bucket to scrape ice, scoop snow or drag it away from buildings, while using the rear blower to throw the snow.
Despite the proven performance of the rear-mount design, there are limitations. The three-point hitch is unable to tip or rotate the snowblower on the go, nor can it raise the blower more than a couple feet off the ground. This makes it difficult to maneuver or chip away at extremely tall drifts. The three-point hitch can't apply down pressure, so the snowblower always operates in "float" mode, eliminating the ability to scrape ice and hard pack. Due to the shortfalls of the rear-mounting system, manufacturers have developed new designs for front-mounted snowblowers, which have become increasingly popular in recent years. With options for mechanical and hydraulic drives, there are units available to meet any need.
When installing a mechanically driven front-mounted snowblower, the loader assembly must be removed from the tractor and switching between the loader and snowblower is a time-consuming task. Unlike mechanically driven blowers, hydraulic models offer a simpler design, and the units can mount directly to the loader arms, eliminating the need to remove the loader assembly. The main issue with the compact tractors is getting full hydraulic power to the front of the tractor. Unlike skid steers, tractors don't have an accessible hydraulic system at the front of the machine. Therefore, some manufacturers have developed special kits that contain a standalone hydraulic pump, filter, relief valve, reservoir and cooler. The kits attach to the rear of the tractor, and the PTO powers the system. Another option is to tie into the tractor's hydraulic system, so the operator does not need to purchase a separate standalone hydraulic kit.
Snowblowers are just one of the unique attachment options for compact utility tractors. Other options can range from augers and trenchers to box scrapers and even backhoes. Prior to purchasing implements for a compact tractor, you should make a list of all the critical applications, now and for the future on your wish list, and then prioritize the jobs in order of importance. This can be a bit tricky since the job that you spend the most time on today may not be the reason for purchasing the tractor. By attempting to identify your future equipment needs, you will be better prepared for larger, more diverse applications down the road.
Keith Gribbins is associate publisher for Compact Equipment, based in Brecksville, Ohio.