Boomer Deluxe Compacts and Workmaster Value Series
New Holland offers the Boomer deluxe compact tractor series and the Workmaster line of value compact tractors. New Holland's Boomer 24 to 55 deluxe compact tractors are a powerful tool for homeowners, rural lifestyles, landscapers, farmers, golf courses and municipalities. The deluxe Boomer compact tractor line includes eight models ranging from 24 to 55 hp. The majority of these models provide plenty of choices, including cab (excludes Boomer 24 and 35) or ROPS platforms, gear or hydrostatic transmissions and ag, turf or industrial tires. With the exception of Boomer 24 tractors, Tier 4-compliant diesel engines provide the power needed for loading, mowing, digging, blowing snow, tilling and much more. Boomer 24 models are equipped with a two-range hydrostatic transmission and an independent, electro-hydraulic 540-rpm rear- and 2,000-rpm mid-PTO (standard on all Boomer models).
Boomer 35, 40, 45, 50 and 55 models feature the choice of a synchronized gear transmission or a three-range hydrostatic transmission with dual pedals (one for forward, another for reverse), which provides for easier change of direction. A 12×12 synchronized shuttle shift (SSS) transmission (Boomer 35 and 40) or a 16×16 SSS transmission (Boomer 45, 50 and 55) makes it easy to repeatedly shift back and forth between forward and reverse, perfect for loader work. These tractors also come equipped with electro-hydraulically engaged rear and mid-PTOs and high-capacity, dual-pump hydraulic systems for steering and implement response.
New Holland's Workmaster 25S subcompact is the perfect first step tractor for homeowners and ag-lifestylers who need a hard-working, versatile small tractor to handle the chores a garden tractor just can't. Workmaster 25, 35 and 40 compact tractor models fill out New Holland's value class of tractors that bear the same trusted name. First popular in the 1960s, the original Workmaster models were known for their dependability and value. Today, it's no different, says New Holland.
Advice to Buyers
"Do your homework. Start by making a list of the tasks you need to tackle now and ones you can envision down the road," says Todd DeBock, New Holland compact tractor marketing manager. "Then take your time evaluating different brands and models. In today's market, there are plenty of compact tractors to choose from, and a thorough evaluation will help ensure you buy the correct tractor to meet your needs now and in the future."
[prettyPhoto title="New Holland Specs" link="https://compactequip.com/wp-content/uploads/2019/07/new-holland-tractor-specs.jpg" type="link" ]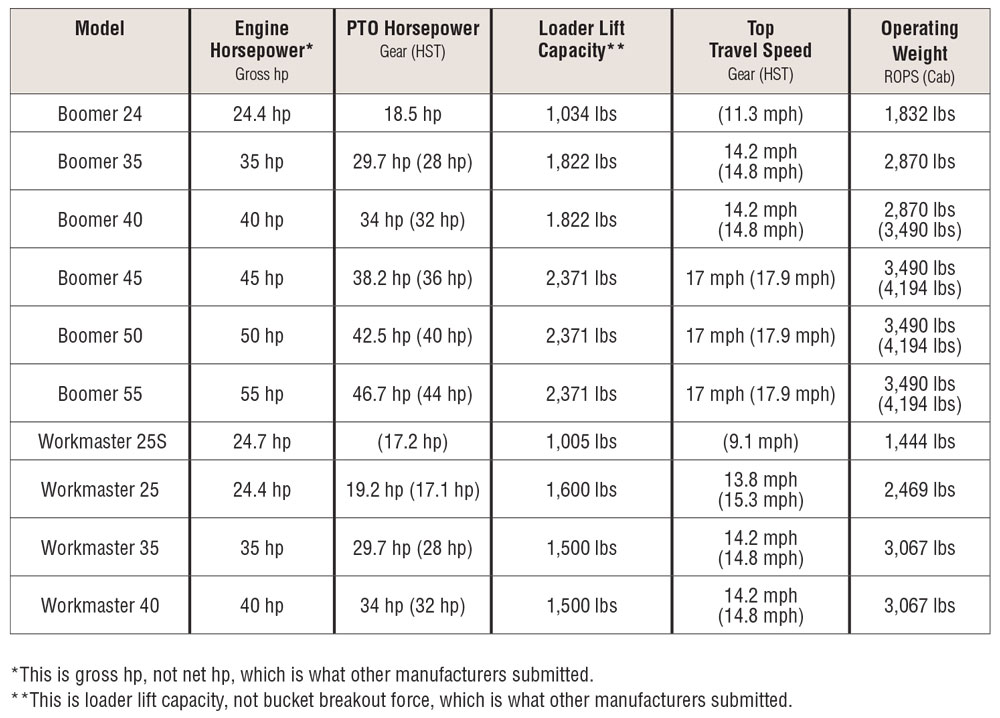 [/prettyPhoto]
Tags:
2019 Spec Guide
,
2019 Spec Guide- Tractors
,
July/August 2019 Print Issue
,
New Holland
,
Spec Guide 2019