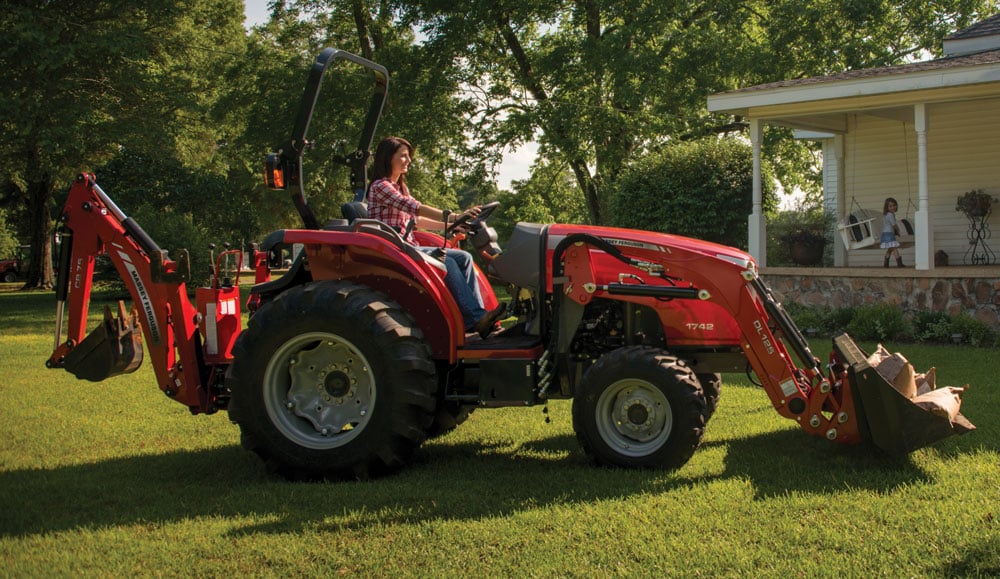 12 Units Including Five Premium Models in the New 1700M Series
Massey Ferguson is one of the most well-known brands in farm equipment around the world with a history going back more than 150 years. The company made effective use of its well-established research and development process when entering the compact tractor market in 1979, then incorporated AGCO's global expertise in introducing its eighth generation of compact tractors. The result is a strong lineup of reliable, hard-working compact tractors, led by the newly introduced Massey Ferguson 1700M Series, the brand's most premium compact tractor to date.
The Massey Ferguson 1700M Series ranges from 36 to 60 hp with two models equipped with Shibaura three-cylinder diesel engines and three with Shibaura four-cylinder diesel engines. All meet Tier 4 Final emissions without using an expensive diesel particulate filter (DPF). That means no excessive heat buildup. The engine can be shut down at any time and lower maintenance costs because no DPF is needed. Both HST and a 12×12 shuttle transmission are available.
Also, a game changer for the 1700M Series is the new Deluxe Cab option for the MF1740M, MF1750M and MF1760M HST models. The Deluxe Cab was developed with municipalities and hard-working weekend warriors in mind and features an air ride seat to enhance operator comfort and limit fatigue during long stints of operation. Four standard LED work lights increase visibility and productivity when the job rolls late into the evening or begins before first light. The rear window defroster offers improved visibility during winter months in cold climates. A radio/CD/Bluetooth stereo is also a standard feature on Deluxe Cab tractors.
The MF 1700E Series economy compact tractors bring operators a blend of power, durability and value. This tractor-loader combo is available in three models at 24 hp (MF1726E), 34 hp (MF1734E) and 38.5 hp (MF1739E). The MF 1700E Series features a three-cylinder clean-burning Tier 4 diesel engine with electronic engine management and indirect fuel injection to enhance power and performance. Tier 4 Final emissions standards are met using these technologies. The rear three-point hitch features a lift capacity of 1,600 lbs at 24 in. beyond the ball ends. Both HST and gear transmission models come standard with independent PTO — a convenient feature that allows the operator to engage the PTO without clutching or stopping the tractor.
Massey Ferguson also offers GC1700 Series subcompact tractors which can handle everything from mowing, loading and backhoe work to snow blowing with ease. The GC1700 Series has four models, including 22.5- and 25-hp models with and without a factory-installed loader backhoe combination. This series features a powerful, yet quiet 1.1-liter, three-cylinder Iseki diesel engine. With the largest engine in its subcompact class, the GC 1700 Series has more cubic inches, which translates into higher reserve torque and more efficient use of horsepower. All major controls and functional pedals are in familiar, intuitive locations for easier operation.
Advice to Buyers
"Protecting your investment by properly caring for your compact tractor helps ensure it is always ready to go to work and that it has a long and useful life," says Jeffrey Ratliff, tactical marketing manager for Massey Ferguson. "Daily maintenance and completing service at key intervals is the best way to prevent downtime, costly repairs and shortening the tractor's useful life."
Click on table to enlarge