Two Next-Generation 4WD Models Bring New Styling to the Brand's Sub-Compacts
Massey Ferguson is one of the most well-known, top-selling brands in farm equipment around the world, with a history going back more than 150 years. Massey Ferguson continues this legacy with a strong lineup of hardworking compact tractors, led by new two Massey Ferguson GC1700 Series sub-compact models.
New for 2019, the versatile Massey Ferguson GC1723E (22.5 hp) and GC1725M (24.5 hp) four-wheel-drive tractors are built upon a proven, reliable drivetrain and feature new styling, greater operator comfort and ergonomic enhancements for a "big tractor" feel. Well-suited for homeowners, contractors and municipal use, the new GC1700 models are ideal for mowing, snow removal, loader and backhoe work. They can handle two jobs at once, because the independent rear- and mid-mount PTOs operate simultaneously. Operators also will appreciate class-leading hydraulic flow for powerful three-point lift capacity and fast loader response, says the company.
New features in the MFGC1723E and MFGC1725M include the new-style, durable all-steel hood and more powerful headlights, helpful in low-light conditions. Tilt steering makes getting on and off the tractor easier, and the one-piece rubber floor mat adds comfort while driving. An integrated joystick makes loader operation easy and convenient, while cruise control reduces operator stress. The tractors are equipped with the proven Iseki 1.1-liter, three-cylinder diesel engine and two-range hydrostatic transmission (HST). They are available as tractor only, tractor with loader or tractor-loader-backhoe (TLB) combinations.
These new sub-compacts join five larger 1700M Series cousins in the Massey Ferguson compact tractor line. These premium models range from 36 to 60 hp. Two models are equipped with Shibaura three-cylinder diesel engines and three with Shibaura four-cylinder diesel engines. All meet Tier 4 Final emissions standards without a diesel particulate filter (DPF), which means no excessive heat buildup, less emissions-related downtime and ability to shut down the engine any time. Both HST and a 12×12 shuttle transmission are available.
The Massey Ferguson 1700E Series economy tractors continue to bring operators a blend of power, durability and value. Three models, MF1726E (24 hp), MF1734E (34 hp) and MF1739E (38.5 hp), are each available with loader or loader-backhoe combinations. The 1700E Series features a three-cylinder, clean-burning Tier 4 diesel engine with electronic engine management and indirect fuel injection to enhance power and performance.
Advice to Buyers
"There's truth to the need to try on a new tractor before you buy," says Jeffrey Ratliff, product marketing manager for Massey Ferguson compact and utility tractors. "Be sure the tractor matches you. Are the seat and steering wheel adjustable? Controls easy to find and use in the cab? If you do your own maintenance, check the locations of the engine and hydraulic oil filters, the battery, the air filter. You'll be happier if those service points are easy to get to."
[prettyPhoto title="Massey Ferguson Specs" link="https://compactequip.com/wp-content/uploads/2019/07/massey-ferguson-tractor-specs.png" type="link" ]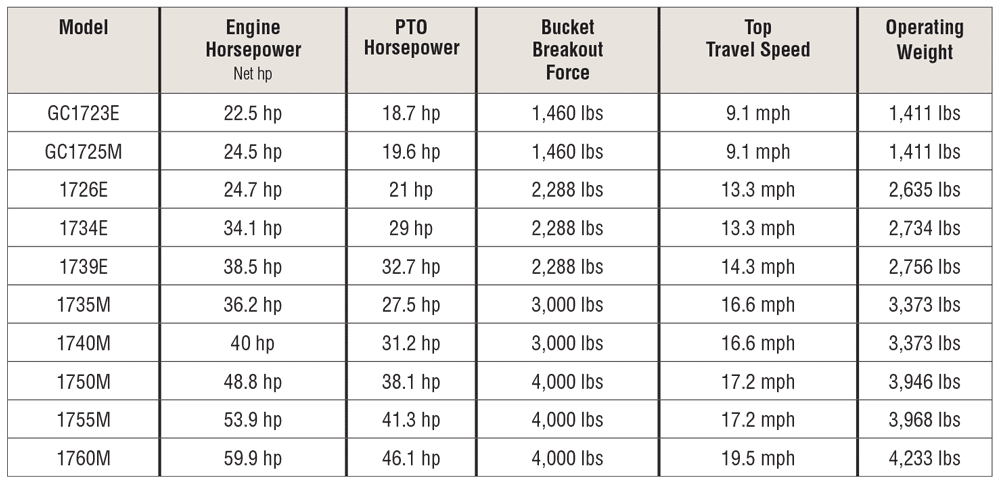 [/prettyPhoto]
Tags:
2019 Spec Guide
,
2019 Spec Guide- Tractors
,
July/August 2019 Print Issue
,
Massey Ferguson
,
Spec Guide 2019