The Famous Orange Brand Continues to Roll Very Large
Back in 1972, when the first Kubota tractors — the 12-hp L200s — were sold in America, they immediately began filling a void in the U.S. marketplace for sub-compact tractors. Since then, Kubota continued to be a market leader. Today, Kubota sells several compact tractor offerings including the Standard B Series, Deluxe B Series, the new B01 Series, Standard L Series and the Grand L60 Series.
New in 2019, Kubota introduced the B01 Series compact tractors with the B2301 and B2601. Combining Kubota reliability and power with versatility and intuitive, easy-to-operate design, the hardworking B01 Series is ideal for first-time operators and seasoned professionals alike. Whether mowing lawns, working light construction or landscaping, the B01 Series has an operator-friendly compact tractor for the job. Both the B2301 and B2601, which deliver 20.9 and 24.3 hp respectively, feature the Goodyear R14T crossover tire, with a new hybrid tread design that is just as versatile as the new B01 Series tractors. The Goodyear R14T, made by Titan International Inc., is exclusively offered on the Kubota B01 Series compact tractors in that horsepower category.
The Standard B Series is engineered for ease of use, versatility and reliability. The B Series can be equipped with a Kubota engineered and built front-end loader that can be removed from the tractor easily, no tools required. The Deluxe B Series is available with a 60- or 72-in. mid-mount mower deck, large platform and easy-to-use HST transmission, providing optimal comfort throughout the day. The Standard L Series offers a versatile range of implements to handle virtually any job — from the LA525 front loader and the BH77 backhoe to pallet forks, bale spears and rear snowblowers.
Advice to Buyers
"Choosing the right equipment mostly depends on what the operator needs to accomplish and their budget size," says Jacob Sherman, Kubota product manager, compact tractors. "Buyers should consider flexibility and ease of use. Maybe they want a quick-attach front loader and a drive-over mid-mount mower deck. Look for a brand and a unit that offers a compact tractor that can handle real work, every day, easily and effortlessly."
[prettyPhoto title="Kubota Specs" link="https://compactequip.com/wp-content/uploads/2019/07/kubota-tractor-specs.jpg" type="link" ]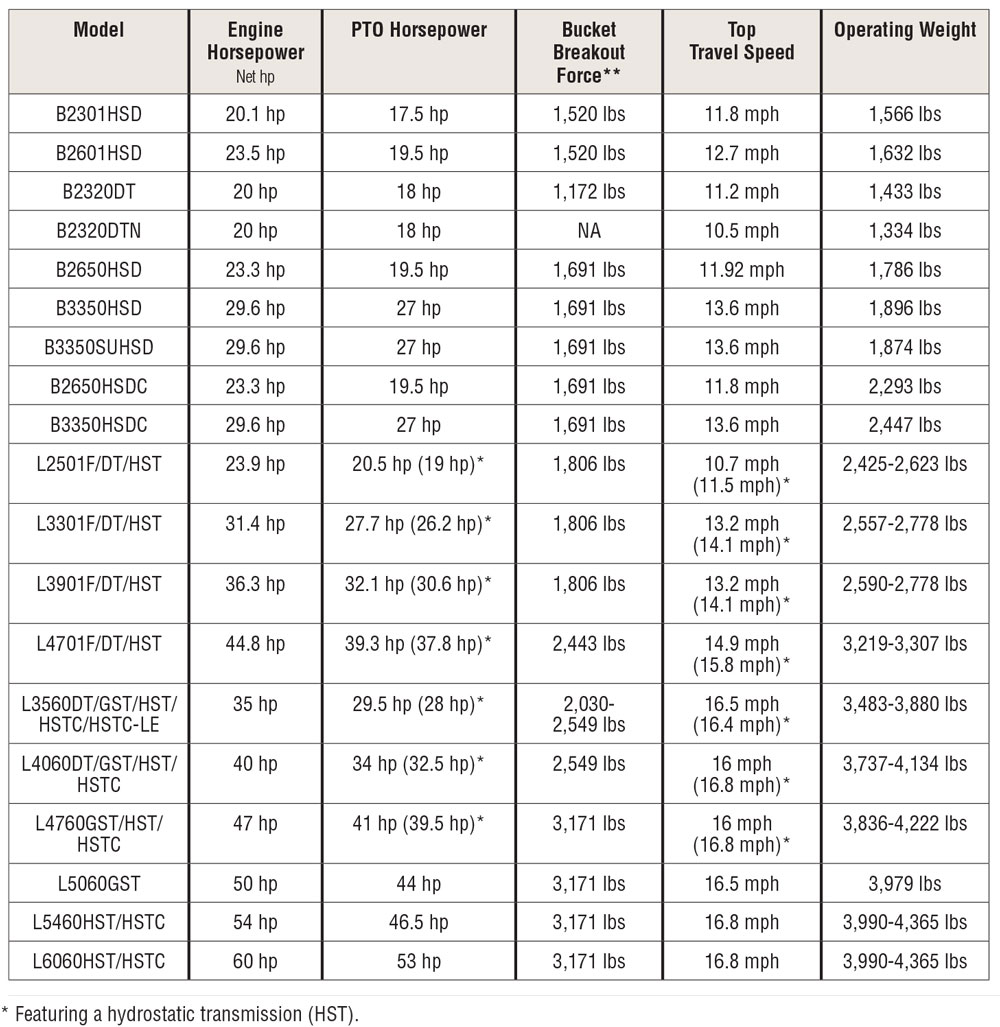 [/prettyPhoto]
Tags:
2019 Spec Guide
,
2019 Spec Guide- Tractors
,
July/August 2019 Print Issue
,
Kubota