In 1972, Kubota Tractor Corp. developed its first compact utility tractor, the 12-hp L200. Within the next five years, Kubota introduced all of its primary tractor lines — the B-, L- and M-Series. Since then, Kubota continues to be a market leader and distributor of under-40-hp tractors in the United States, offering more than 80 tractor varieties.
Kubota has introduced three new models to its B50-Series compact tractors, adding the newly designed B2650 and B3350 ROPS tractors and the new B3350SU Special Utility tractor to its lineup. The new B50-Series ROPS models have Kubota diesel engines that are built for greater power with cleaner emissions. The B3350 and B3350SU models offer a liquid-cooled E-TVCS (Emissions-Three Vortex Combustion System) engine.
The new B50-Series now delivers the highest PTO horsepower ever for a B-Series tractor. The B50-Series ROPS models provide an extra punch of power and strength for a range of tough tasks with 19.5-hp for the B2650 and 27-hp for both the B3350 and the B3350SU. Ideal for light utility work, mowing or landscaping, the B50-Series offers a variety of performance-matched implements, including a front loader, backhoe, mid-mount mower, standard and light material buckets and snow blades, making a multitude of jobs easier than ever in any season.
The tried and true L3200 and L3800 models come in HST and gear models powered by Kubota E-TVCS (Emissions-Three Vortex Combustion System) liquid-cooled diesel engines and boast a respective 31.9- and 37.4-gross-hp. Both models feature a semi-flat deck for more platform space and an ergonomic suspension seat for comfort.
The newest Standard L-Series tractors are the L3301, L3901 and L4701. All models feature a Tier 4 Final emissions-certified 33-hp Kubota diesel engine. A revamped design on all models showcases smooth, rounded contours that improve visibility. The L3301/L3901 HST models and the L3901 gear-drive models include a live, continuous-running rear PTO for easier operation and a stationary PTO feature that allows the use of various implements.
The Kubota Grand L60 Series offers enhanced styling and operator comfort with a deluxe cab and sharply styled, one-piece metal hood. The power of IntelliPanel makes operating the Grand L60 Series a breeze, with its large-screen digital panel combining an analog tachometer, temperature gauge, fuel gauge and standard indicators. An automotive-style cruise control and the new combination headlights/side lights allow for simple, car-like operation.
Advice to Buyers
"Before buying equipment, a customer should consider the big picture of the purchase in terms of whether or not the machine in question will aid in productivity, generate new business, help accomplish goals and keep their business ahead of competitors in the long run," says Paul Williams, Kubota senior product manager. "Keeping long-term business needs in mind, rather than short-term issues that are often easy to focus on, will lead to bigger returns on investments."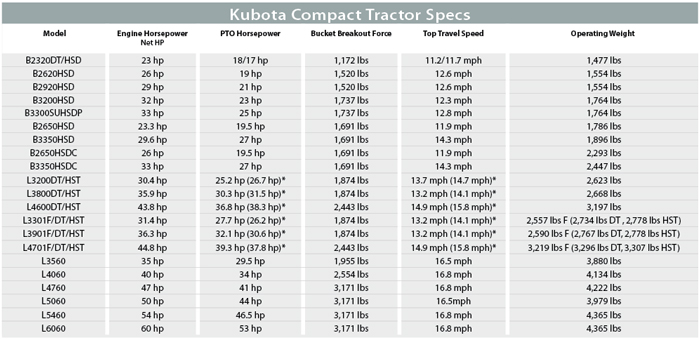 Tags:
Compact Tractors
,
Kubota
,
Spec Guide