Leading the Pack with Its L-, B- and Grand L60 Series Tractors
In 1972, Kubota Tractor Corp. developed the first compact utility tractor in the United States, the 12-hp L200. Shortly thereafter, Kubota introduced all of its primary tractor lines — the B-, L- and M-Series. Last fall, Kubota unveiled its L2501 compact tractor, featuring a 24.8-gross-hp Kubota diesel engine, a larger chassis, cleaner emissions and modern styling.
The transmission delivers four main-shift speeds in two ranges for high and low, for a total of eight forward and four reverse speeds, and the gear drive transmission models come in two- or four-wheel drive. The optional HST transmission offers simple forward and reverse change and three-range shifting for optimal operating efficiency.
Kubota's L3200 and L3800 come in HST and gear models powered by Kubota E-TVCS liquid-cooled diesel engines and boast a respective 31.9 and 37.4 gross hp. Rounding out the Standard L line are the L3301, L3901 and L4701, each featuring a Tier 4 Final emissions-certified 33-hp Kubota diesel engine. The L3301/L3901 HST models and the L3901 gear-drive models include a live, continuous-running rear PTO for easier operation and a stationary PTO feature that allows the use of various implements.
When it comes to high performance, Kubota's Grand L60 Series delivers with the power of IntelliPanel, making operating the Grand L60 Series a breeze with its large-screen digital panel combining an analog tachometer, temperature gauge, fuel gauge and standard indicators.
Also new in the lineup, Kubota introduced three models to its B50-Series compact tractors, the newly designed B2650 and B3350 ROPS tractors and the new B3350SU special utility tractor.
Advice to Buyers
"When looking to buy, operators should consider the availability of performance-matched attachments for the machine in question," says Steve Barcuch, Kubota's ag product marketing director. "Most compact tractors are sold with front-end loaders, rotary mowers and box blades, but it's always good to keep in mind future implement needs."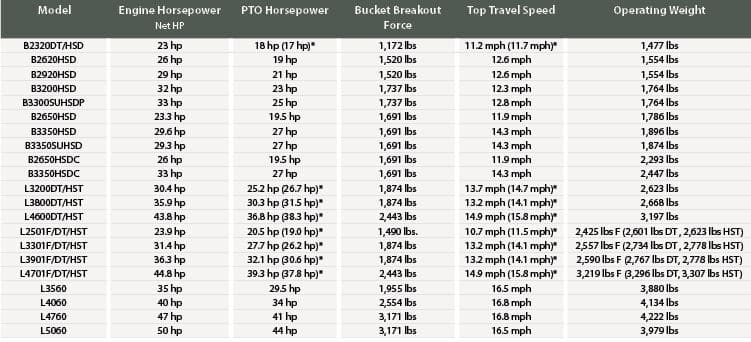 Tags:
2015 Spec Guide
,
July August 2015 Print Issue
,
Kubota