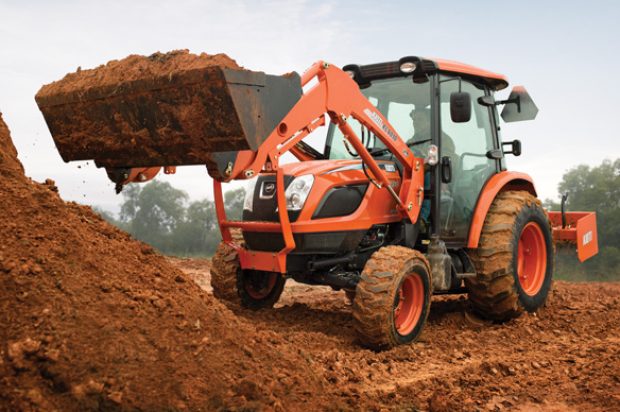 Leading the Pack with Four Compact Tractor Series
Headquartered in Wendell, N.C., Kioti Tractor, a division of Daedong-USA Inc., is a market-driven company that has been supplying tractor models in the 22- to 90-hp range to the U.S. and Canadian markets for 30 years. Within the last two years, Kioti introduced four new series (NX Series, PX Series, CK10 Series and DK10 Series), expanded three series (CS Series, NX Series and RX Series) and has been named Gold Level Status by the Equipment Dealers Association three years in a row.
Kioti currently offers four series of tractors in the featured 40 and under PTO hp range. The first, Kioti's CS Series, features three hard-working sub-compact tractors. The second, Kioti's CK10 and DK10 Series, are the company's value tractor lines. These series boast Kioti's quality and power for the budget-conscious customer. The Kioti NX and CK10 Series offer Kioti's premium quality with enhanced standard features to deliver power and performance on the job. A contemporary design, easy access to maintenance and service points and a variety of operator comfort features round out each Kioti tractor model. Each series is also compatible with Kioti's extensive line of attachments and implements, including front-end loaders, backhoes, hay tools, mowers, field option cabs and tillage equipment.
Most recently, Kioti advanced its sub-compact CS Series with the launch of the CS2210 and CS2510. With improved comfort, convenience and operation, Kioti's popular CS Series has the power and versatility for mowing, hauling, digging, snow blowing, tilling and plowing through projects, big and small. Appropriate for homeowners with property sizes ranging up to five acres, the new CS2210 and CS2510 sub-compact tractors offer a 21.1- and 24.5-hp diesel engine, respectively. These optimized engines combine large power output with low fuel consumption for cost-conscious operation.
By offering a solid warranty on its tractors, Kioti can ensure buyers that nearly all major Kioti tractor components are designed, engineered and assembled by its parent company, Daedong Industrial Co. Ltd., for the sole purpose of handling the most demanding workloads. Staying true to this process, the company can maintain the stringent quality control standards necessary to give all Kioti products a superior level of performance and longevity.
Advice to Buyers
"One of the first questions you'll need to answer during your tractor search relates to power — PTO power," explains Jimmy Lee, regional sales manager of Daedong-USA Inc. "PTO power is important to know when you plan to run PTO-powered implements like mowers and tillers as it will determine the size mower or tiller you can efficiently run with the tractor. Generally speaking, PTO power in the 25- to 50-hp range should suffice. Test multiple units, find a dealer that will work for you and pick a brand that stands behind its machines. That's my advice."