Budget-minded property owners and contractors don't shop for "cheap" utility tractors. In the first place, the word has negative connotations. In the second, any machine costing in the neighborhood of $15,000 to 20,000 doesn't qualify as cheap. But there are plenty of shoppers for "economy" or "value-priced" or "basic" tractors, and manufacturers offer a full range of such equipment.
What constitutes a basic utility tractor — say, a machine in the 25- to 45-hp range — is up for debate. One man's optional feature is another man's gotta-have. It all comes down to who will operate the tractor and what tasks the operator will be taking on. If a shopper doesn't know these things before visiting a dealership, he or she is apt to end up with the wrong tractor.
A core consideration in buying a value-priced utility tractor is engine size, but even that decision is not clear-cut. The Kioti CK2610, for example, comes with a 24.5-hp diesel engine that pumps hydraulic fluid at 11.7 gpm and can operate a 5- or a 5 1/2-ft front-end bucket. Want something a little more powerful? The CK4010 has a 39.6-hp engine, yet it also pumps hydraulic fluid at 11.7 gpm and operates the same front-end bucket.
"We really offer three horsepower ranges for the same tractor from a physical size standpoint," says Kioti's national sales manager Tim Phillips. "The CK2610, CK3510 and CK4010. They all have the same features, but each does a little bit different job because of horsepower."
So, a utility tractor buyer should have some idea of the range of power he or she actually needs before visiting a dealership. A 25-hp machine might be too little, 50 hp too much, 35 to 40 hp just right.
The desired size of attachment or implement should be part of the engine-size decision. "A buyer should ask themselves what they want to do — and how many hours a year will it take to do that," says Ryan Pearcy, senior product manager at Mahindra USA. "If they know that, they can determine what size implement they need." And what size engine.
For value shoppers, Mahindra offers what Pearcy calls "an old-school tractor'' — the 41-hp 4540. "That series has been around for quite some time, updated, of course," he says. "It's a basic kind of tractor, old bread and butter, with simple controls and a manual transmission. Every other Mahindra tractor at least has a stick shuttle, but the 4540 still has four gears and two ranges. We sell a lot of them."
The transmission is another major consideration for a basic utility tractor buyer — manual or hydrostatic? The three Kioti utility tractors in the 25- to 40-hp group are available with either 9X3 manual gearing or hydrostatic transmissions. However, a hydrostatic model will cost approximately $800 to $1,300 more, which begins to erode the concept of basic. The cost differential is similar at other manufacturers. So, a buyer must weigh the higher upfront cost of hydrostatic against other considerations, such as ease of use when a machine will have multiple operators. The choice for most buyers is hydrostatic. "It varies by region, but tractors with hydrostatic transmissions account for 70 to 75 percent of our sales," Phillips says.
A hydrostatic option for Mahindra basic utility tractor buyers is the 2638. "Both the 4540 and the 2638 are basic in their own way," Pearcy says. "The 2638 has a few more creature comforts. It's for those who don't want the heft and bulk of the 4540, people who are working on more delicate ground." The 4540 weighs a half ton more than the 2638, which is powered by a 37-hp diesel engine.
Years ago, discussions about manual gears and hydraulic transmissions pivoted on durability. The simpler a machine, the more reliable it would be, so basic machines eschewed the automatic this and electronic that for manual switches and gear-on-gear shifting. "That was one of the things about hydrostatic transmissions. They had a bad reputation, but a lot of those things have come a long way in reliability," Phillips says, "and our tractors are no exception." Be that as it may, the life expectancy of hydrostatic and manual transmissions today is comparable.
Tyler Pittson, utility tractor product manager at Kubota, recommends the manufacturer's L3901 utility tractor as an "economy" model, partly because it comes with either hydrostatic or a mechanical synchro-shuttle transmission. The latter has an eight-speed range and clutchless shifting between forward and reverse. The tractor is powered by a 37-hp, three-cylinder, Tier 4 diesel engine.
Pittson was asked where else, besides engine and transmission options, an economy buyer can look to economize without sacrificing performance. Opting for two-wheel drive might be one place to cut costs, he says, but "four-wheel drive in certain applications or terrain is a must because more traction or stability is required." He said a buyer also should consider getting R4 industrial tires instead of ag or turf tires. "They usually are more expensive, but they typically last longer and are more versatile. And I suppose if you don't mind having to stop to engage the PTO, not having an independent PTO would be a lower-cost option."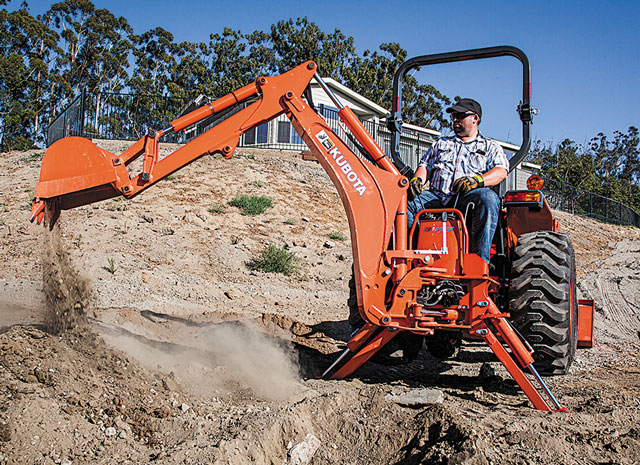 If economy is equated to simplicity, manual switching and mechanical controls would seem preferable on basic utility tractors. Pittson explains how that plays out in Kubota transmission choices. "Some tractors have electronic hydrostatic transmissions and electronic engagement of PTOs. Typically, an economy tractor has mechanical hydrostatic or mechanical servo control hydrostatic," he says. "Higher-end transmissions are usually electronically controlled, which allows for more features like cruise control and auto-throttle advance."
Mahindra's basic 4540 tractor has "very, very minimal electronics," according to Pearcy. "That appeals to older operators." That doesn't mean the economy tractors are less productive or, for that matter, less fun to operate. They just offer fewer creature comforts. Phillips says: "In the Kioti value series, you will see a few more manual controls. From a performance standpoint, it doesn't have any impact whatsoever."
Possibly the newest basic utility tractor on the market, Yanmar's Solis line, makes no bones about its roots. Ben Housch, Yanmar's ag product manager, compares the Solis models 24 and 40 (indicating horsepower) to the legendary Ford 8N and comparable International models of yesteryear — compact tractors with good lugging power that excelled where the tine entered the ground. "Solis really wants to outwork the competition in terms of doing the dirt work, and that will translate well to other work."
The smaller Solis 24-hp tractor and its 40-hp stablemate are still in transition into the U.S. marketplace. A Tier 4 Final version of the larger model has been around a while and the Tier 4 Final model 24 was introduced in September. The tractors are so new that final prices haven't been announced. "Solis is very cost-conscious. They want to make sure they are lower than the majority of the competition in the market. They will be very cost-competitive products," Housch says.
A year ago, Yanmar bought a bigger piece of International Tractors, an Indian tractor maker that sells its products in 80 countries. The partnership is looking to expand its North American presence through Solis. "Yanmar makes excellent compact utility tractors, but we don't get up into these larger utility models. This will allow us to target a different customer," Housch says. "The Yanmar and Solis lines complement each other more than they compete. It's a good fit all the way around."
The Solis tractors offer basic features. The 40, for example, has two-wheel drive and an eight forward, two reverse manual transmission. "It's pretty much a basic tractor in its electronics, not anything complicated," Housch says. This paring down of features differs from the Yanmar line, such as the YT235, a 34-hp unit with hydrostatic transmission weighing some 2,700 lbs. Housch calls the 235 a "good-sized tractor that's hard to beat."
The various manufacturers stress different features in their economy models, but it all comes down to utility. These basic models are built for utility, not convenience. With ROPS instead of enclosed cabs. Bare operator platform floors, instead of matted ones. Fixed steering wheels, instead of tilting ones. One manufacturer extols the addition of steps to mount its economy model, eliminating the "lurch" otherwise needed to climb on. That's pretty basic.
Who's Buying Basic?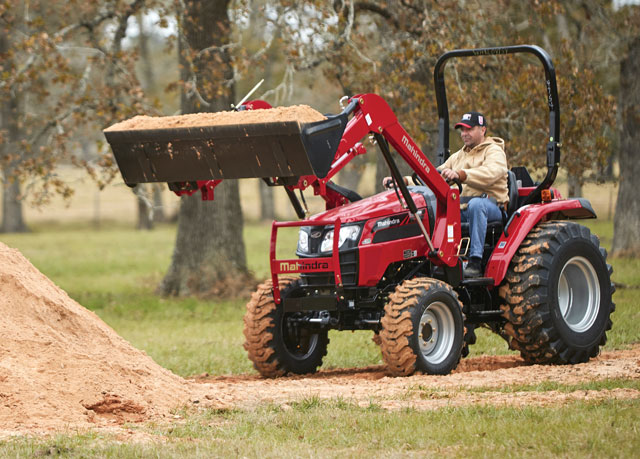 With the U.S. economy on a roll, who is buying an economy tractor instead of a fuller-featured one? Prosperity means perks, after all. The fact is, buyers of value-priced tractors may be as financially secure as anyone, but tractor work is not their full-time gig. They simply are being prudent in sticking to basics in their tractors.
"Basic tractor buyers are people who have other jobs and are not going to be using their tractor all day every day," says Ben Housch, Yanmar ag product manager. "It's somebody who is more concerned about the utility of a machine and wants one that can get the job done in the quickest way."
Tim Phillips, Kioti national sales manager, describes a broader range of buyers, from homeowners to hobby farmers, municipality workers to landscapers. "The core of this 25- to 40-hp group is the first-time tractor buyer, a landowner of 3 to 20 acres. It's either a situation where a tractor is necessary to maintain property or a customer has a connection to the land and a desire to be outside. Those are the core demographics."
And do these first-time tractor owners tend to trade up? More and more, they do, according to Phillips. "Initially the compact utility tractor buyer made his first new tractor his last one. Now the trend is changing. We are seeing a lot of first-time tractor buyers start with a 25- to 30-hp product, but their needs change or they want to be more comfortable with an air-conditioned cab or a tractor with more horsepower. Now, typically, they trade up two or three times."
Giles Lambertson is a freelancer writer for Compact Equipment.
---
Tractor Maintenance for Winter's Sake
The elements get a little more extreme in the winter and greasing will help protect the machine. Grease the tractor at all grease points. It is also a good idea to apply a light coat of grease to all exposed cylinder rods to help prevent corrosion. Verify that your battery is in good working condition. Make sure your fuel is winterized before the cold weather begins. Check your tires. This includes checking for proper tread depth, proper inflation and making sure there is no tire damage. Also, check the wheel lug nuts for proper tightness. Check that all lights are functioning properly. Days are rapidly getting shorter, and you'll rely on these lights more in the winter. Check all hydraulic hoses for damage or leaks.
Check out more info on compact tractors here.
Tags:
home
,
Kioti
,
KIOTI Tractor
,
Kubota
,
Mahindra North America
,
October 2018 Print Issue
,
Yanmar America