Four Different Families of Utility Tractors from the American Ag Giant
John Deere offers four model families of compact utility tractors to meet the varying needs of customers: 1 Family sub-compact utility tractors (up to 25 hp); 2 Family compact utility tractors (25 to 38 hp); 3 Family compact utility tractors (25 to 46 hp); and 4 Family compact utility tractors (44 to 66 hp).
One of the more popular models, the 3E Series compact utility tractors offer customers ultra-reliable machines that are powerful and easy to use, promotes John Deere. Providing a tight turning radius, the 3E machines are extremely maneuverable and increase wheelbase and weight for improved machine stability. Easy to use, color coded controls increase overall comfort and convenience during operation. The independent power take off (PTO) system eliminates the need to stop and clutch to engage or disengage the PTO. An easy-to-use, two-range hydrostatic transmission increases tractor performance while eliminating clutching for fast and easy direction changes. Additionally, Twin Touch foot controls provide an automobile-like experience while reducing operator fatigue.
Deere compact utility tractors can be used across multiple industries, from light commercial and landscaping to municipal and other non-residential environments. Through implements, the compact utility tractor becomes a true workhorse, tackling a range of jobs including digging, transporting materials, mowing and snow removal, doing the work of several pieces of equipment with one machine.
The versatility of the compact utility tractors is what makes the machine appealing to contractors. John Deere offers a wide variety of implements designed for a multitude of jobs. A few of the more common implements used on compact utility tractors include a loader, a mowing deck and a backhoe, allowing John Deere compact utility tractors to quickly transition from material handling to grass mowing to digging tasks. Additional attachments allow Deere tractors to be used for tasks like snow removal, landscaping, maintenance and repair. John Deere compact utility tractor implements are designed to easily connect and disconnect. Some implements, such as the AutoConnect mower deck, can be installed and removed simply by driving the front wheels of the tractor over it.
Advice to Buyers
"Compact utility tractors are true utility, multi-use machines. When selecting a new compact utility tractor, customers should first evaluate their needs and intended use to ensure they are selecting the right model," says Jeremy Unruh, marketing manager, small tractors, John Deere. "Your dealer is a great resource to help narrow down the options. Discuss your work, horsepower requirements and the type of transmission you want. Depending on the type of work you are doing, you'll want to discuss what implements you need, like a loader, mower deck or backhoe so you buy the right equipment to get the job done."
[prettyPhoto title="John Deere Specs" link="https://compactequip.com/wp-content/uploads/2019/07/john-deere-tractor-specs.jpg" type="link" ]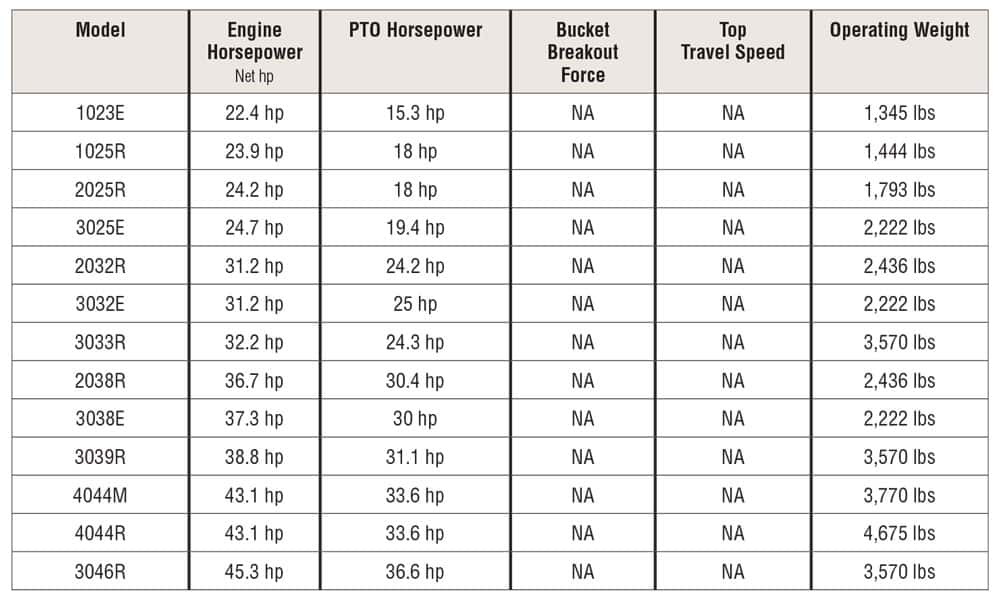 [/prettyPhoto]
Tags:
2019 Spec Guide
,
2019 Spec Guide- Tractors
,
John Deere
,
July/August 2019 Print Issue