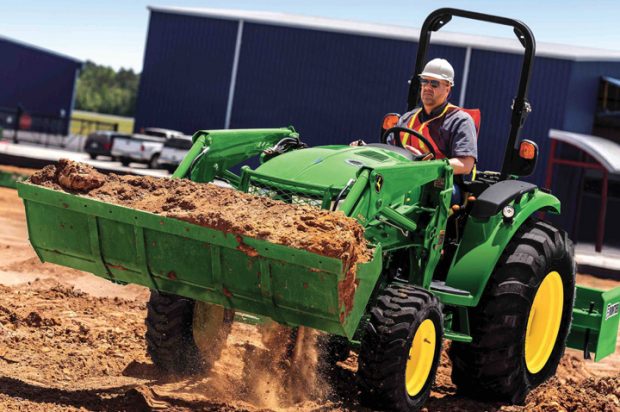 Four Different Series of Utility Tractors from the American AG Giant
When the product category was first launched in the early 1980s, the compact utility tractor was targeted toward rural homeowners who were not large-scale farmers. The small, affordable tractors were ideal for mowing, tilling, moving material and other tasks that these weekend warriors needed to perform. Over the last 30 years, technology has changed, making compact utility tractors even more versatile. The transmissions have evolved from manual to hydrostatic and a variety of attachments and implements have become available.
While rural homeowners are still the primary customer, John Deere compact utility tractors have found uses in light commercial, landscaping, municipal and other non-residential environments. With the right implement, these chore tractors can dig, transport material, mow and remove snow, doing the work of several pieces of equipment.
The beauty of these tractors lies in their versatility. With more than 300 attachments available, John Deere compact utility tractors allow a professional to complete nearly any task at hand. The more commonly used attachments include a loader, a mowing deck and a backhoe, allowing John Deere compact utility tractors to quickly transition from material handling to mowing to digging tasks. Additional attachments allow Deere tractors to be used for tasks like snow removal, landscaping, maintenance and repair.
John Deere compact utility tractor attachments are designed to be easily connected and disconnected. Some attachments, such as the Auto Connect mowing deck, don't require the operator to leave the seat.
Whereas some larger machines require well-trained operators, John Deere compact utility tractors are easy to use for all operators, says the company. The controls are intuitive and non-intimidating. Hydrostatic drives are also a common feature on these units, meaning new operators will find them as easy to drive as cars. John Deere offers four model series of compact utility tractors to meet the varying needs of customers: 1 Series sub-compact utility tractors (up to 25 hp); 2 Series compact utility tractors (24 to 31 hp); 3000 Series compact utility tractors (32 to 43 hp); and 4000 Series compact utility tractors (41 to 66 hp).
Advice to Buyers
"Customers who are considering purchasing a compact utility tractor should start by identifying their needs," says Richard Kershner, John Deere product marketing manager for worldwide compact utility tractors. "Consider how much horsepower you will need and what attachments make the most sense for your business. Your dealer can assist with the decision-making process, ensuring you select a compact utility tractor that is ideal for your intended application."