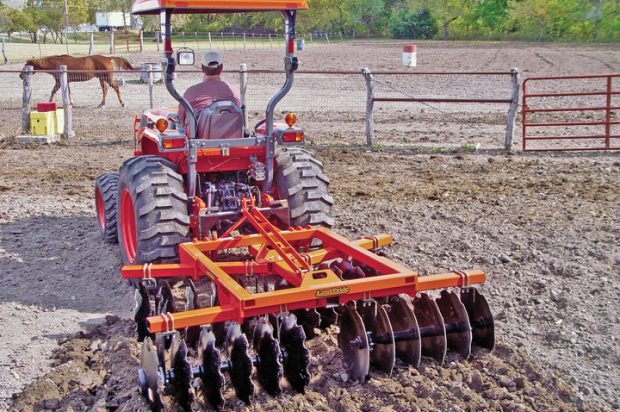 Everyone knows that compact tractors are custom made for completing tasks in a timely and cost-effective manner. If you have a compact tractor, you likely own a rotary cutter, a box blade, maybe a tiller and perhaps even a grooming mower. And so does your neighbor. And the guy at work, too. Those are common tools, every dealer sells them and every tractor owner has at least one of them.
If you bought your compact tractor just to mow or garden, you're missing a great opportunity to do more with your tractor. There are dozens and dozens of implements and attachments that are designed to make your life easier. From grading scrapers for refurbishing a gravel road to post hole diggers for replacing a fence, there are many tools out there that probably don't come to mind immediately. Just imagine what you could do with some of these often-overlooked implements.
Disc Harrow
Disc harrows have been around a long time — the first U.S. patent on a disc harrow was issued in 1847. The first models had a single set of discs and were pulled by horses. As they grew in popularity, additional sets of discs created larger and larger units. Today, you don't need a horse to pull a disc harrow, but you do need a tractor in the 18- to 100-hp range to pull harrows from 48 up to 96 in. These versatile tools are ideal for a variety of tasks performed with your compact tractor: tilling large gardens or small fields; preparing soil for seed or sod; breaking virgin soil for a food plot; filling center-pivot irrigation tracks; or leveling dirt on arena floors, just to name a few.
Disc harrows are equipped with a series, or gang, of either notched or smooth steel discs that run parallel to the rear of the tractor. The discs are angled to control soil disturbance and depth. Other factors that aid in depth control are weight, disc sharpness and disc size — typically between 16 to 22 in. in diameter. A quality disc harrow is going to have a heavy tubular steel frame, self-aligning and sealed bearings on the disc gangs, heavy-duty hangers and the option to add disc scrapers. Disc weight is crucial as that helps with ground penetration — don't buy a light unit! A quality 5-ft disc harrow should have discs that weigh 36 lbs or more each and will be priced between $2,000 and $2,500 at a dealership.
Post Hole Digger
Another versatile and useful implement is a post hole digger. Certainly, when you mention a post hole digger or auger, the natural thought is fencing. And if you're replacing miles of pasture fence or installing hundreds of feet of new fence, a post hole digger is a must-have tool. But there are other uses too, from mailbox or sign installation to deck or shed footings, tree planting or even use it to install a basketball hoop for the grandkids.
Post hole diggers come in various sizes depending on your tractor's horsepower. The smallest units, designed for sub-compact tractors, can feature an auger that is a mere 30 in. in length to help with maneuvering of a smaller tractor. Post hole diggers can be three-point mounted or bucket-mounted. The bucket-mounted unit runs off the tractor's hydraulics so adequate flow is required. Auger options for most diggers typically range from 6 to 18 in. Tree augers can range from 24 to 36 in. Rock augers, designed to bore through rocks and hard sediment, are available in 6-, 9- and 12-in. diameters. The length of standard augers is 48 in.
Post hole diggers are relatively simple, consisting of a frame, gearbox, housing and auger. The most important piece is the gearbox — it does the work. Quality units will come with a three- to five-year warranty on the gearbox. Typical pricing on a quality post hole digger from a reputable manufacturer will start at around $1,000, slightly less for the sub-compact model and go up to about $1,500 for a three-point model. Bucket-mount models will fall in between at about $1,250. Augers are extra and range from $250 to $700 depending on size.
Grading Scraper
If you're looking for a near fool-proof way to maintain your dirt or gravel lane, you must consider owning a grading scraper. Easier to use than a box blade, grading scrapers quickly restore the crown and finish of almost any potholed or wash-boarded road. To restore a road and maintain a crown, simply grade up one side and down the other several times. It really is that easy to get a professional finish.
A grading scraper is a simple tool with front scarifiers to rip up rock and aggregate that has become compacted over time. Tall side panels hold the material in place and angled grader blades shave high spots. As material flows over the grader blades, dirt fills the holes and aggregate is deposited on top of a smooth, graded surface. Quality models feature adjustable scarifier shanks with replaceable tips and adjustable and reversible grading blades, as well as replaceable skid shoes. Some manufacturers also include rear facing blades for shaving off small saplings or backfilling large potholes.
Grading scrapers can typically be found in sizes from 48 to 96 in. and are manufactured by a number of companies. A quality unit built to pair with a 20- to 50-hp tractor, with scarifiers, starts around $1,200 and goes up to around $1,500.
Powered Rake
No landscape contractor should be without a three-point powered rake. A powered rake is a multi-functional seed bed and soil surface preparation tool. They are capable of eliminating compaction and then grading, leveling, shaping and pulverizing various types of soil surfaces to create the perfect seed bed. If rocks are a problem, a powered rake is also ideal for raking or windrowing rocks and construction site debris. Powered rakes are available from 60 to 90 in. They are driven by the tractor's PTO with a secondary driveline from the gearbox to the chain drive. The roller typically features carbide-tipped studs for long wear life. A powered rake can be angled for wind-rowing or more aggressive pulverizing, and most feature rear gauge wheels.
This is not a weekend warrior-type tool. A quality power rake can run anywhere from $9,700 to $11,300 depending on size and options, but it makes a great contractor tool. For the DIYers out there, many rental yards carry quality models that you can rent by the hour or by the day.
Final Thoughts
Implements come in all shapes and sizes. The important thing to remember is your implements are an investment. You need them to help you perform a task, and they need you to maintain them like you would your tractor. That means practicing preventive maintenance recommended by the manufacturer. Additionally, choose implements that are well made and built to last. Find a reputable dealer and ask them about manufacturer warranties and know where any warranty work will be performed. If you buy a unit off the internet, you're likely going to have to ship it back to them for warranty work. That might be convenient for an MP3 player but not for a 500-lb implement. Manufacturer's authorized dealers are there to help you. Use their knowledge, and then enjoy your new implements.