Utility tractors are the do-it-all tool carriers used by farmers, landscapers and large estate owners. Mow grass, dig trenches, auger holes or pick and place large piles of dirt or gravel with a compact utility tractor's power take off attachment system (PTO). Compact tractors are a versatile breed of machine, taking implements in the front, back and under the belly, pulling way more than its weight on most jobsites.
Today's compact tractors are defined as small agricultural tractors equipped with a 540-rpm PTO and a three-point hitch designed for Category 1 implements. Compact tractors generally have a mass less than 4,000 lbs and use less than 40 PTO hp to run their attachments. Today, John Deere, Kubota and New Holland are the three most popular manufacturers of these machines — all with decades worth of compact tractor experience. Yet, there are plenty of players primed to accommodate the growing compact tractor market (Case IH, Yanmar, Kioti and Massey Ferguson are all bringing innovative alternatives to the small utility tractor market).
Compact tractors quickly appeared from 40 hp down through the early 1980s, filling the market gap left by American tractor manufacturers gearing up to meet market demand by the American farmers for larger and higher horsepower Ag tractors. Invariably, schools, parks, landscapers, cemeteries and hobby farmers all took an immediate liking to these high-production, economical-to-own and user-friendly compact tractors. There are hundreds of model choices and unique features galore (from air conditioned cabs to power transmissions), along with a zillion different implements (mowers, landscape rakes, augers, buckets, backhoes, hay bales, fork lifts, seeders, brush cutters and beyond). To learn more about these compact utility tractors, peruse the product summaries and specs below.
Case IH Compact Tractors
The Farmall Brand Is Alive and Well, Boasting Seven Variations of Tractor
The first Farmall tractors were introduced in 1923, and they quickly put a lot of horses out of work. The original design allowed implements to be mounted on the front and back, further expanding its versatility. Case IH has revived this legacy brand in its line of compact tractors, re-launching the Farmall brand in 2004.
Case IH currently offers the Farmall B Series as its compact tractor line. The Series offers four different models (in seven variations): Farmall 30B, Farmall 35B, Farmall 40B and Farmall 50B. The Farmall B Series tractors feature a robust, four-cylinder diesel engine that's quiet and fuel efficient. Two transmission choices are available, either synchronized shuttle shift or a foot-controlled hydrostatic transmission. A high-capacity, dual-pump hydraulic system that comes standard on all four Farmall B models results in a faster steering response time.
The Farmall B boasts outstanding forward visibility with a sloped hood and enhanced lighting package, making operators more productive and safe, no matter how early or late they are working. A comfortable operator environment with adjustable seat and steering wheel ensure that the Farmall B is easy to operate, while a large, uncluttered operating platform provides plenty of legroom. Whether operators choose the synchronized shuttle shift transmission that doesn't require users to stop when shifting from forward or reverse, or the foot-controlled hydrostatic transmission, they can always count on a smooth ride in the Case IH Farmall B tractor.
The Case IH Farmall B is a flexible tractor because of its compact size and pure physical abilities, says Case IH. Whether it's moving mulch with a loader or mowing a lawn with a mid-mounted mower deck, the Farmall B is able to get you in and out of tight spaces and easily maneuver around obstacles. Four-wheel drive gives extra traction when needed, and when the going really gets tough, the differential lock foot pedal locks both rear wheels together for additional traction. The Category 1 three-point hitch and independent, electro-hydraulic 540-rpm rear PTO matches dozens of accessories, implements and attachments to help get the job done.
The Farmall B Series also offers three models with a continuously variable transmission (CVT): Farmall 40B CVT, Farmall 45B CVT and Farmall 50B CVT. Operators will be able to work with greater comfort and control than ever before. The CVT is designed to provide smooth, seamless speed changes through varying conditions. The transmission controls are unique and feature a single pedal to control both travel and engine speeds. The transmission automatically adjusts to deliver the desired speed and match load conditions.
The Case IH Farmall B is compatible with the L300 Series loaders. The L300 Series loaders are equipped with curved boom arms that let you easily see to the top of the bucket and around the front tires while providing greater strength with less weight when compared to traditional dog-leg designs. The L300 Series loaders are built tough to take the twisting forces of heavy-duty loader work, including: heavy-duty cast reinforcements for greater strength; large, rectangular loader torque tubes for better durability; and construction-grade, 1-in., non-rotating pins for easy servicing. The loader mounting brackets are fully compatible with other Case IH attachments.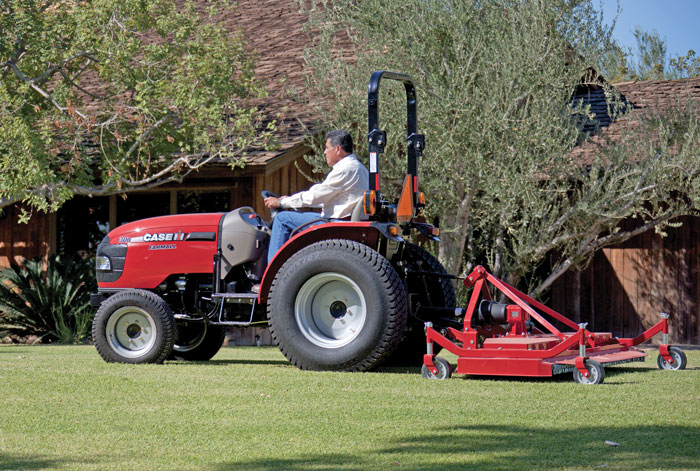 Advice to Buyers
"Two key areas to consider when purchasing a compact tractor are ease of servicing and operation," says Greg Lucey, Case IH Farmall marketing manager. "Operator comfort can also make the difference between loving to use your tractor and projects feeling like work. You also want to select a tractor that's appropriate for your level of experience and budget."
Contact Info
Case IH
700 State St.
Racine, WI 53404
(877) 4-CASEIH
John Deere Compact Tractors
Four Different Series of Utility Tractors from the American Ag Giant
When the product category was first launched in the early 1980s, the compact utility tractor was targeted toward rural homeowners who were not large-scale farmers. The small, affordable tractors were ideal for mowing, tilling, moving material and other tasks that these weekend warriors needed to perform. Over the last 30 years, technology has changed, making compact utility tractors even more versatile. The transmissions have evolved from manual to hydrostatic and a variety of attachments and implements have become available. While rural homeowners are still the primary customer, John Deere compact utility tractors have found uses in light commercial, landscaping, municipal and other non-residential environments.
With the right implement, these chore tractors can dig, transport material, mow and remove snow, doing the work of several pieces of equipment.
The beauty of these tractors lies in their versatility. With more than 300 attachments available, John Deere compact utility tractors allow a professional to complete nearly any task at hand. The more commonly used attachments include a loader, a mowing deck and a backhoe, allowing John Deere compact utility tractors to quickly transition from material handling to mowing to digging tasks. Additional attachments allow Deere tractors to be used for tasks like snow removal, landscaping, maintenance and repair.
John Deere compact utility tractor attachments are designed to be easily connected and disconnected. Some attachments, such as the Auto Connect mowing deck, don't require the operator to leave the seat. This makes John Deere compact utility tractors easy to use for operators of all skill levels. Ease of use also extends to the tractor itself and is a key concern among all purchasers — residential or professional.
Whereas some larger machines require well-trained operators, John Deere compact utility tractors are easy to use for all operators, says the company. The controls are intuitive and non-intimidating. Hydrostatic drives are also a common feature on these units, meaning new operators will find them as easy to drive as cars.
John Deere offers four model series of compact utility tractors to meet the varying needs of customers: 1 Series sub-compact utility tractors (up to 25 hp); 2 Series compact utility tractors (24 to 31 hp); 3000 Series compact utility tractors (32 to 43 hp); and 4000 Series compact utility tractors (41 to 66 hp).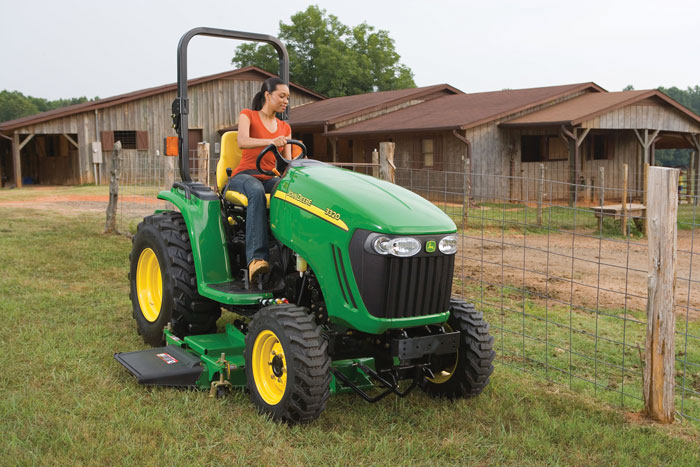 Advice to Buyers
"Customers considering purchasing a compact utility tractor should first consider the jobs the tractor will be used for and what it may be used for in the future," says Richard Kershner, John Deere product marketing manager for worldwide compact utility tractors. "Take into account how much horsepower you anticipate needing and what attachments are available for the particular model. By considering these factors, customers can be sure the tractor is well-suited to their current and future needs and will help them grow their business efficiently."
Contact Info
John Deere Ag and Turf Div.
2000 John Deere Run
Cary, NC 27513
Kioti Compact Tractors
Thirteen Units with Big Warranties, Operating Weights and Work Ethics
Kioti Tractor, a division of Daedong-USA Inc., has had a steady and increasing presence in North America for more than 25 years. Since 1986, the company has increased the depth of its product line to include more than 30 compact tractor models in the 22- to 90-hp range. Thirteen of these models fall into the 22- to 40-hp range. Kioti has long been recognized for the industry-leading operating weights of its tractors, says the company. For models under 40 hp, these weights range from 1,485 to 3,950 lbs, offering 16.2 to 35.1 PTO hp to drive a variety of implements and attachments. Kioti's heavier-weight construction offers users both brute force and traction to power through a variety of jobs.
All Kioti tractors are designed and engineered with value and quality in mind. In addition to a distinguished product line, Kioti offers a solid warranty on all its tractors. The company says it can offer this warranty because of its vertically integrated manufacturing process. This vertical integration allows Kioti to ensure buyers that nearly all major Kioti tractor components are designed, engineered and assembled by their parent company, Daedong Industrial Co. Ltd., for the sole purpose of handling the most demanding workloads.
Kioti has trademarked this manufacturing process as "The Power of 1." By manufacturing its own components, the company can maintain the stringent quality control standards necessary to give all Kioti products a superior level of performance and longevity.
Kioti currently offers four series of tractors in the featured 40-and-under hp range. The first, Kioti's CS Series, is comprised of its brand-new CS2410 sub-compact tractor, released in May 2012 The second, its DS Series, is the company's value line of tractors. This series boasts Kioti's renowned quality and power with fewer standard features for the budget-conscious customer. The Kioti CK and DK Series compact utility tractors offer Kioti's premium quality with enhanced standard features to deliver impressive power and performance on the job, says the company. A contemporary design, easy access to maintenance and service points and a variety of operator comfort features round out each Kioti tractor model.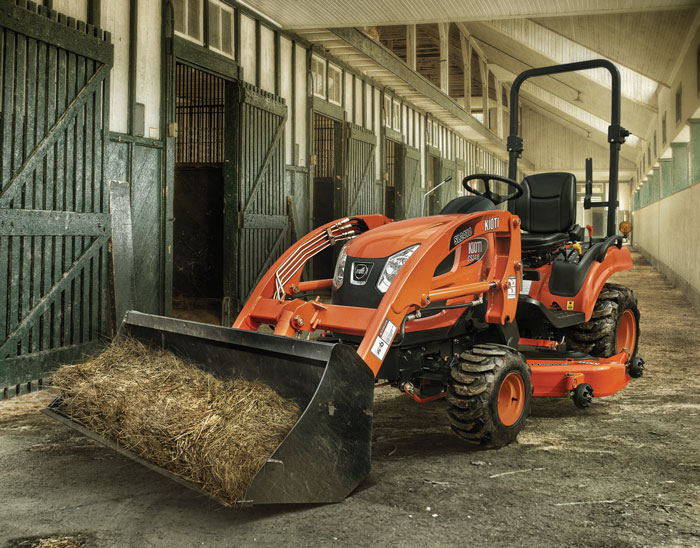 Advice to Buyers
"When shopping for a compact tractor, there are many makes and models available to customers," explains Peter Dong Kyun Kim, CEO of Daedong-USA Inc. "After you've identified how the tractor will be used, some online research or a reputable dealer can help you determine the various makes and models that will meet your needs, as well as the attachments and implements you should consider. Of primary importance when shopping for a tractor is to make sure you are making an apples-to-apples comparison. Many companies offer a base tractor with each additional feature desired increasing the price; others offer these same features as standard equipment. The same thing applies to warranties. Be sure to read the fine print so you understand exactly what you're buying."
Contact Info
Kioti Tractor
6300 Kioti Dr.
Wendell, NC 27591
(877) GO-KIOTI
Kubota Compact Tractors
The B-Series and L-Series Keep Companies and Crews Productive
In 1972 Kubota Tractor Corp. developed its first compact utility tractor, the 17-hp L200. Within the next five years, Kubota introduced all of its primary tractor lines — the B-, L- and M-Series. Since then, Kubota continues to be a market leader and distributor of under-40-hp tractors in the United States, offering more than 80 tractor varieties, all continuing to evolve to meet and exceed customers' needs by featuring versatility, quality, power and performance.
Kubota's B-Series compact tractors boast power, comfort and versatility to tackle a variety of tasks. The B2320, B2620 and B2920 are each equipped with a three-cylinder, liquid-cooled diesel engine that ranges in (gross) horsepower from 23 to 29 hp. The B3200 and the B3300SU lead the pack with a four-cylinder, high performance, E-TVCS (three-vortex combustion system) Kubota diesel engine (32 and 33 gross hp, respectively), power steering, a mid-PTO standard on the B3200 and an 8.1-gal fuel tank. Similarly, the new flagship models, the B2650 and B3350 cab tractors, fill in the top of the line and fit the bill for a wide range of applications with comfort. Both models feature HST transmission with three-range transmission that provides infinite travel speed control.
Kubota's powerful L-Series compact tractors deliver a high-level of productivity with deluxe features at an economical price. The L3200 and L3800 are offered in both hydrostatic (HST) and gear models powered by a Kubota E-TVCS liquid-cooled diesel engine, and boast 31.9 and 37.4 (gross) hp, respectively, and are now assembled in Georgia. The L4600 joined the L3200 and the L3800 and continued to raise the standard for compact tractors. A semi-flat deck on the L3200 and L3800 offer more platform space, while a full-flat deck and hanging-type pedals on the L4600 offer optimal space and ease of operation. These models offer power and deluxe styling, convenient operator controls and performance-matched loaders and backhoes, along with being built in Georgia for a total value package.
The Kubota Grand L60 Series offers enhanced styling and operator comfort with a new deluxe cab and sharply styled, one-piece metal hood, along with ease of use with intuitive computer controls and simple operation. Operating the Kubota Grand L60 Series tractors is a breeze with the new IntelliPanel electronic dash. Incorporating highly intuitive computer controls, the large-screen digital panel combines an analog tachometer, temperature gauge, fuel gauge and standard indicators to keep operators informed on the tractor's operating status and maintenance needs. In addition, an automotive style cruise control and the new combination headlights/side lights allow for simple, car-like operation. On HST Plus models, a "Kubota Original" feature has been added for superior power. The Kubota Throttle-Up Switch located on the loader joystick lever gives operators a burst of power with the push of a button to complete jobs quickly and easily.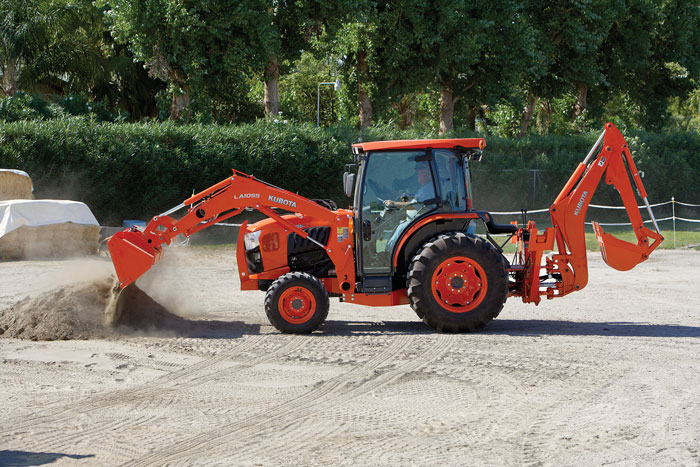 Advice to Buyers
"Prior to purchasing, a customer should make a list of all the critical applications, now and for the future on their wish list, and then prioritize the jobs in order of importance," says Paul Williams, Kubota senior product manager. "This can be a bit tricky since the job that you spend the most time on today may not be the reason for purchasing the tractor. By attempting to identify your future equipment needs, you will be better prepared for larger, more diverse applications down the road. Using online tools can help you assess the possibilities for your specific tractor."
Contact Info
Kubota Tractor Corp.
3401 Del Amo Blvd.
Torrance, CA 90503
(888) 4-KUBOTA
Massey Ferguson Compact Tractors
Seven Generations and 15 Models, Including the New GC1700 Series
Massey Ferguson entered the compact tractor market in 1979 with three diesel-powered models in the 16- to 26-hp range. Today, the seventh-generation lineup consists of 15 models from 22 to 60 hp.
Introduced in 2012, the GC1700 Series sub-compact tractors deliver hardworking performance and reliability plus redesigned styling, functionality and control placement. From gardening to moving bulky material, whether the job is commercial or residential, the GC1700 Series will get the job done right.
The fuel-efficient, three-cylinder, liquid-cooled diesel engines in the GC1700 Series sub-compact tractors are the largest engines in its class, says the company. More cubic inches translate into higher reserve torque and more efficient use of the up to 25 gross engine horsepower. The GC1700 also features a dual-range hydrostatic transmission with cruise control and infinitely variable speeds from zero to top speed in each range.
Customer input drove improvements that make the GC1700 more convenient, comfortable and easier to operate. A wide-open, clutter-free platform allows the operator to move on and off the tractor with ease, with plenty of space for natural leg movement. The new seat is ergonomically designed with adjustments to custom-fit any body profile for comfort. Controls are conveniently placed within sight and easy reach of the operator for a more productive work day. The hydraulic joystick, with its smoother operating linkage, has been integrated into the right side of the front console, putting it within easy reach of the operator as well.
These easy-to-drive, multi-tasking workhorses offer an optional mid-mower. The exclusive "Boom Float Control" on tractor loader backhoe models makes the CB05 backhoe the easiest and most powerful backhoe in its class, says Massey Ferguson, while the DL100 front loader features dual bucket cylinders for better performance and durability than single-cylinder loaders.
Advice to Buyers
"Compact tractors can handle a multitude of tasks from mowing to excavating, so it is key to keep this in mind while shopping for your first or next tractor," says David Bercik, manager of product marketing at Massey Ferguson. "Look for well-designed compacts that are versatile, user friendly and comfortable. In addition, backhoe features like boom float control allow for easy-to-use precision, making the most novice user a professional. Attachments are very important as well."
Contact Info
Massey Ferguson
4205 River Green Pkwy.
Duluth, GA 30096
(877) 525-4384
New Holland Compact Tractors
Boomer Deluxe Compacts and the Workmaster Economy Series
New Holland offers a complete line of Boomer deluxe compact tractors and the Workmaster line of economy compact tractors with reliable, state-of-the-art productivity and comfort features. New Holland's Boomer 20-50 deluxe compact tractors are a powerful tool for homeowners, rural life-stylers, landscapers, farmers, golf courses and municipalities. New Holland's deluxe Boomer compact tractor line includes six models ranging from 23 to 47 hp. Three models are available with the new SuperSuite cab.
Quiet, fuel-efficient diesel engines (three-cylinder on Boomer 20 and 25; four-cylinder on Boomer 30, 35, 40 and 50) give you the power you need for loading, mowing, digging, blowing snow, tilling and much more. You get fast implement response and steering thanks to the high-capacity, dual-pump hydraulic system. The Boomer 20 and 25 models are equipped with a two-range hydrostatic transmission and with an independent, electro-hydraulic 540-rpm rear PTO and an electro-hydraulic independent mid-PTO to power mid- and front-mounted implements. Implement and steering response is fast thanks to the high-capacity hydraulic system.
Boomer 30, 35, 40 and 50 models feature the choice of a smooth, synchronized gear transmission or a hydrostatic transmission. A 12×12 synchronized shuttle shift (SSS) transmission (Boomer 30 and 35) or a 16×16 SSS transmission (Boomer 40 and 50) make it easy to shift between forward and reverse repeatedly. Because shuttle shifts are synchronized, there's no need to come to a complete stop before shuttling from forward to reverse, and the convenient shuttle lever located to the left of the steering wheel makes it easy.
New Holland's Boomer Series II 3040, 3045 and 3050 compact cab tractors (40-50 hp) with SuperSuite cab usher in a new level of compact tractor comfort, ease of use and control. The factory-installed SuperSuite cab provides a quiet and comfortable environment for efficient year-round operation.
The Workmaster 35 and 40 compact tractor models are the latest addition to New Holland's value class tractors that bear the same trusted name and dependable qualities as the original Workmaster tractors. The new Workmaster tractors are simple to operate and offer advanced features while still focusing on affordability. These compact tractors provide reliable performance at a very attractive price. The Workmaster 35 and 40 models are offered with a choice of two transmissions. Operators preferring a traditional gear transmission can choose the 12×12 synchronized shuttle transmission. The synchronized shuttle transmission makes change of direction easy because there's no need to come to a complete stop when shuttling, a real plus for fast, efficient front-end loader work.

Advice to Buyers
"First, evaluate what tasks you want to do and how much time you want to spend doing them," says Doran Herritt, New Holland compact tractor marketing manager. "Based on those two criteria, decide what your priority is. Whether you're mowing, digging holes or moving dirt, you can usually do the job with a smaller tractor, which will take longer, or with a larger tractor, which will get the job done quicker."
Contact Info
New Holland Agriculture
100 Brubaker Ave.
New Holland, PA 17557
(866) 639-4563
Yanmar Compact Tractors
Eleven Models from the Global Engine and Equipment Icon
Yanmar celebrated its 100th anniversary in 2012. Since its inception in 1912, Yanmar's core business has been the production of diesel engines. In 1974, Yanmar started selling branded tractors in North America.
In late 2011, after five strong sales seasons under the Cub Cadet Yanmar brand, Yanmar announced that the brand would begin focusing its efforts directly on the needs of customers and dealers, by assuming all compact tractor sales, manufacturing and support. All tractors come from its factory in Adairsville, Ga., located north of Atlanta.
Yanmar tractors feature an ergonomic design and come standard with features like selectable four-wheel drive, diesel engines and transmissions and fully hydraulic power steering. Yanmar's Performance Link Technology delivers a smoother and more comfortable ride with less noise, more efficient operation and less wear and tear, along with more usable horsepower and less power loss, says Yanmar.
he Lx HST Series, featuring a hydrostatic (HST) transmission, comes equipped with powerful, quiet, low-emission 41-, 45- and 49-hp Yanmar diesel engines, making the flagship Lx HST Series tractors even more versatile. Designed for those who have more to do and want to enjoy doing it, the new HST transmission equipped with SynchroThrottle gives users a car-like feeling while maintaining the power and efficiency that are required and customers depend on for performing heavy-duty functions. And, the Lx Series is also available with synchronized HydraReverser 12×12 transmission, giving the operator 12 forward and 12 reverse speeds, as well as a powerful lift capacity of more than 2,400 lbs.
Designed for everything from the backyard to the farm, the Ex450 features a 45-hp engine and the Ex3200 features a 32-hp Yanmar diesel engine with direct injection and an extra-large flywheels for smooth performance even when using attachments. The engines are both powerful and fuel-efficient and are matched to the transmission, delivering consistent horsepower to the job at hand.
For users who aren't quite ready to step up to a compact tractor but want more power and versatility than a garden tractor offers, Yanmar offers the Sc2400 and Sc2450 sub-compact tractors. The Sc2400 includes exclusive features designed for ease of use and comfort, including: a shift-on-the-go transmission that allows the operator to shift from high to low without stopping; easy-to-use selectable cruise control; auxiliary headlights for working in low-light situations; and dual hydraulic pumps for big tractor performance and the ability to handle attachments with ease. The Sc2450 comes standard with a loader and backhoe to provide versatile use and performance for enhancing your yard or professional use of landscape-type customers.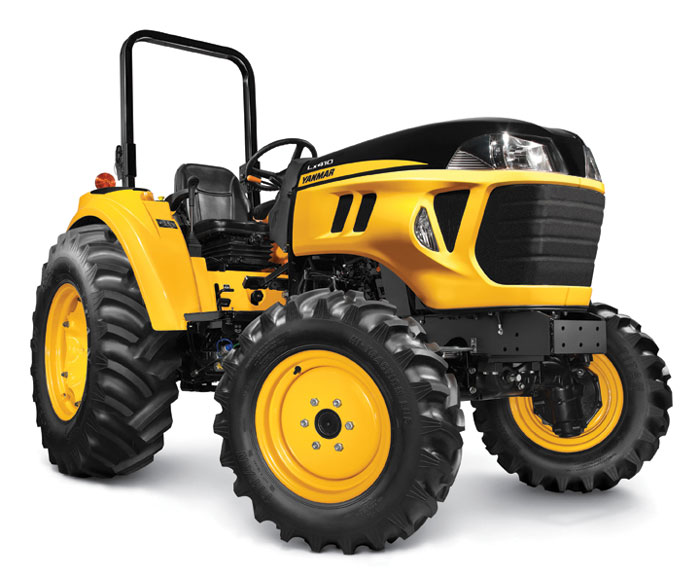 Advice to Buyers
"It's important to understand the main tasks you'll need to complete, as well as features, ease of use and total cost of ownership in order to find the right fit," says Fumitaka Asano, product marketing manager of Yanmar. "Ideally, the right product will be versatile in any operation and is an investment that can pay for itself. That's why it's also important to demo the product before making a decision. By understanding your options and spending some time in the seat, you can feel confident knowing your tractor."
Contact Info
Yanmar America
101 International Pkwy.
Adairsville, GA 30103
(770) 877-9894