Hard-working, Reliable Farmall Tractors for Almost Every Operation
Since relaunching the iconic Farmall brand in 2004, Case IH introduced a new generation of compact all-purpose machines that tackle tough chores — from loading and mowing to rotary cutting and clearing snow. These tractors pack a ton of value into a compact size plus plenty of big tractor features. If you haven't checked out the compact Farmall lineup lately, get familiar with one of the industry's most complete offerings.
Compact Farmall 35A and 40A tractors are rugged, reliable machines that offer versatility in a well-designed package, says Case IH. The simple, ergonomic design ensures all controls are within easy reach, and a roomy operator area provides good visibility. A turbocharged, three-cylinder, 1.9-liter diesel engine meets stringent emissions standards without compromising power or fuel efficiency, says Case IH. At 35 and 40 engine hp (PTO: 28 to 34 hp), the A Series engines provide all the power you need for loading, blading, tilling, mowing and more. Plus, an electronically controlled, direct fuel-injected engine creates greater lugging power to get you through tough situations like moving heavy loads or cutting thick grass.
Compact Farmall 35C (non-cab), 40C (cab), 45C and 55C deliver a customizable operating experience, featuring best-in-class options in a compact package, says Case IH. Four Tier 4 Final-compliant models range from 35 to 55 engine hp (PTO: 28 to 46 hp). A three-point hitch lift capacity up to 2,756 lbs is ready to handle an array of productivity-boosting implements, and the fully independent PTO with electrohydraulic engagement allows for simple, no-effort engagement every time.
Case IH has a full line of loaders, attachments and implements to help with a variety of tasks. A loader turns a tractor into a versatile, powerful workhorse, and loaders are very easy to install on compact Farmall Series deluxe tractors. Just drive the tractor into the loader, put in the pins, attach the hydraulics and start working. Quick and easy attachments and implements are the perfect match for the Farmall heavy-duty hitch and high-capacity responsive hydraulics. These options include: a mid-mount finish mower (non-cab models only); rear-mount finishing mower; front-mount rotary broom; rotary tiller; front-mount blade; front-mount snowblower; backhoe; rotary cutter; box blade; landscape rake; disk harrow; and a rear, three-point mounted blade.
Advice to Buyers
"When purchasing a compact tractor, it's important to consider power and comfort," says Denny Stroo, Case IH Farmall tractors marketing manager. "First, does the tractor have the power to perform all the tasks on your operation? Second, does the tractor provide ample room to maneuver and is it comfortable to sit and work in? A good compact tractor should feel easy and comfortable to use from the moment you hop in."
[prettyPhoto title="Case IH Specs" link="https://compactequip.com/wp-content/uploads/2019/07/case-ih-tractor-specs.jpg" type="link" ]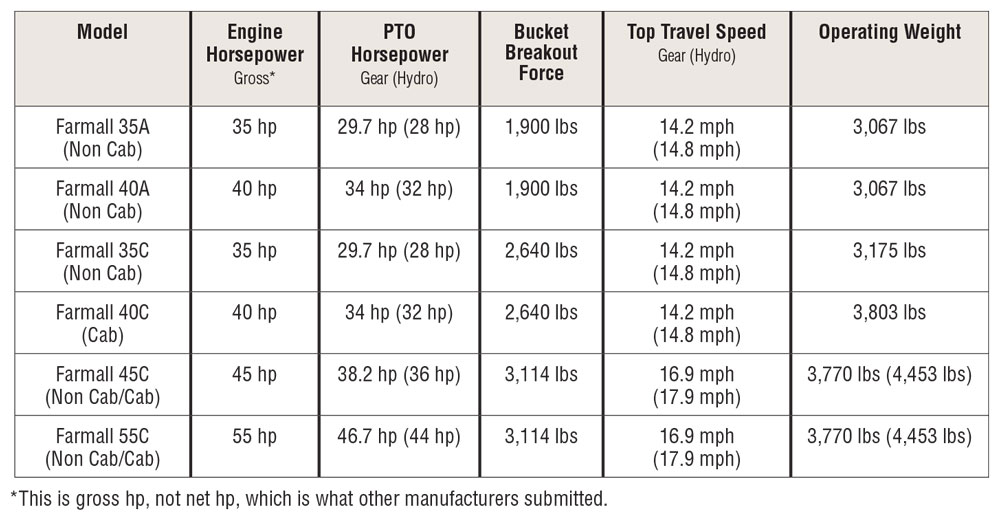 [/prettyPhoto]
Tags:
2019 Spec Guide
,
2019 Spec Guide- Tractors
,
Case IH
,
July/August 2019 Print Issue
,
Spec Guide 2019