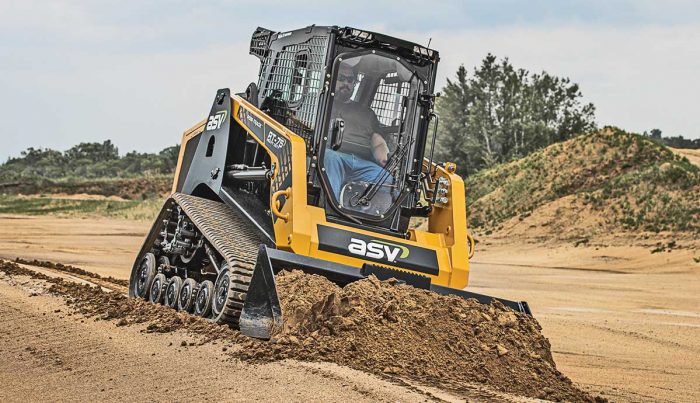 Spring is the perfect time for compact track loaders to show off their skills. Seasonal weather causes slick jobsites that require the traction, flotation and power only a compact track loader can bring. Equipped with a dedicated undercarriage and usually rubber tracks, these machines can tackle slippery inclines and delicate work surfaces with ease. But tracks aren't a one-type-fits-all item, and operators should scout out options to find the best set for their needs.
"The first thing to look at is making sure that it is a continuous track with continuous endless cables, as CTLs typically work in more aggressive applications when compared to mini excavators," says Andrew Gaffney, Michelin product manager, Americas — construction tracks. "The second thing to consider is your specific application and work surface, as it will influence the tread pattern you'll need. Do you work in an application that requires a lot of traction? Or is ground disturbance an issue and you're looking for long life? Choosing the right track will not only have an impact on overall life, but it can also be linked to safer operations."
Tread patterns play a big role in the machine's operation and whether an operator is excelling on the job or sitting on the muddy sidelines. There are a few different patterns to choose from and each has pros and cons depending on the intended applications. Let's take a look at what different manufacturers offer.
"We mainly deal with two types of tread patterns for our rubber tracks — our C and Z tread patterns," says David Byrd, vice president of marketing at Dominion. "The C tread pattern is better for varied surface types or when operating on sensitive terrain. The Z tread pattern is best used in wet or muddy conditions due to its increased traction over the C tread pattern. So, while the C track is easier on the ground, it has less traction. And while the Z track has more traction in sloppy conditions, it can tear up sensitive terrain quite easily."
Compact track loader manufacturer ASV includes a bar-style-tread rubber track on all its Posi-Track machines. The company notes that the track doesn't need to be changed with the season and excels on surfaces ranging from dirt and mud to snow and ice.
"This performance comes from the tread pattern and a high-strength fiber-reinforced flexible track that work in tandem with the undercarriage design for optimal ground contact, improving surface area and traction," says Buck Storlie, product line manager at ASV Holdings Inc. "We also offer an extreme track with deep treads for especially deep snow, as well as a completely smooth turf track for delicate surfaces."
Michelin manufactures two main tread patterns for compact track loaders — the Camso CTL SD and Camso CTL HXD. Gaffney points out that the two options deliver premium performance in almost every application.
"The CTL SD is our best track for traction and grip," he says. "This more aggressive tread is perfect for work in muddy, swampy applications, snow and soft mixed soil. The tread steps help with lug void clean out. The CTL HXD is best for heavy-duty applications, such as abrasive surfaces like hot asphalt or concrete where a tougher, proven rubber compound is required. The HXD is also a non-aggressive tread pattern so it will perform well for low surface disturbance applications, such as those that occur on turf."
John Deere compact track loaders are available with two tread patterns from the factory: Block H and Bar ZigZag.
"Both of these options are designed to perform in a number of applications," says Luke Gribble, solutions marketing manager, John Deere Construction and Forestry. "Specifically, if you are going to be working in applications with a lot of mud or snow, maintaining optimal grip to the ground will be very important, and the Bar ZigZag pattern will offer superior traction. However, if you intend to operate on more solid surfaces like concrete, asphalt or finished rock/gravel, choosing the Block H pattern will provide you with a better overall ride quality while maintaining maximum durability."
Considering used tracks? Dominion's David Byrd says not so fast. "Beware of buying used rubber tracks. Unknown quality and hours, no warranty and no after sales support can leave you high and dry. Not only that, but serial number breaks can cause the same machine to have multiple, different track sizes. You could inadvertently buy the correct track for your machine, but for the wrong serial number range. That track will not fit no matter how hard you try."
Protecting Your Investment
Picking the right type of track can seem challenging enough, but making those tracks last is the true test (especially since they can range in price from $500 to $2,500). Typically, operators can expect a lifespan of anywhere from 1,000 to 2,000 hours for a set of tracks, and those numbers vary based on how well the track loader is operated and maintained. Having a well-trained operator in the cab is the best way to prolong the life of a set of tracks. He or she will know what terrain and obstacles to avoid and how to properly maneuver the track loader.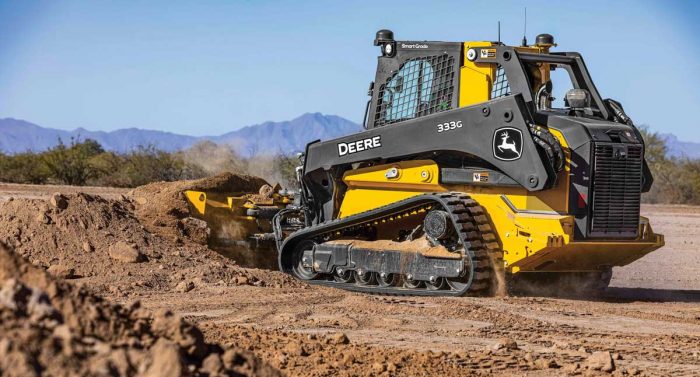 "You can improve track life by being aware of the impact different surfaces can have on rubber tracks to prevent avoidable damages, while also focusing on how you operate the machine," says Gribble. "Instead of doing sharp, powered rotation maneuvers at high speed, go slower. Also, do larger looping turns to prevent the tread pattern from wearing. It is important to train your operators to take wide turns instead of counter-rotating like on a skid steer to help minimize wear. Operators should avoid spinning the tracks and go up and down slopes rather than across to help reduce additional wear. Continuous roading should also be limited to less than 10 percent of total daily operation time as well since hot road surfaces and high speeds accelerate wear on rubber components. If roading is needed, try roading when it's cooler or at reduced speeds."
Keeping the machine clean after use is one of the best ways to preserve the tracks. Storlie says that the most basic maintenance tip for tracks is to clean the undercarriage regularly since its cleanliness directly impacts the tracks' wear rate. It's also important to inspect for any deep cuts that expose the core of the track. Whether the track is high-strength fiber-reinforced or steel cord-reinforced, exposing the core can cause premature failure.
"How much you have to clean depends on the application and the materials you are using the machines in, but daily cleaning is usually enough," he says. "Remove cohesive and abrasive material, such as mud, clay and gravel, as often as possible, even several times a day. This reduces wear to undercarriage components or material buildup that can increase track tension. Remember that cleaning off materials such as mud at the end of the day is easier than trying to remove it the next morning after it has dried. Pay close attention to cleaning around the front and rear roller wheels, where material can accumulate. The most important items to remove are highly abrasive objects that can cause more damage than others, including sharp rocks and demolition material like rebar, concrete and scrap metal."
Keeping the proper track tension also helps increase track life and ensures the machine is running properly. Gaffney says it's important to verify and maintain proper track tension as directed by the machine manufacturer.
"It is one of the simplest ways to ensure full life out of your track," he adds. "Over or under tensioning of a track will cause terminal damage, leading to costly downtime and track replacement."
Gaffney offers these general rules for correct track tensioning:
Drive the machine forward to ensure the tracks are evenly tensioned across the entire undercarriage.
Level and lower the bucket to the ground. Raise the front of the machine off the ground approximately 8 in. utilizing bucket down pressure.
Measure track sag by measuring the distance from the inside edge of the track to the bottom edge of the middle mid-roller.
Pam Kleineke is managing editor of Compact Equipment.
Tags:
ASV
,
Camso
,
Dominion
,
John Deere
,
May 2021 Print Issue
,
Michelin