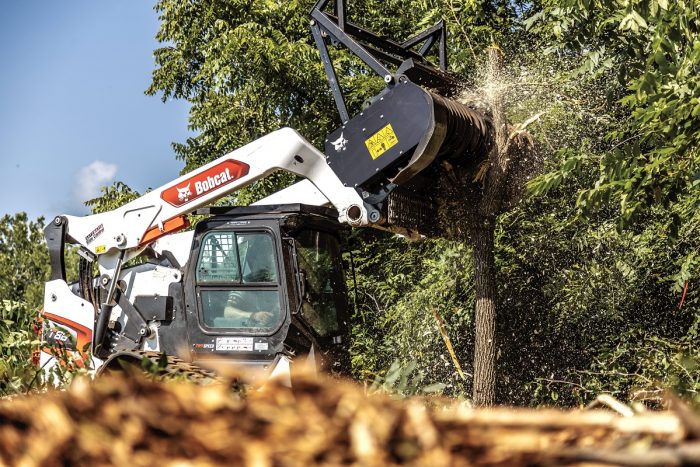 The latest generation of compact track loaders brings more to the table than ever before. Today's compact track loaders must meet the growing demands of owners and operators who want to accomplish more with one machine. Easy-to-use intuitive controls, operator comfort features and easy maintenance continue to be among the many important features in choosing a compact track loader. People who depend on these machines day in and day out also are looking for leading attachment versatility. When it comes to powering those attachments, a loader's auxiliary hydraulic flow specs — gallons per minute (gpm) and pressure (psi) — will be a big factor in determining a unit's attachment capabilities. Prospective buyers today have different auxiliary hydraulic options to choose from:
Standard flow for normal operating conditions and a wide array of attachment compatibility.
High-flow systems that offer increased flow at standard pressures or increased flow at higher pressures to enhance attachment performance.
High-flow, high-pressure systems result in greater productivity for attachments designed to work with the increased flows and pressures. Higher pressure adds up to greater hydraulic horsepower and faster, more efficient results in demanding applications.
The new Bobcat T86 compact track loader and S86 skid-steer loader are the first machines to offer three hydraulic flow options — standard, high and super flow — in one machine.
Many compact loaders can power a wide range of standard-flow and high-flow attachments. The T86 and S86 can power these attachments as well as attachments specifically designed for super-flow hydraulics, including the Bobcat super-flow cold planer, snowblower and forestry drum mulcher.
• Standard Flow (23.0 gpm, 3,500 psi) (Standard) — Select standard flow to operate attachments such as combination buckets, hydraulic breakers, augers, trenchers and grapples. Standard flow provides the performance needed for general worksite, clearing, landscaping and grounds maintenance applications.
• High Flow (36.6 gpm, 3,500 psi) (Optional) — This system provides additional hydraulic power to boost production of attachments like a flail cutter, trencher, planer and stump grinder. Because of this extra hydraulic flow, operators will find their machine is able to tackle a greater variety of tasks.
• Super Flow (42 gpm, 4,061 psi) (Optional) — Operators can use this unique flow option to take on the most demanding attachment applications, including pavement milling, snow blowing and clearing land of trees and heavy brush, with attachments designed specifically for super-flow hydraulics.
The loaders equipped with all three auxiliary hydraulic flow options also feature an exclusive electronic displacement control pump that improves the engine-to-workgroup efficiency, distributing more power where and when it's needed during multi-tasking operations. Smoother, faster operation — with maximum power where and when you need it most — means more heavy-duty work done per day.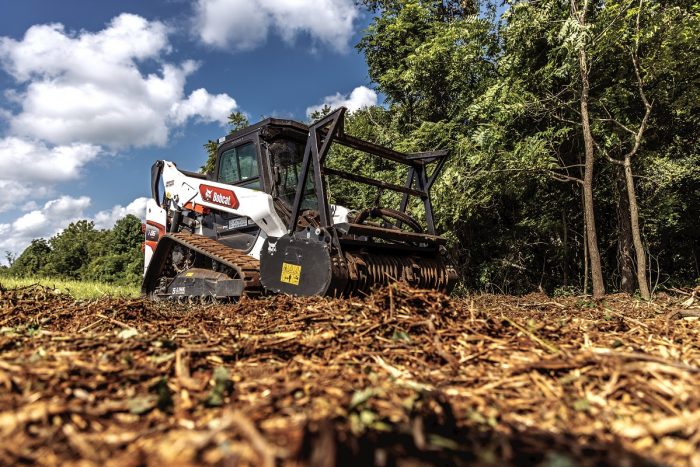 The T86 and S86 also feature a redesigned cooling system for optimal operation and maximum uptime.
These R-Series loaders feature a larger, higher capacity radiator and a cooling fan that is about twice the size of traditional fans. The larger radiator and fan deliver better cooling performance for use on the toughest jobs without overheating. The fan achieves more cooling at a slower rotation, which is more energy efficient.
These loaders also feature larger auxiliary hydraulic hoses and tube lines for greater hydraulic flow with less restriction. More efficient flow results in cooler operating temperatures, better performance and extended life of the hydraulic and hydrostatic components.
This article was provided by Bobcat. Click here to learn more!