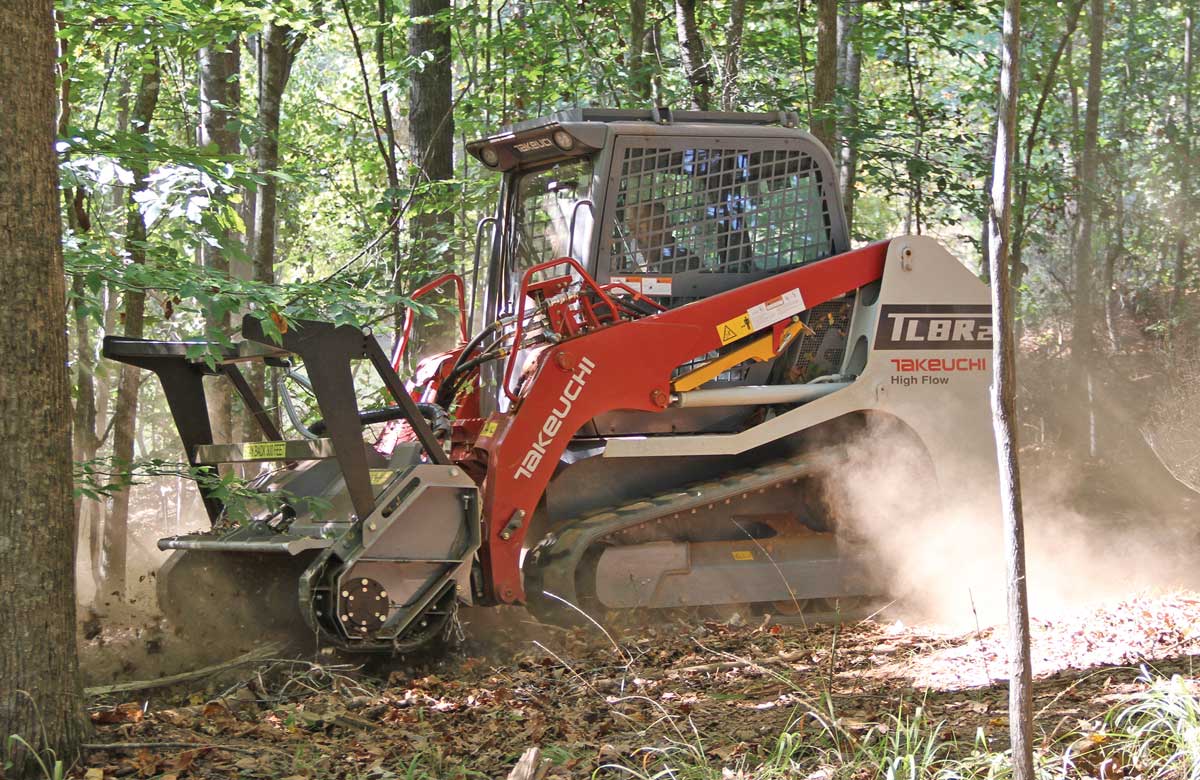 Five Purpose-Built Machines Featuring a Unique Undercarriage Design
Takeuchi Mfg. began in 1963 and has been a pioneer in the compact equipment industry ever since. Takeuchi developed one of the world's first compact excavators in 1970, and the company's innovation continued again in the mid-'80s with the introduction of its first compact track loader.
Takeuchi compact track loaders are designed and engineered with power, strength and maneuverability, says the company, providing a high level of quality and performance. Each of the company's compact track loaders features a two-year, 2,000-hour, full-machine warranty.
Now available in both radial- and vertical-lift configurations, Takeuchi track loaders can meet the needs of a wide range of customers. Each Takeuchi track loader is purpose built and features a unique undercarriage design with model-specific components that are matched to each specific platform for greater durability. A fully welded track frame incorporates a unitary design with multiple cross members for superior strength and rigidity, says Takeuchi. Double reduction planetary drives produce power for torque and performance in the most demanding applications.
The operator's stations on Takeuchi track loaders are spacious and feature a deluxe, high-back suspension seat with multiple height adjustments, placing the operator in the optimal position to see the attachment's edge. Pilot-operated joystick controls handle all loader and travel functions. Their precision and responsiveness, due to the low-effort controls, reduce operator fatigue, says Takeuchi.
All new Takeuchi track loaders feature a standard 5.7-in. color monitor and rearview camera that allow the operator to have a much broader view for greater peace of mind and enhanced jobsite awareness. Takeuchi now includes Takeuchi Fleet Management (TFM) on its compact excavator and track loader lineup. TFM allows users to remotely connect and view the health and service needs of their machines.
In February 2021, Takeuchi began offering a full line of attachments to include multi-purpose buckets, dozer blades, 4-in-1 buckets and many different grapple buckets. Takeuchi has also expanded its hydraulically driven attachment offerings, which now include forestry drum and disc mulchers, open/closed front brush cutters, rock crushers, stump grinders and snowblowers to name a few.
The TL8R2 is Takeuchi's newest track loader model. The TL8R2 is packed full of new features such as creep mode, automatic shift, two-speed travel, a fully redesigned cabin with 5.7-in. color monitor and backup camera. The company's quiet-ride undercarriage reduces noise and vibration, greatly improving ride quality and operator comfort. Completing the Takeuchi lineup are the radial-lift TL6R and TL12R2 models and the vertical-lift TL10V2 and TL12V2 models, enabling customers to select just the right machine for their specific applications.

Advice to Buyers
"Preventive maintenance is the key to the longevity of a machine's life," says Lee Padgett, product manager at Takeuchi. "Operation costs can be reduced by taking advantage of the real-time maintenance and service needs data provided by telematics. This allows operators to plan ahead and schedule maintenance visits based on machine data. A proactive approach to service and maintenance saves both operators and technicians valuable time while reducing downtime, increasing productivity and profitability."
Tags:
July August 2021 print issue
,
Spec Guide
,
Spec Guide 2021
,
Takeuchi