Compact track loaders are growing in popularity thanks to their ability to tackle tough terrain, provide extra power on the jobsite and leave a light footprint. Equipped with a dedicated undercarriage and usually rubber tracks, these machines can handle slippery inclines and delicate work surfaces with ease, as well as wield hundreds of attachments for just about any job.
"We see more and more contractors updating or adding to their compact equipment fleets with compact track loaders because the machines can be operated in ground conditions such as soft or wet soil or sandy ground," says Jason Boerger, marketing manager for Bobcat Co. "This is a direct reflection of customers looking to extend their working seasons, allowing them to maintain their schedules and stay productive."
With the machine's growing popularity comes more operators hopping into the cab, some of them for the first time. Luckily, manufacturers are equipping their machines with features that allow operators of all skill sets to be productive, but training is still important. Boerger quickly offers three tips for newbies:
Read the operation and maintenance manual. This is an important first step for those who are just starting to operate a compact track loader.
Understand how the controls work and the machine's capabilities. A new operator should take his or her time when first operating a piece of equipment and ensure he or she is aware of their surroundings.
Get a feel for the work area. Look for potential dangers such as underground or overhead utility lines, narrow roadways, sharp curves and soft ground conditions. Operators should look around the jobsite to make sure there are no bystanders and use barrier tape, traffic cones or gates to keep other individuals and equipment out of the work area.
Good visibility of the jobsite is important for both new and seasoned operators. Kevin Coleman, Caterpillar's skid steer and compact track loader product expert, says operators should always check their sight lines to ensure the machine they're operating has good "working visibility" prior to starting the job.
"Working visibility can be defined as the ability for an operator to easily see, without having to shift his head and body, the critical areas needed for everyday work such as the bucket cutting edge, the sides of his bucket, the front, rear and sides of his tracks, the rear machine corners and the area behind the machine," says Coleman. "If a machine can provide the operator with excellent sight lines to these areas, through design of lift arm and cab or equipment such as a rearview camera, he can be safer on the jobsite and more comfortable."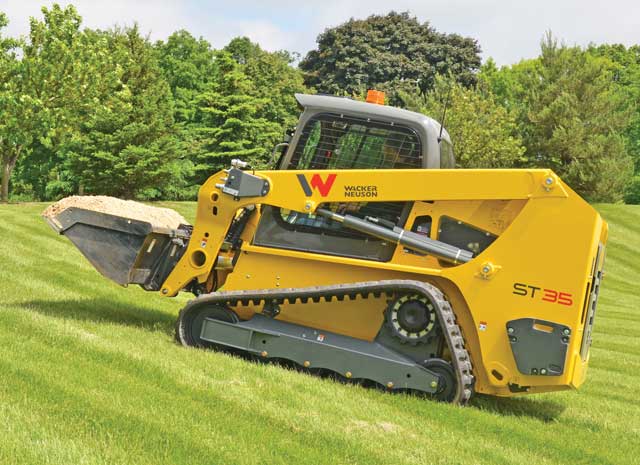 Take Control
Learning and perfecting operation techniques all start with a compact track loader's controls. Luckily, most machines offer a variety of control options to best suit an operator's preference. While some older operators may favor traditional hand-foot pedals, the younger crews are leaning toward joysticks.
"Joystick controls are offered on many loaders which provide fingertip controls enabling an operator to easily control numerous machine functions without letting go of the joysticks," says Boerger. "Some features may include speed management which allows the operator to adjust travel speed independently from the engine speed for greater attachment control, or steering drift compensation which keeps the loader on a straight path as an operator side-shifts certain types of attachments. Controls with levers and foot pedals also continue to be an option that many customers still prefer since many are originally trained on these types of machines."
Nathan Ryan, global product manager for skid steers and compact track loaders at Wacker Neuson, agrees with joysticks being an operator favorite but mentions that the company still makes hand-and-foot options.
"Wacker Neuson offers controls for any user with the three primary options being hand-and-foot, ISO joystick and H-pattern joystick controls," he says. "Most users choose the joystick controls because our design allows the operator to switch between ISO and H-pattern with the flip of a switch. The joystick controls are also favored due to their low operating efforts. Operators can drive the machine all day without fatigue. If hand-and-foot controls are preferred, Wacker Neuson offers two options: a mechanical version or a low-effort electrical version."
Coleman adds that Caterpillar's compact track loaders can also be configured to meet the customer's need for whichever control pattern they are most comfortable operating.
"The Cat compact track loaders can operate with joysticks alone in the ISO pattern or the H-pattern," he says. "All Cat compact track loaders, with the exception of the largest models, can also be equipped to operate with the hand-and-foot pedals."
Aside from ability to choose between joysticks or pedals, technologies such as electro-hydraulic (EH) controls are making operation even easier for crews. EH incorporates some of machine's hydraulic functions into the joysticks to simplify operating the track loader and reduce operator fatigue.
"Electro-hydraulic controls are now the norm for compact track loaders and act as a tremendous enabler for automation and integration of features that allow customers to save time and/or make more money," says Coleman. "Many of these features assist with repetitive tasks like grading, digging and loading by allowing the user to set up the machine to do the work with less user interaction and expertise. EH architecture allows the machine to provide adjustments that can be made to tailor the machine drive and implement response to the operator's task, attachment or experience level. It also provides the capability for features such as dual self-leveling, return to dig, work tool positioner, speed sensitive ride control and creep control features."
The features Coleman just mentioned are all ways that manufacturers are working to make compact track loader operation easier and enhance productivity on the jobsite. Let's take a look at some of them.
"An electronic dual self-leveling system electronically and automatically levels the loader linkage when raising and lowering the lift arms," says Coleman. "The system ensures optimum material retention and control whether truck loading material or handling palletized products. The return-to-dig feature allows the operator to fully lower the loader arms and return the attachment [bucket or other attachments] to a pre-selected angle with the touch of a button. This allows the operator to focus on other aspects of the work cycle instead of managing the loader functions, resulting in peak productivity, especially in truck loading and material handling applications."
Float is a feature operators can take advantage of to help when finish grading.
"Float allows the weight of the lift arm to adjust to ground level rather than putting that responsibility on the operator," says Ryan. "Ride control is another feature that improves efficiency. When engaged the lift arm is cushioned, and as the machines traverse rough terrain less material is spilled."
Coleman says that the creep feature is perfect for reducing operator fatigue because it allows operators with a range of skill levels to achieve great results when working with hydro-mechanical attachments such as brooms, trenchers and power box rakes, to name a few.
"These types of attachments perform best with maximum engine rpms and a slower ground speed," says Coleman. "With the creep mode engaged, the operator can fully move the drive joystick and use the adjustments in the monitor to achieve the optimal match between machine hydraulics, operating conditions and the attachment being used."
---
Keep an Eye on the Undercarriage
Kevin Coleman, Caterpillar's Compact Track Loader Product Expert, Outlines Maintenance Points
A compact track loader's undercarriage, not unlike a large hydraulic excavator or track type tractor, requires proper maintenance to maximize the life of the system and reduce track owning and operating costs. Some of the most important maintenance practices on any track system are:
Maintain proper track tension. Maintaining proper track tension will increase the life of not only the track but also the bearings, seals, idlers and mid-wheels in the undercarriage. Running a track too loose may result in reduced track life. Running a track too tight puts additional stress on the track and components in the undercarriage system.
Keep the undercarriage clean. Keeping your undercarriage clean will increase the life of the seals, bearings and other moving components in the undercarriage. Pay particular attention to cleaning between roller and idler wheels and around the sprocket where material can accumulate.
Grease. Cat compact track loader undercarriages provide a torsion axle suspension system that does require daily greasing. These grease points are easily accessible from the ground. Regular greasing of the torsion axles is important to ensure the suspension system will continue to provide a comfortable ride and improved load retention while reducing shock and vibration throughout the machine.