Compact track loaders are super popular right now. Like 80,000+ units a year popular. And why wouldn't they be? These machines are packed with features that help contractors traverse complicated terrain, power heavy-duty attachments and lift and move large loads — all in a compact package.
"We've been manufacturing track loaders for 23 years now, and their popularity just continues to grow," says Mike Fitzgerald, Bobcat's marketing manager. "There was a point in time where there were more skid steers sold, but that has changed. Skid steers still have their place in the industry, but the demand for track loaders is strong because of their solid performance and improved traction in all sorts of applications."
To take the popularity angle one step further, we surveyed seven compact track loader manufacturers to talk about their best-selling machines. It's a tough task to play favorites but keep on reading to see what they had to say.
John Deere
For nearly two decades, John Deere has been making compact track loaders, with its current lineup consisting of four models. When asked to pick a most popular one, Luke Gribble, John Deere's solutions marketing manager, selected the company's largest model — the 333G — for its size and added optionality.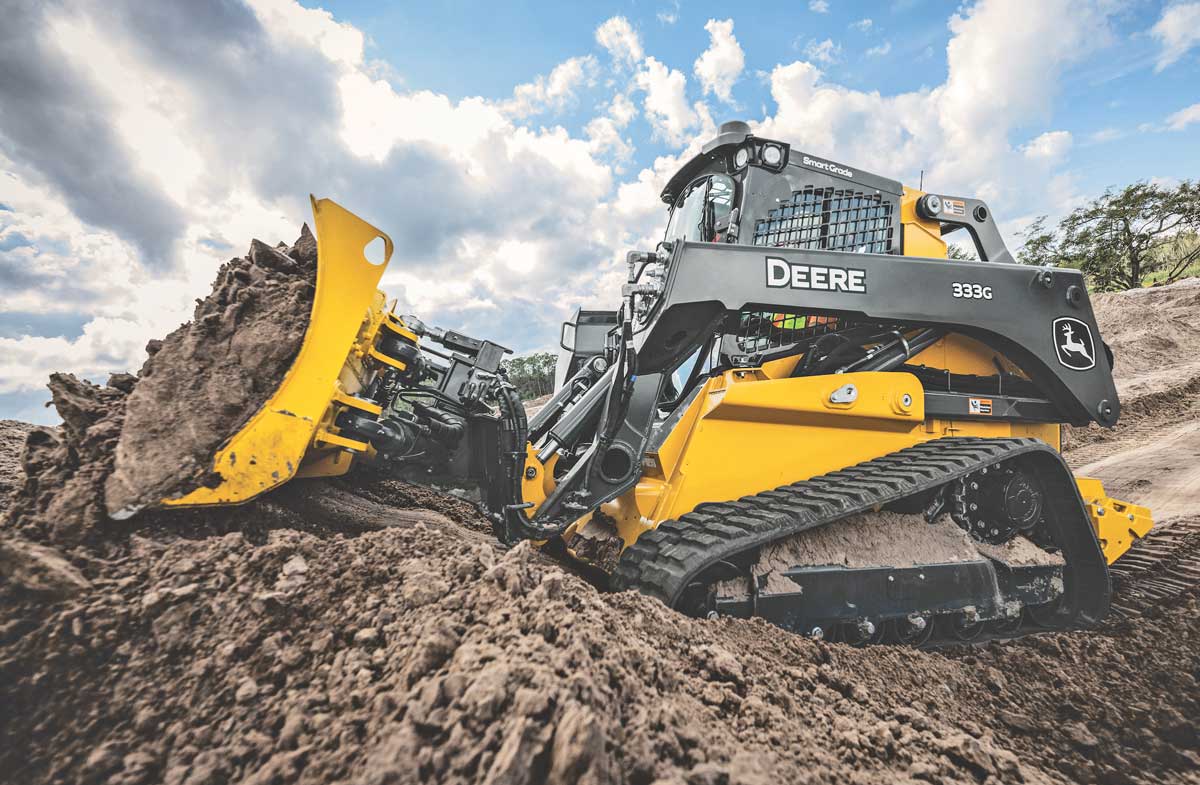 "The large CTL segment continues to grow on a year-over-year basis as more and more contractors are demanding the added productivity that these larger machines bring to jobsites," says Gribble. "Even though the machines are larger, they still have excellent maneuverability and transportability when comparing them to other pieces of common construction machinery."
As for customization, the 333G offers an optional one-of-a-kind anti-vibration undercarriage system that's designed to enhance machine operation. Gribble says key features of the system include an isolated undercarriage, bogie rollers, updated grease points, hydrostatic hose protection shield and rubber isolators. Another option is outfitting the 333G with grade control through a range of machine control solutions — from 2D laser slope control to the industry's first fully integrated 3D grade control solution available on a compact track loader, SmartGrade.
"The 333G compact track loader expands the capabilities of customers working in site development, roadbuilding, landscaping and residential and commercial building operations by enabling them to take on new tasks and larger jobs that require accuracy," says Gribble. "By leveraging the latest grade control technology, the SmartGrade 333G machine levels the playing field with contractors running larger fleets.
Comfort is Key: Bobcat's Mike Fitzgerald Points Out How to Create a Comfy Cab
More and more of our machines are being sold with selectable joystick controls. Operators can drive the machine forward or in reverse, as well as use the lift arm and bucket with a simple joystick. These joysticks offer a low-fatigue option for somebody who's in the machine for extended periods of time. Younger operators also tend to be more in tune with these joysticks because they've played video games or have used similar technology, so they tend to adapt fairly quickly.
Additionally, there are other creature comforts that customers have come to expect. Features like Bluetooth radio and a touchscreen are becoming more of a requirement. The operator inside a cab wants a quiet environment that's heated in the winter and air conditioned in the summer. It's getting more difficult to find good operators, so you want to keep them happy and satisfied. All these features will help with that and keep them comfortable throughout the day.
ASV
Glancing at ASV's diverse track loader lineup, its large-and-in-charge RT-135 is standing out among buyers — and for good reason. The RT-135 boasts an industry-leading 132-hp Cummins diesel engine that's combined with a head-turning 50-gpm maximum auxiliary flow, offering operators a lot of power to crush it on big jobs.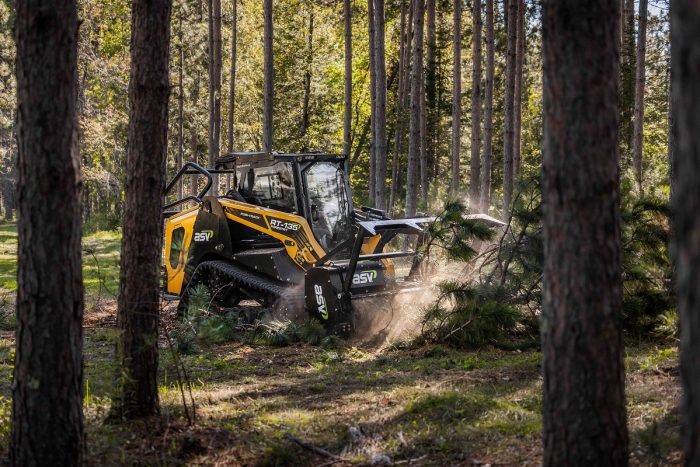 "The combination of the engine horsepower and high flow really makes the RT-135 a workhorse when it comes to running attachments," says Buck Storlie, ASV product manager. "We've seen a great acceptance of the machine into the forestry market. Its ability to run larger attachments, such as big mulchers, is what's driving a lot of that popularity."
Another attractive feature of the RT-135 includes ASV's new Max-Series cab. This premium cab gives operators 360-degree visibility with the ability to see their surroundings more clearly with standard LED lighting, optional side lighting, all-clear sides and a frameless door. Add in more space, a 7-in. touchscreen display and an adjustable seat and controls for extra operator comfort. Storlie says more creature comforts and accessories are a popular buying trend right now, especially with enticing workers to stay in the market.
"Companies are struggling to find good operators, so if you've got a good guy, you want to put him in a good piece of equipment with a comfortable seat, good visibility and the things that help him to be productive," he says. "I think a portion of that buying trend is driven on employee retention and making sure you're giving operators the best place to work."
Kubota
When it comes to describing Kubota's popular SVL75-2, Product Manager Jerry Corder uses the words: "Simple, reliable and proven."
"Simple, easy to operate, simple to get in and out of with the roll-up door, and it's a simple machine with true pilot controls," he says. "Reliable, with Kubota engineering, and powered by a Kubota diesel engine, this machine has been known for its reliability in the marketplace. This is part of the reason why these machines hold their value so well. Proven, the machine has earned its spot in the spotlight for its simplicity and reliability and now has solidified how proven of a machine it is by being one of the most popular CE units in the marketplace."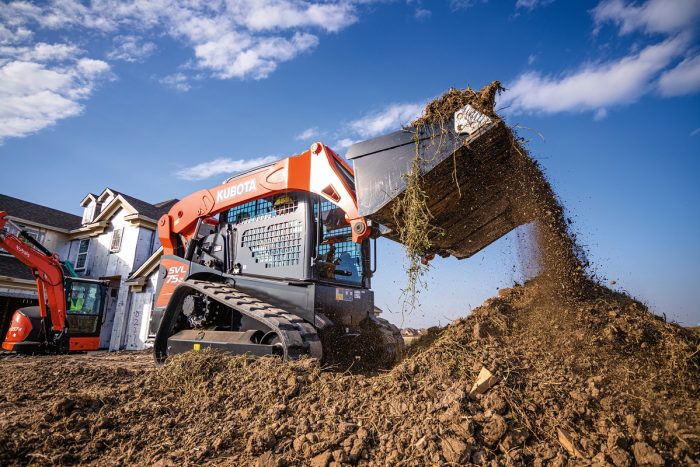 The SVL75-2 is popular across the board, finding its use on construction sites, rental yards, farms and ranches and more. Corder says the The SVL75-2 does so many things so well and does it without the additional emission controls of the >75 horsepower machines.
Bobcat
Compact equipment pioneer Bobcat has a lot of compact track loaders in its lineup to choose from, but Fitzgerald isn't quick to pick a favorite. However, he says the medium size range of models are seeing the most demand. Inside that range are Bobcat's M3 and R Series.
"This range is popular because the machines are easy to transport from job to job and still offer plenty of performance for their size," he says. "These machines are great at moving material, lifting and loading, and they cover a broad spectrum of applications — from landscaping and concrete projects to home building and municipality work."
The M3 Series includes the T450, T550, T595, T650 and T770 track loaders and are a great choice for operators looking for proven performance but without a lot of optional upgrades. For those looking for the latest technology and maximum comfort, Fitzgerald recommends the R Series. This series has five machines — the T62, T64, T66, T76 and T86 — but offers more premium features such as a standard one-piece cab, cast-steel lift arm sections and optional Bluetooth connectivity.
"Both the M3 and R Series have sealed and pressurized cabs, but the R Series models' one-piece cab gives operators a better, quieter and more comfortable ride," says Fitzgerald. "There's also an instrumentation package available that has a 7-in. touchscreen display with Bluetooth connectivity so you can answer phone calls and reply to customers as you need."
Let's Lift: Takeuchi's Product Manager Lee Padgett Looks at Lift Configurations
From what I'm seeing, our customers are choosing compact track loaders based on their applications rather than certain trends. As a result, more manufacturers, dealers and owner/operators are now matching their machines to the tasks at hand. Those who primarily perform grading and dirt work will turn to a radial-lift machine because of its greater bucket breakout, lift-arm forces and mid-height reach. Operators who do a lot of load-and-carry applications will typically choose vertical-lift machines for their higher rated operating capacity, higher hinge-pin heights and dump reach for loading trucks.
Takeuchi
With machines available in both radial- and vertical-lift configurations, Takeuchi builds track loaders to meet the needs of a variety of customers. Luckily that range of machines fits the buying trends product manager Lee Padgett is observing.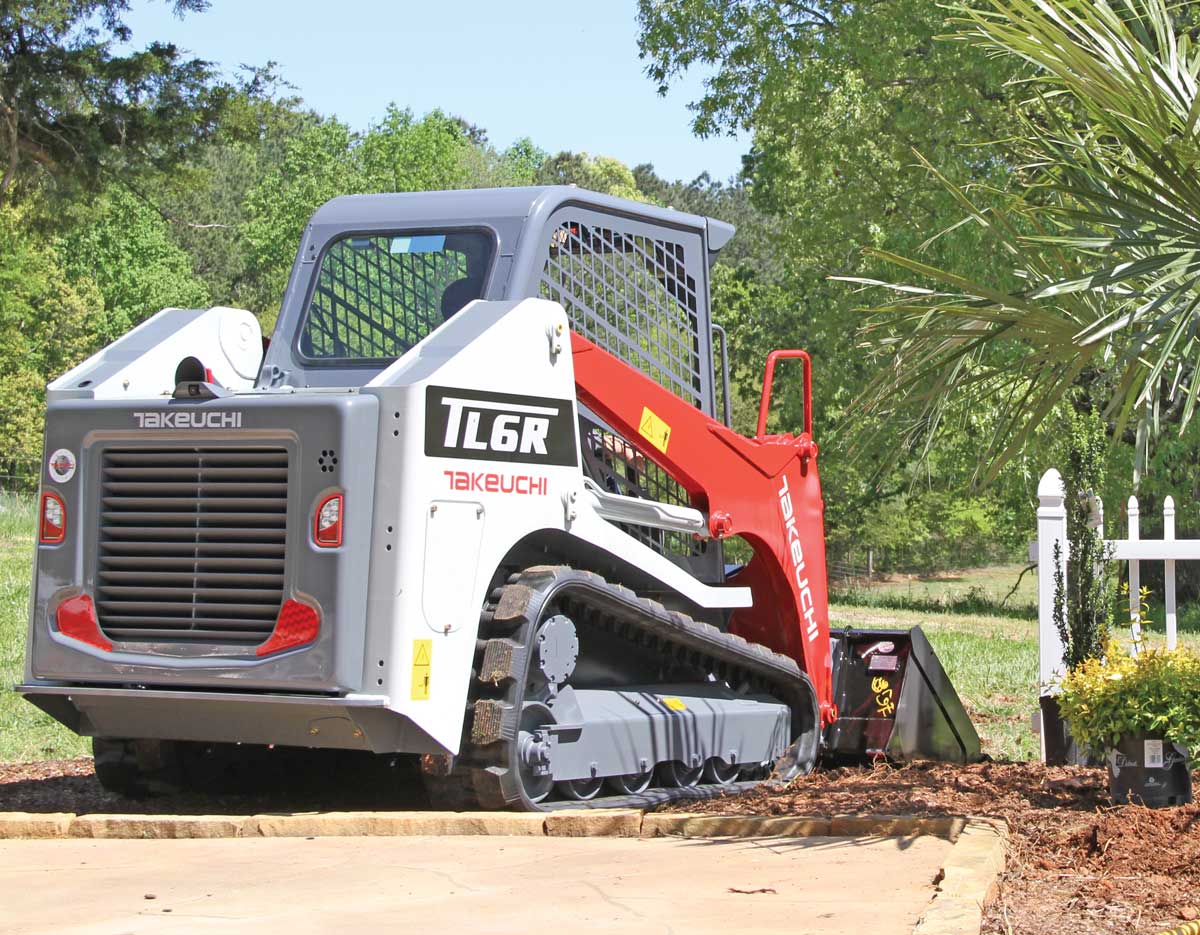 "No single CTL model stands out as our most popular right now," he says. "From what I'm seeing, our customers are choosing models and sizes based on the jobs they need to get done, and their choices span across our product range."
While all five of the company's track loaders are sought after, Padgett says the TL6R model has been in demand due to its smaller size and is a great choice for landscapers. The TL6R offers operators a compact machine at just 6 ft, 5.8 in. high and a little over 5 ft wide. Despite its small size, Padgett adds this radial-lift model provides great pushing power and ROC, as well as excellent mid-height reach.
"The TL6R is a great choice for landscape contractors who need a machine they can get into a residential backyard for tasks like grading, laying sod, building retaining walls or transporting rocks and mulch," says Padgett. "Really, anyone who must work in a confined space like a chicken house, garage, shed or barn would also find the TL6R to be a great choice because of its compact size. The fact that it doesn't require a CDL to transport the TL6R is also a big plus for landscape contractors who need a machine they can take to multiple jobsites."
Caterpillar
Caterpillar has more than 20 years of experience manufacturing track loaders. Its lineup today features seven models with both radial- and vertical-lift options and a wide range of sizes designed to serve a variety of customers. With such a good assortment to choose from, Kevin Coleman, Caterpillar's senior product application specialist, couldn't pick a most popular but highlights the benefits of each size platform.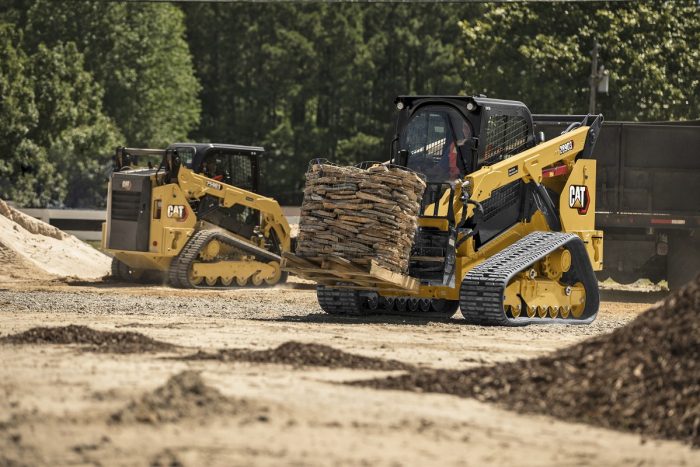 "In a way, this is a bit like asking a parent which one of your children is the favorite," he says. "I would have to say that each of the models across the four size platforms available are all popular with customers based on their differing but individual needs."
Caterpillar's smallest platform includes the 239D3 and 249D3 and delivers all the features of the larger machines but with operating weights of less than 8,000 lbs. Coleman says that machines are typically able to be transported without a commercial driver's license. The 259D3 is a medium platform model that Coleman says delivers a lot of power and performance in a compact, easily transportable machine package. Need something bigger? Caterpillar has you covered.
"The larger frame models — the 279D3 and 289D3 — provide more rated capacity, higher lifting heights and increased hydraulic horsepower versus the medium platform model," says Coleman. "With the largest models, the 299D3 and 299D3 XE, customers get the benefit of the highest horsepower offerings [98 and 110 hp], the largest capacity for handling loads and highest hydraulic horsepower for maximum production levels when using the large, power-hungry, hydro-mechanical attachments."
Size 'Em Up: Is Bigger Still Better with CTLs?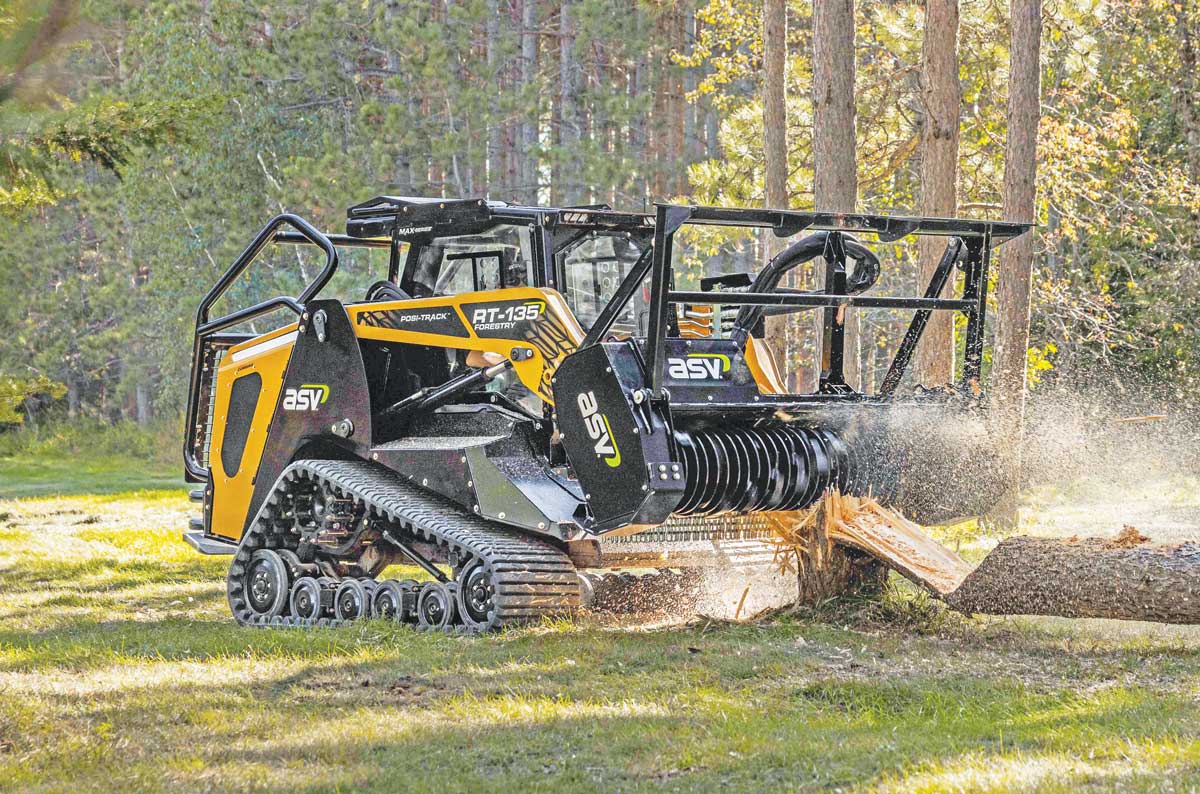 Despite the current trend of bigger is better, some manufacturers are seeing customers leaning toward smaller machines. For example, ASV product manager Buck Storlie mentions that although the company's largest unit, the RT-135, is in great demand, one of its smallest models, the RT-40, is also doing well in the market.
"We're seeing two polar opposite trends in the market right now," he says. "You have customers favoring bigger machines for forestry applications out in the woods, but the small machines are really taking off in urban areas or residential housing developments where space is an issue. There's definitely not only a trend favoring that big, premium machine but also the small loaders for the developments that are happening in the suburbs."
Manitou's Nathan Ryan sees a pull back to smaller compact track loaders on the horizon.
"Despite the recent trend toward larger machines, a recurring theme we've been hearing the last 12 months or so is that we'll soon see a trend back to smaller machines," he says. "Customers have been telling us the large machines are great, but the labor shortage and fuel costs to operate bigger trucks/trailers and the machines themselves are increasing the total cost of ownership and pushing people back to smaller units."
JCB
When discussing JCB's five compact track loaders, product manager Ethan Clowes confidently declared the company's 3TS-8T as its most popular. Why? Well, the model boasts two industry-exclusive features: a telescopic boom and side entry. The telescopic boom, only featured on the 3TS-8T, allows operators to reach higher with an industry-leading hinge pin height of 13 ft, 3 in. In addition to the reach, the boom helps crews dig 3 ft below grade.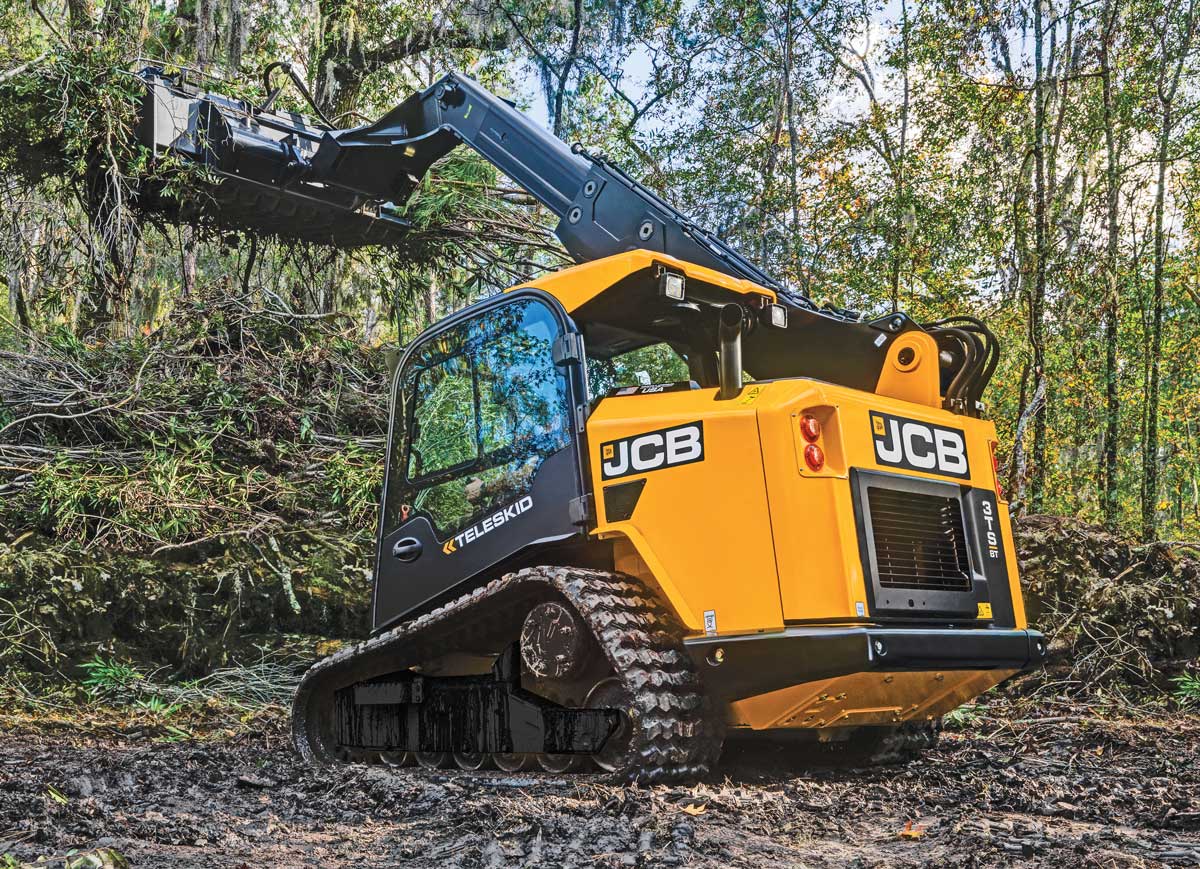 "When the boom's fully down on the 3TS-8T, you can extend it and actually start digging into the ground 3 ft below grade," explains Clowes. "That's a unique feature for us at JCB."
Other features of the 3TS-8T include high-flow hydraulics, a smooth ride, the bucket-positioning leveling system and the highest ROC in JCB's track loader lineup at 3,695 lbs. As for the side entry, Clowes points out that it's a safer option for operators getting in and out of the machine.
"Our side-door entry, which is available on all JCB track loaders, means that operators are not required to climb over a cumbersome attachment to enter or exit the cab — making it much safer and more productive than other compact track loaders on the market," he says.
Manitou
According to Manitou's global product manager Nathan Ryan, the company has seen customers ask for bigger and more powerful compact track loaders over the last few years. With more people realizing the productivity improvements these loaders have to offer, the Manitou 3200 VT has become a fan favorite. Ryan says the 114-hp machine provides users the power to easily complete their jobs and offers an operating capacity of 4,857 lbs at 50 percent.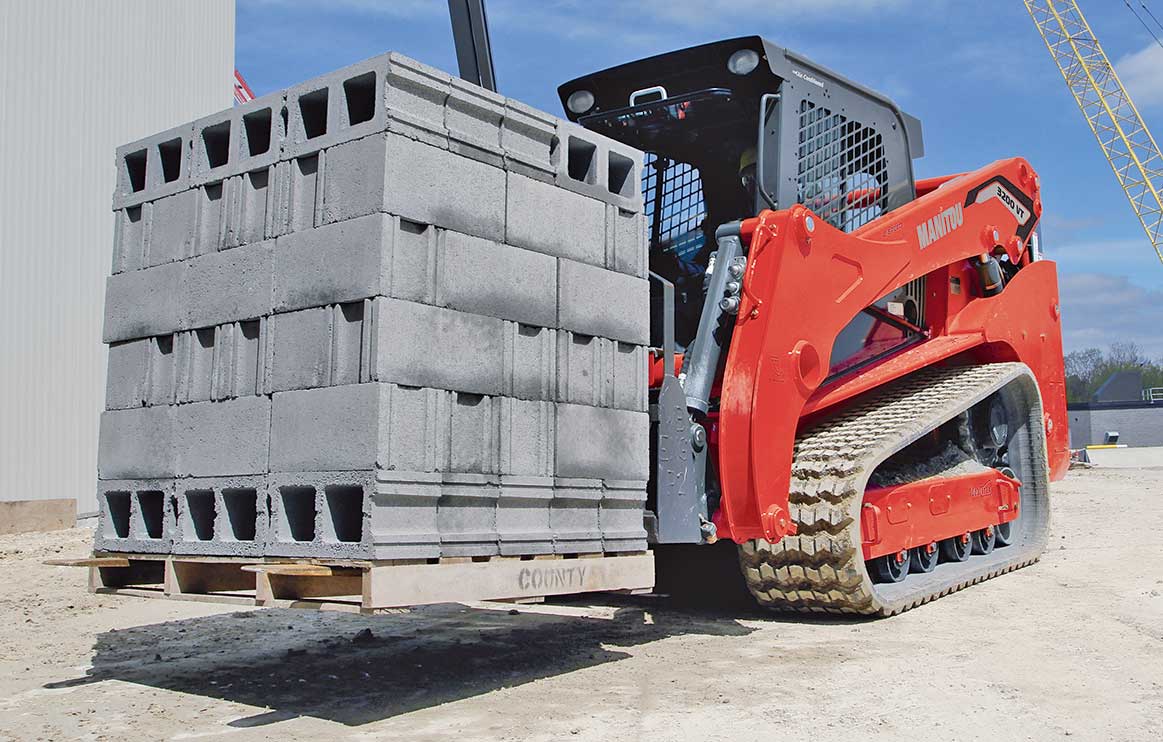 "The 3200 VT is the only machine on the market in this size class, and it features our patented folding door which allows users to operate the machine with the door open or closed, without raising the overall height of the machine," says Ryan. "Additionally, to reduce total cost of operation and track maintenance, the 3200 VT comes standard with our patented IdealTrax, automated track tensioning system.
Landscapers and contractors really appreciate worry-free workdays knowing their tracks are going to stay on and are being properly maintained without them having to lift a finger."
Ryan adds that the 3200 VT, as well as several other Manitou track loaders, offer additional patented features like the company's flip out foot well, which allows the users to quickly clean out the foot area.
Pam Kleineke is managing editor of Compact Equipment.