Spring is just around the corner and that means land clearing contractors will be out in full force. While many jobs can be fulfilled using a standard compact track loader with a simple bucket, overgrown areas with thick brush and trees require heavier-duty forestry attachments. Powering these attachments in high-intensity applications like mulching and brush cutting takes a track loader built for optimal performance in the most demanding applications. Contractors need to make sure the loader has the features to make full use of a forestry attachment's potential, even in high temperatures and challenging environments. They also need to ensure the attachment is the best fit for the compact track loader. Here are six tips for pairing a loader and attachment to ensure high performance and profits.
1. Choose a Dedicated Machine
The best way to ensure maximum productivity in harsh forestry applications is to choose a compact track loader designed specifically for the job. Heavy-duty tools, such as mulching attachments, require the machine to handle almost constant, high-intensity loads. Contractors should choose a loader that allows for 100 percent load, 100 percent of the time, at extremely high ambient temperatures. Some manufacturers build machines capable of performing this way in temperatures up to 118 degrees Fahrenheit. This is accomplished through high horsepower, flow and efficient cooling systems.
In addition, review the loader's auxiliary hydraulic pump maximum output capacity. Some models include high-flow pumps that are maximized and can cause the attachment to slow down when moving the loader. Look for a forestry-optimized machine with oversized hydraulic pumps that allow movement without taking any flow from the attachment. Forestry machine operators should also look for features that maximize safety in forestry applications. This includes metal guarding around key areas, such as lights, the AC condenser and the rear screen, to protect against brush and debris. These machines achieve an additional level of durability with a heavy-gauge cab featuring extra falling-object and rollover protection, as well as reinforced windows for impact resistance. A hydraulically driven, auto-reversing cooling fan can also blow debris from mulching applications out of the engine compartment screens.
2. Check the Specs
Maximum hydraulic flow and system pressure are two key specs to look for in the best machines and attachments. Ensure the attachment matches the maximum capabilities of the machine. As most operators know, gpm is the measure of hydraulic flow which determines the speed of the head, while psi is the maximum hydraulic pressure the attachment can handle. Attachments that don't fit the machine specs won't perform as well as attachments that do.
3. Optimize Head Settings
Next, make sure the attachment has the correct pulley configuration to optimize the carrier's flow and power. Heads may not be automatically set to match the track loader's gpm. For example, if the loader features 45 gpm, work with the dealer or manufacturer to re-pulley the attachment to reach a matching tip speed. Manufacturers also recommend attachments that include a two-speed drive motor. To ensure optimal tip speed, maximum power and the fastest recovery time, make sure the motor shift point is set for the track loader's specific pressure range.
4. Reduce Flow if Necessary
For attachments with a lower maximum gpm than the track loader's, reduce the machine flow to ensure attachment longevity and performance. Operators can reduce machine flow in some loaders through the cab's display panel. This adjustment will mean the machine won't reach 100 percent performance, but it will allow the attachment to operate at its maximum performance. Not reducing the loader flow will put excessive force on the attachment, causing it to wear faster and reduce performance. For example, if the machine is set at 45 gpm and the attachment is designed for 40 gpm, operation will overspeed mulching head tips and rob power. This can lead to engine bogging, excessive heat and reduced productivity.
5. Examine Coupler and Hose Size
Maximize flow between the track loader and attachment with the correct size coupler and hoses. While adapters can be used to accommodate smaller couplers and hoses, doing so will restrict the hydraulic flow and reduce horsepower.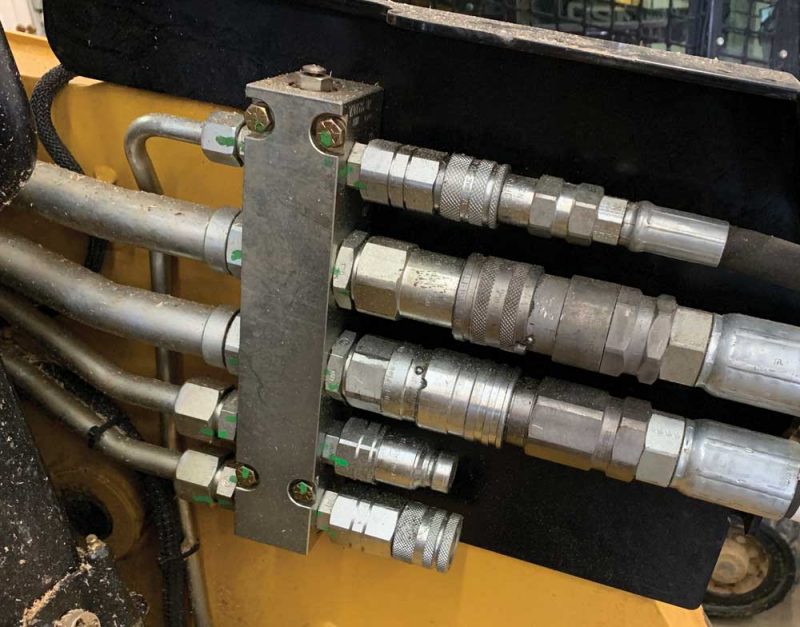 6. Adjust Preferences
Most compact track loaders have a variety of adjustments operators can make to suit their preferences. The operator's manual has information on how to make changes. Here are a few of the common adjustments for forestry contractors.
a. Loader Arm Speed: Adjust the arm speed if the arms are moving up and down too quickly or too slowly or when tilting and curling the attachment.
b. Creep Mode: Adjust the maximum low speed depending on conditions and the amount of precision required. Some models allow operators to quickly turn off creep mode via the operator display or when shifting into two-speed. This ensures quick travel when necessary.
c. Flow Sharing: Some compact track loaders feature an auxiliary pump with a higher hydraulic flow than the machine's maximum gpm. This feature allows the loader to move with no reduction in attachment speed. If more speed is required, operators can simply adjust flow sharing.
These tips will allow optimal machine and attachment performance, but there are many other factors to consider for even more productivity. The attachment's belt size, weight, center of gravity and back pressure also play a part. The best way to ensure an optimal performance combination is to use an attachment created specifically for the loader. Ask the dealer or manufacturer about attachment options fully designed, tested and configured to optimize the machine's flow and horsepower. Taking all of this into consideration will allow for maximum machine and attachment performance and ROI on the job.
Buck Storlie is the product line manager at ASV Holdings Inc. 
Tags:
April 2020 Print Issue
,
ASV
,
ASV Holdings
,
home
,
Talking Shop