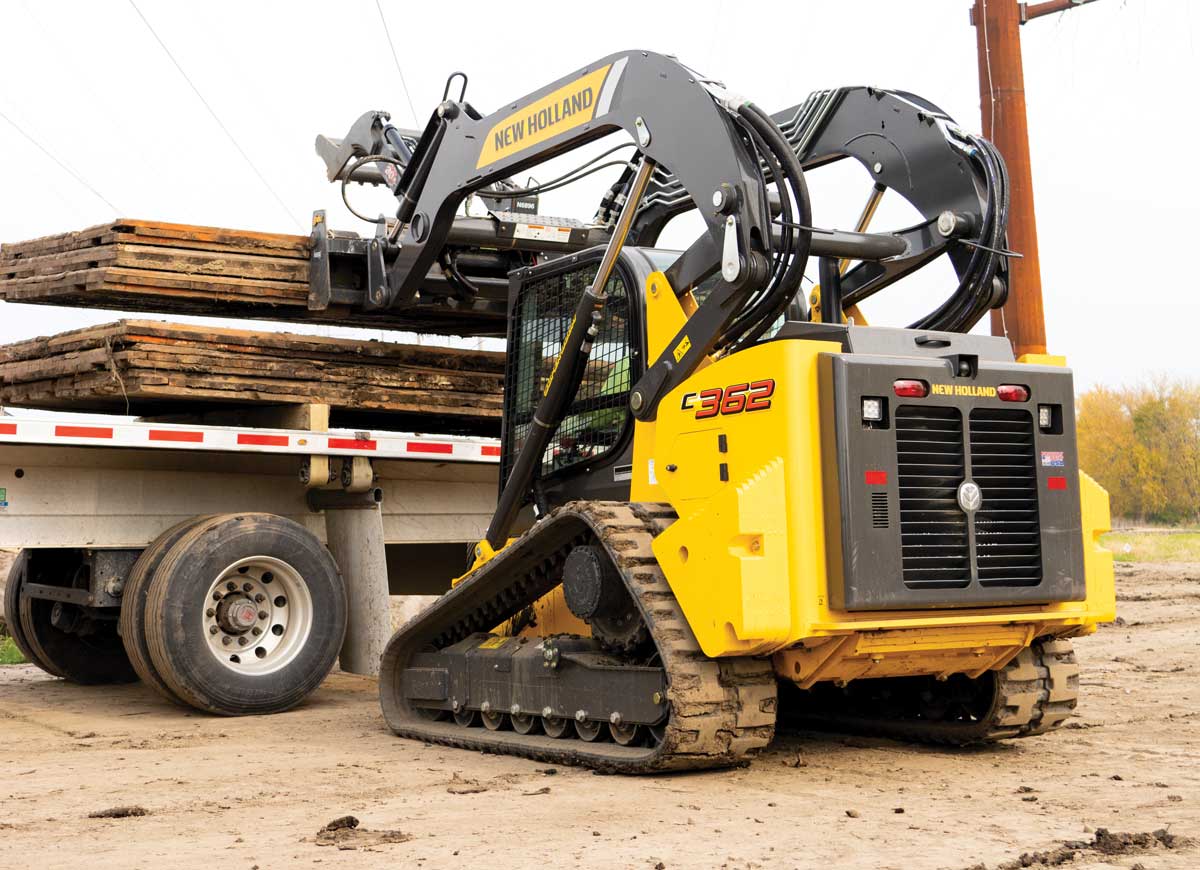 300 Series Compact Track Loaders Optimize Operator Comfort and Efficiency
This post is a part of Compact Equipment's annual Spec Guide. View other brands' product and spec info by clicking this link. View the magazine version of these summaries by clicking right here. Sign up for the print edition right here. Now enjoy!
New Holland Construction's 300 Series compact track loaders excel in residential and non-residential construction, hardscaping and landscaping, land management and cleanup, agricultural settings and more. By offering rugged power and performance, the New Holland compact track loader design gives the operator year-round traction while being light on resources. All New Holland Construction compact track loader models were designed with a long wheelbase for stability and comfort. Enjoy a smoother ride with the low-profile undercarriage design and extended track life with steel-embedded tracks rolling on rubber.
Go beyond performance with industry-leading bucket height and reach. The 300 Series lineup consists of six compact track loader models. The C332, C337, C345 and C362 compact track loaders feature the patented vertical-lift Super Boom design. The Super Boom delivers better performance and provides higher visibility all around, giving New Holland compact track loaders one of the industry's best forward dump height and reach. The 300 Series also includes the C327 and C334 radial-lift machines that provide superior digging performance for landscaping and construction applications.
With a 6,200-lb rated operating capacity and greater breakout force, New Holland's newest and largest compact track loader, the C362, is optimized for all the toughest lift-and-carry jobs. Imagine being able to lift a full-size pickup truck. Reach new heights with the C362's Super Boom vertical-lift linkage, allowing operators to load material right into the center of high-sided truck boxes or hoppers. The Super Boom vertical-lift linkage also maximizes visibility, providing a clear view to the cutting edge, to the bucket at full height and to the sides and rear of the machine.
Providing industry leading operator comfort, the 300 Series cabs are among the most spacious cabs available on the market. The new, customizable 8-in. LCD display provides a quick, convenient look at engine settings as well as machine performance information. Use the LCD display to access New Holland's operator customization tools. The integrated backup camera allows for greater visibility to the rear of the 300 Series loader for safe and efficient operation. When you combine the display system with the large rear window, low engine hood and no rear frame towers, the 300 Series offers an uninterrupted view out the back. Finally, the LCD display offers the versatility of electro-hydraulic control settings, allowing the operator to customize and adjust the machine's settings to individual preferences and needs.

Advice to Buyers
"In today's market, machines are more alike than they are different," says Ryan Anderson, NHCE product manager. "Every brand that has been in this business for 50-plus years has to make good machines. Look for the small but essential details like ergonomics and functionality that suit your needs. Being able to easily adjust things like auxiliary flow and drive/loader controls will allow you to form the machine to fit a variety of applications. When evaluating machines to make a purchasing decision, discover which machine is easier for you to adjust."
Tags:
July August 2022 Print Issue
,
New Holland Construction
,
Spec Guide
,
Spec Guide 2022