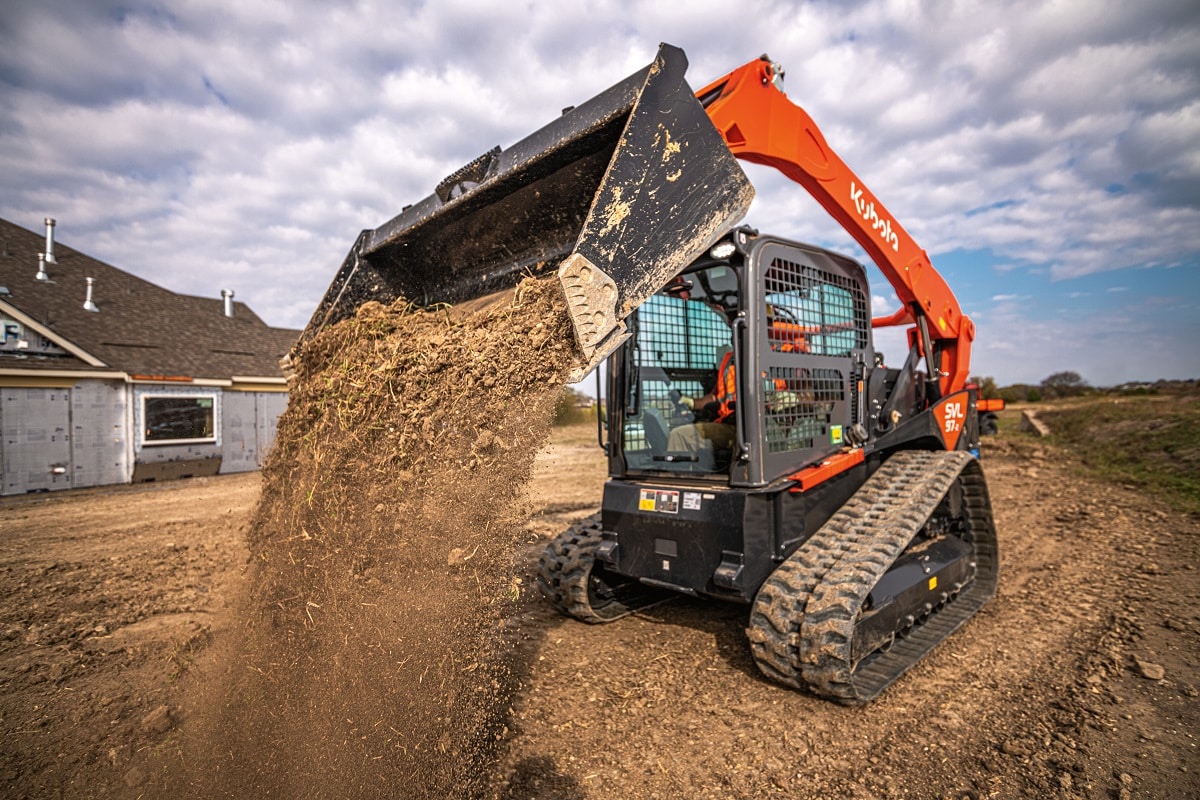 The New SVL97-2 Boasts an Improved DEF System and In-Cab Tech
This post is a part of Compact Equipment's annual Spec Guide. View other brands' product and spec info by clicking this link. View the magazine version of these summaries by clicking right here. Sign up for the print edition right here. Now enjoy!
Kubota Tractor Corp. began marketing in the United States in 1972 with an initial introduction of a 12-hp compact tractor. Since then, the company has greatly expanded its product offerings, joining the compact track loader market in 2010. Today, Kubota offers the SVL97-2, the SVL75-2 and the SVL65-2.
The SVL97-2 boasts a 96-hp engine with a rated operating capacity of 3,200 lbs (at 35 percent tipping load). The track loader outperforms the competition by boasting an impressive 7,961 lbs of breakout force and a staggering 10-ft, 7-in. max height. Plus, the new SVL97-2 comes standard with telematics. The ability to monitor the machine's health and location provides peace of mind and added protection. The standard rearview camera can be set to display constantly or only when the machine is moving in reverse, allowing for better rear visibility and increased operator comfort. Optional front LED work lights are available for more efficient and safer work during the night and in any low light condition.
Key improvements to the unit include a significantly improved DEF system. The DEF system has been re-engineered to ensure long-term reliability and productivity. Kubota also improved the sealing of the cab, reducing the amount of dust, water and debris entering the operating space. This upgrade will give end-users a cleaner and more efficient work environment.
Kubota Tractor Corp. unveiled the SVL65-2 to its popular compact track loader line, further diversifying its construction equipment offerings. The new compact track loader is positioned in a lighter ROC weight class than its predecessors and features an advanced multi-function valve, slide-up overhead front door and easy on/off self-leveling function.
The SVL65-2 features an Advanced Multifunction Valve (AMV Valve) that provides smooth operation when using simultaneous functions, such as auxiliary, boom and bucket circuits, allowing operators to get the job done faster. The SVL65-2 boasts a wide working range including a rated operating capacity of 2,100 lbs at 35 percent or 3,000 lbs at 50 percent, a reach of 34.9 in. and a hinge pin height of 118.5 in.
If you want to extend your work season, working worry free in surfaces where a wheeled machine just won't do, then the Kubota compact track loaders are your answer. Each machine is versatile enough to work in tight areas, maneuvering easily around residential and commercial projects. Kubota continues to see growth in this segment because of the versatility the compact track loader series offers. With a large assortment of available attachments, Kubota compact track loaders are a versatile base for grapples, hammers, snowblowers, rotary cutters, graders, tillers, tree pullers and much more.

Advice to Buyers
"Establishing which category of compact track loader will best fit your operation can be a difficult task," says Patrick Baker, product manager at Kubota Construction Equipment. "With so many options available in today's market, deciding on the technology, features and specs that will benefit your application can become a time-consuming task. To simplify the buying process, it's important to focus on the fundamental purpose of the purchase: increased productivity."
Tags:
July August 2022 Print Issue
,
Kubota
,
Spec Guide
,
Spec Guide 2022