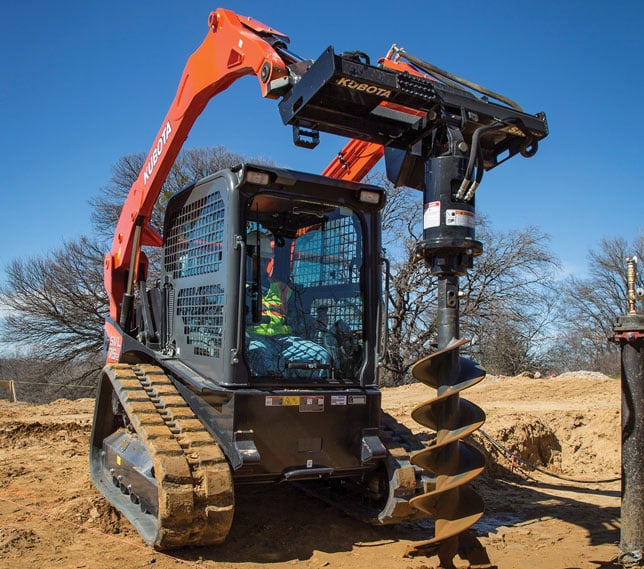 New to 2017: Kubota Introduces SVL75-2 with High Flow
Kubota Tractor Corp. began marketing in the United States in 1972, with an initial introduction of a 12-hp compact tractor. Since then, the company has greatly expanded its product offerings, joining the compact track loader market in 2010. Today, Kubota offers the SVL75-2, SVL95-2s and, new for 2017, the SVL75-2 with high flow. The SVL75 with high flow boasts increased hydraulic horsepower for a wide variety of attachments and expanded multi-tasking capabilities for improved efficiencies on the jobsite.
Kubota continues to see growth in this segment because of the versatility the compact track loader series offers. With the new high-flow hydraulics on the SVL75-2 auxiliary couplers, Kubota matches some of the versatility you get with the SVL95-2s, equipping the unit with both 1/2- and 3/4-in. hydraulic auxiliary couplers. And, with 2,300 lbs of operating capacity and a wide variety of attachments, this machine takes the term do-it-all to a whole new level, says Kubota.
A bucket breakout force of 6,204 lbf and lift arm breakout of 4,766 lbs make the SVL75-2 with high flow a high performer in power and productivity. With the high-flow model, the auxiliary hydraulic flow increases from 17.4 to 29.3 gpm. The multi-function levers provide fingertip control of all major functions so both hands are on the levers at all times to operate attachments efficiently. The new SVL75-2 with high flow boasts a 74.3 gross hp, four-cylinder, direct injection, turbo-charged Kubota diesel engine that is equipped with common rail fuel injection and a diesel particulate filter (DPF) system that meets Tier 4 emissions standards. The engine's greatly reduced exhaust emission is complemented by its fuel economy; with a 24.6-gal fuel tank, the SVL75-2 can run a full workday without needing to refuel.
Advice to Buyers
"Many manufacturers have made considerable efforts to improve the reliability of undercarriages like opening up their roller side covers for easier cleaning and welding their undercarriages to the lower chassis for better stability, thus improving their overall undercarriage reliability," says Jorge De Hoyos, Kubota senior product manager, skid steers and compact track loaders. "Some have beefed up their front coupler connections to take higher lateral stresses. Others have even widened up their cabs for better comfort."
Kubota Tractor Corp.
1000 Kubota Dr., Grapevine, TX 76051
888-4-KUBOTA | kubota.com
Click on table to enlarge