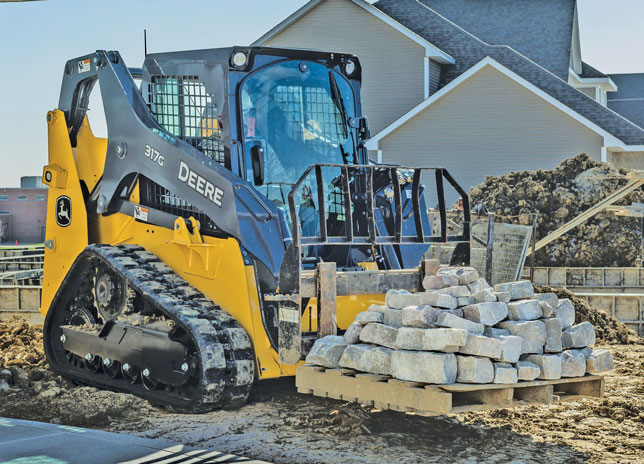 The G Series Represents Three Next Generation Model
John Deere started offering these dedicated track loaders in 2005 with two models. Over the years, the company has expanded its offering to include four models and numerous options and attachments. In addition to its 323E machine, John Deere's G Series (317G, 331G and 333G) represents the next generation of Deere's compact track loaders, combining proven technologies, enhanced undercarriages and long-life designs. These units also offer numerous customer-recommended enhancements that help contractors increase productivity and uptime and keep daily operating costs low. This includes noticeably more lift height, dump clearance and reach, as well as 40 percent more breakout force than previous models.
A refined vertical-lift loader boom design rises higher, reaches farther and lifts more for quicker and easier loading. Height to hinge pin is 11 ft, enabling operators to easily load dump trucks, feed mixers, fill hoppers and everything in between. A new lift path extends an additional 6 in. from the machine. The large frames have horsepower that is comparable to a small backhoe or crawler, and they also work comfortably in tight quarters, so operators can accomplish more with less machine. Operating capacities of up to 3,700 lbs give these models the muscle needed to master heavy loads, coupled with a breakout force that has been increased by 40 percent to make lifting heavy loads easier.
The new G-Series machines make maintenance simple. The hood can be tilted away easily for convenient ground-level access to dipsticks, fuel- and fluid-filler necks and filters — an industry exclusive. The operator's station swings up and out of the way in less than five minutes. All fluid fill locations are color-coded to avoid tune-up confusion, and the caps are tethered so that they can't fall onto the ground and attract dirt. Hardened steel rollers and idlers provide ultimate reliability. Sealed electrical connectors, O-ring face-seal hydraulic fittings and large coolers help keep downtime to a minimum, and a standard automatic-shutdown system prevents overheating or low fluid levels from interrupting productivity. An exclusive Tri-Cool design resists debris buildup and employs large coolers for optimal performance in high-load conditions.
Standard and optional high-flow auxiliary hydraulics allow operators to effortlessly run powered attachments, such as hydraulic hammers, cold planers, mulching heads and trenchers — just a few of the 100 attachments available. In fact, Universal Quik-Tatch enables operators to go from bucket to forks and more in just seconds.
Flexible control choices on the large frames allow contractors to choose between standard EH ISO controls, (EH) ISO joystick controls or options that are switchable between ISO- and H-patterns, or EH 3-way switchable controls that allow operations between ISO- or H-pattern, or hand and foot controls of operation within the same machine.
Advice to Buyers
"Compact track loaders continue to gain traction in the marketplace, and they come in several different sizes and power levels," says Gregg Zupancic, John Deere product marketing manager for skid steers and compact track loaders. "Depending on your need, they can be equipped to run for longer hours and feature agility enhancements such as track and bucket speed settings. Speeds can be set to match the performance of an attachment like a trencher or cold planer with a push of your fingertips, thanks to EH controls."
John Deere Worldwide Construction and Forestry Div.
P.O. Box 8806, Moline, IL 61266
johndeere.com
Click on table to enlarge