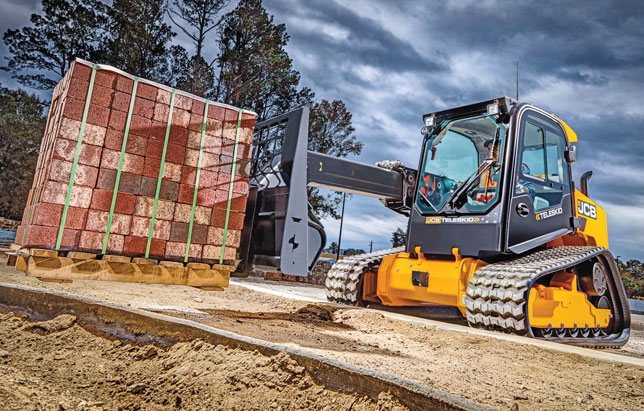 Offering a Wide Range of U.S.-Manufactured, Side-Entry Loaders
JCB entered the skid steer market in 1993 and began producing compact track loaders in 2001. In 2010, JCB launched is New Generation product line and then expanded the line in 2012 to provide a full complement of large- and small-platform skid steers and compact track loaders. In 2017, JCB launched the all-new Teleskid compact track loader with a telescopic boom, offering greater lift, reach and dig depth than any other compact track loader on the market, says the company. Today, JCB markets five large-platform track models (the 225T, 260T, 300T, 320T and the forestry-specific model, 325T) and three small-platform machines (the 150T, 190T and 205T), plus the 3TS-8T Teleskid, for a total of nine compact track loaders offering vertical or radial lift.
All JCB skid steers and compact track loaders are compliant with Tier 4 Final regulations. JCB's large-platform compact track loaders feature a Tier 4 Final JCB Ecomax engine, and small-platform machines are powered by JCB Diesel by Kohler engines. All JCB compact track loaders meet Tier 4 Final emissions standards without the need for exhaust aftertreatment, allowing greater fuel efficiency and reduced downtime and operating costs. JCB's compact track loaders feature the company's iconic single-arm boom for enhanced operator safety. JCB's side-door entry means that operators are not required to climb over a cumbersome attachment or under an unsupported boom to enter or exit the cab, as they do with conventional compact track loaders. The unique boom configuration also allows 60 percent better visibility than competing compact track loaders, says JCB.
JCB's myCHOICE software provides operators with the ability to adjust the travel and loader controls of their compact track loader for optimal operation to suit a range of activities, from precision applications to faster, high-duty cycle operations. JCB compact track loaders share many features with the company's skid steer models, including larger cabs, suspension seats, servo controls, sealed and pressurized cabs and impressive serviceability. JCB machines also present owners with the lowest operating costs in the industry, according to the company.
Advice to Buyers
"When purchasing a compact track loader, you can choose different types of tracks based on your machine's intended primary application," says George Chaney, JCB North American sales manager for skid steers and compact track loaders. "Different tracks will be better or less suited to certain applications. Turf tracks are best suited for applications where extreme ground care is needed, whereas more aggressive tracks dig in when needed for that extra traction. There are even specialty snow tracks that offer better traction, smoother turning and shorter stopping distances in snow removal applications. Choose the type of tracks that you'll use most often to get the best return on your machine investment."
JCB North America
2000 Bamford Blvd., Pooler, GA 31322
912-447-2000 | jcb.com
Click on table to enlarge