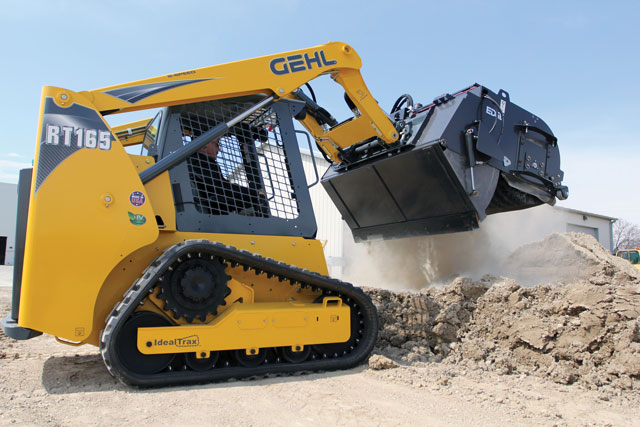 Five Track Models Built in America for the Global Marketplace
Gehl began manufacturing agricultural implements out of West Bend, Wis., in 1859. Since those humble beginnings in a blacksmith shop, the Gehl brand has become a major force in the compact equipment industry worldwide. Today, Gehl's headquarters is located in West Bend with a state-of-the-art research and design facility, along with modern manufacturing facilities in Yankton and Madison, S.D.
The all-new Gehl RT165, RT175 GEN:3, RT210 GEN:3, RT250 GEN:3 and all-new VT320 vertical-lift track loaders are manufactured and assembled in Yankton, S.D. Gehl track loaders are equipped with engines providing from 179 to 339 lbf of torque. Productivity is further augmented by a hydraulic system flow rate of 28.5 to 37.4 gpm on high-flow configurations, delivering high performance and fast cycle times.
The RT165, RT175 GEN:3, RT210 GEN:3 and RT250 GEN:3 models feature radial-lift path loader configurations, providing performance in ground-engaging applications. Lift cylinders incorporate cushioning for smoother operation when lowering the lift arms. Hydraulic self-leveling, two-speed and boom float are all standard, as is auxiliary hydraulic flow to attachments. High flow is optional to further increase versatility. A new universal, manual quick-attach is also standard to accept a broad range of attachments, and an optional universal, power quick-attach facilitates easy change-over. The new design adds additional leverage to make attachment connections easier and faster. Standard connect-under-pressure couplers make changing attachments convenient and simple.
The newest addition to the Gehl lineup is the VT320 vertical-lift track loader. This new unit increases range in capacity and pushing power, unlocking more opportunities in the rental and construction markets, says Gehl. The VT320 is designed for ultimate comfort with seat-mounted pilot joystick controls, a new heavy-duty suspension seat and a full-color, line-of-sight dash display.
All models, including the optional enclosed cab with heat and/or air conditioning, are certified ROPS/FOPS Level 2 for operator protection. The patented IdealAccess fold-up door allows for operation with the door in either the closed position or in the open position, offering the operator maximum operation flexibility, ease of communication and safety in addition to the standard swing-out door.
Operating Gehl track loaders is intuitive, easy and customizable, says Gehl. The new GEN:3 models have new revised software, new pumps and new valve spools to drastically improve the multi-function performance. A dash display provides clear feedback on machine status and allows operators to provide input into machine operation.
Advice to Buyers
"Compact track loaders excel in muddy, loose conditions," says Brian Rabe, track loader product manager with Gehl. "A machine with a dedicated undercarriage will outperform and outlast traditional bolt-on style configurations. The applications you need to perform will guide your buying decision when it comes to lift height, rated capacity and machine size."
Gehl Co.
One Gehl Way, West Bend, WI 53090
262-334-9461 | info@gehl.com | gehl.com
Click on table to enlarge