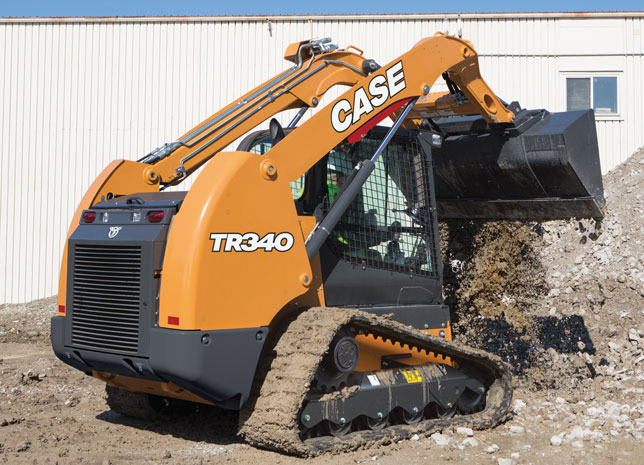 The Lineup of Four Will Expand to Five in Fall 2017
The Case Construction Equipment compact track loader lineup — manufactured in Wichita, Kan. — currently includes four models: the TR270 (radial), TR310 (radial), TR340 (radial) and TV380 (vertical). A fifth model (vertical linkage), will be introduced at GIE+EXPO 2017 — giving the company a broad spread of lift pattern, horsepower and size options to tailor machine selection to each application. According to Case, the new models feature best-in-class torque, breakout force and standard auxiliary hydraulic flow (depending on model), as well as one of the industry's widest cabs with 360-degree visibility.
Highlights of the product line include the TR340, which weighs 10,000 lbs with a rated operating capacity (ROC) of 3,400 lbs and a bucket breakout force of 8,700 lbf, and the TV380, which weighs 10,550 lbs, provides 8,776 lbf of bucket breakout force and an ROC of 3,800 lbs. Both machines are rated at 90 gross hp, produce 282 lbf of torque and feature increased hydraulic flow rates (standard — 24.2 gpm; high-flow — 37.6 gpm).
The TR310 is an excellent mid-range machine that features wider tracks (15.75 in.) and lower ground pressure (5 psi) than other medium-frame compact track loaders. According to Case, these features provide greater power, stability and flotation for owners/operators who need that performance without upgrading to a large-frame machine. The TR310 weighs in at 8,800 lbs with a ROC of 3,100 lbs and a bucket breakout force of 8,680 lbf. It meets Tier 4 Final emissions regulations through a DOC-only solution. This requires no diesel particulate filter (DPF) maintenance or replacement, DPF regeneration or fluids to add.
All Case compact track loaders feature dozer-style undercarriages designed for stability on steep slopes and performance in muddy and sandy terrain. The rigid track frame features fewer moving parts than suspension track systems, making it more durable and easier to maintain. The cab-forward design, along with the industry's lowest entry threshold and sloped rear hood, provides visibility with excellent site lines, says Case. Ultra-narrow wire side screens, side lighting and a skylight further improve visibility.
Easy access to the engine, filters and fill points simplifies maintenance on Case compact track loaders, with all daily service points and filters located at the rear of the machine for quick access. Easy-tilt cabs provide convenient entry to the drivetrain compartment, and hydraulic quick-couplers allow operators to quickly change attachments from the comfort of the cab. Connect under pressure (CUP) manifolds require no tools to connect or disconnect hydraulic lines.
Advice to Buyers
"Horsepower is arguably more important when considering compact track loaders than other types of equipment," says John Dotto, brand marketing manager, Case Construction Equipment. "We see some customers making machine decisions about the model they buy based on trying to avoid DEF and going with something at 74 hp and below, but buyers need to remember that compact track loaders feature heavier undercarriages, more surface area engaging with the ground and greater operating capacities than comparably sized skid steers. The ability to maneuver, climb hills, carry loads — and especially operate heavier attachments — will be greater with a higher horsepower machine. It's a worthy investment that will directly impact productivity."
Case Construction Equipment
621 State St., Racine, WI 53402
866-542-2736 | casece.com
Click on table to enlarge