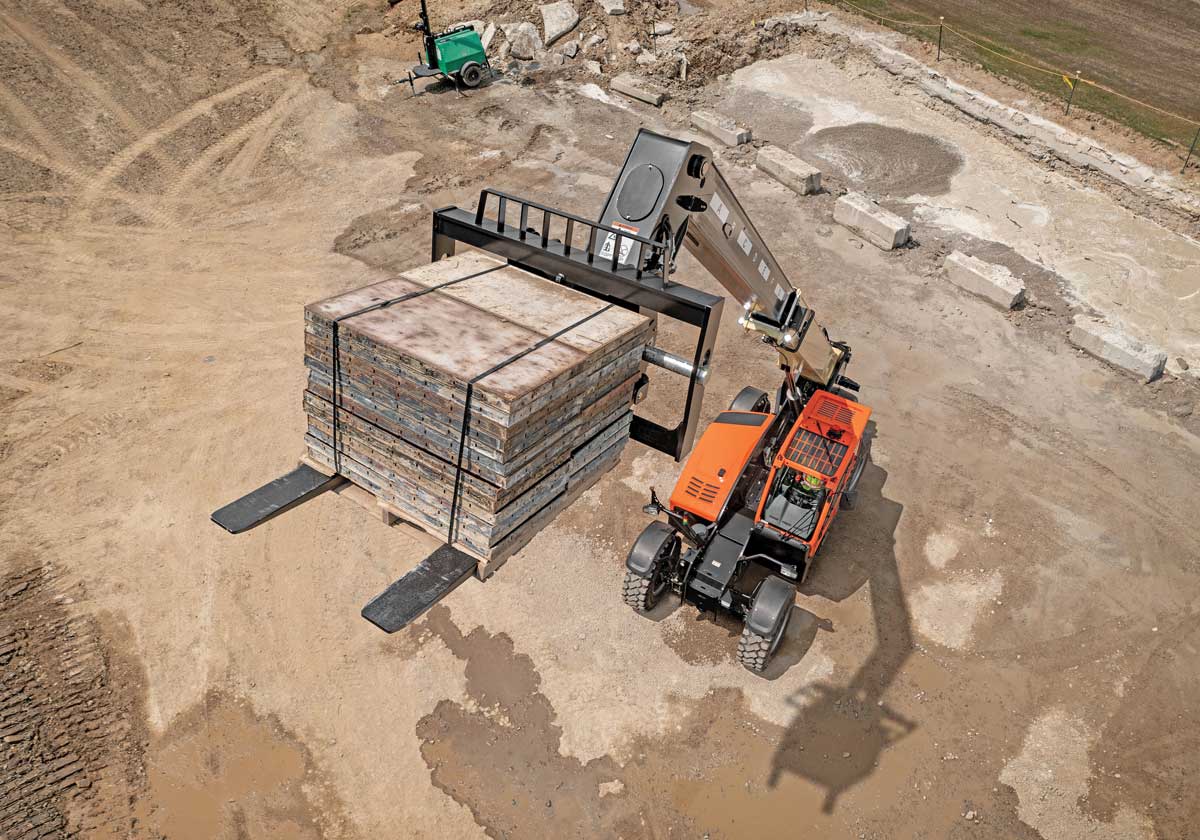 Did you know that telehandlers were originally designed to only lift loads on a simple carriage attachment?
Telehandler attachments have come a long way since then. Today, you can use different implements on your telehandler to pick up, stack, load, unload, scoop, dump, lift, carry and/or place jobsite materials. This flexibility means that telehandlers can complete a wide variety of work on a project, from the initial phases to the closing stages, with one machine — rather than you having to use multiple machines to do the same work.
Even with so many options, fork and carriage attachments are still by far the most popular tools used on these machines. That's because these tools can give you additional functionality to perform numerous tasks, including some of the duties normally limited to a forklift, mobile elevating work platform (MEWP), tractor or earthmoving machine, with your telehandler.
With a variety of sizes, widths and styles of fork and carriage attachments to choose from, let's look at some of the different options available to you.
Fork and Carriage Attachment Options
When you want to transport or place a load with no special features, you can choose a standard carriage. With added features, the carriage can provide additional positioning of the load. For instance, side-tilt carriages can position the load properly for transport across uneven terrain and can also pick or place loads that are not on a level surface.
Side-swing carriages provide offset placement of the load in angles from 50 to 90 degrees on each side from the center. This is useful when the machine is unable to provide a direct path to the load due to working in tight spaces.
Fork-positioning carriages offer a powered means to situate the forks at the correct spread for palletized loads, without leaving the cab. And, side-shifting carriages can shift the entire carriage and fork in either direction. This is useful if positioning the machine side-to-side is not possible when picking up a load or if the lateral placement of the load is necessary.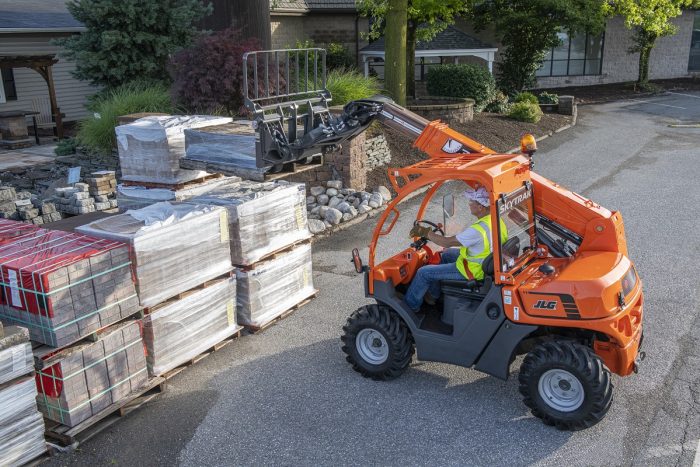 A 180-degree swing carriage gives you the ability to get loads into minuscule areas. It was designed to permit the maneuvering of loads through openings and tight spaces, like windows and scaffolding. If the telehandler is unable to fit through a restricted space, such as between two buildings, this attachment allows you to manipulate the load at the end of the boom and place it in the desired location.
The 90-degree swing carriage was also designed as a solution to this problem but is limited in its swing (45-degree swings to the left and right). To give you more flexibility while working in tight spaces, the 180-degree swing carriage is an offset pivoting attachment, allowing you to rotate outside the machine's wheels. If the attachment was centered on the end of the boom, the load may interfere with the machine's structure or you would need to lift the boom to avoid interference. Instead, the swing carriage is designed to allow operation when the boom is extended and retracted.
Specialty Fork Attachments
The possibilities for telehandler attachments are endless. Engineers are always thinking of ideas for attachments that would serve new applications, and equipment users often pitch ideas to manufacturers, explaining the type of work that they could accomplish with another type of implement — helping design engineers develop a tool that gets the job done.
That's how many of the specialty fork-mounted attachments were developed to meet specific jobsite applications.
For example, while telehandlers are designed to lift objects, it is sometimes difficult to transport long pipes from one end of the jobsite to the other. If items are not completely centered on the attachment, pipes could fall off and travel speed could be severely limited. So, users requested an attachment that would hold pipes in place and help operators meet time constraints. The pipe grapple was designed for this purpose — to handle and transport various pipe diameters and lengths. Resembling a carriage, the pipe grapple has two arms that fold down onto the pipes, securing and preventing the load from rolling off or tipping sideways. This allows you to transport pipes securely from point A to point B. If no items need to be held down, the arms can be placed in an idle, vertical position, and you can use the telehandler for typical palletized loads.
A fork-mounted work platform can be installed on a carriage and used to lift personnel for those jobs that require hands-on work at heights. Fork-mounted trash hoppers are another specialty attachment for telehandlers being used to help keep jobsites clean and safe. They are equipped with a feature that allows you to empty the hopper's contents without leaving the comfort of the telehandler cab.
Sheet material handler attachments are ideal for building construction projects, giving you the ability to confidently lift and place a variety of materials. The attachment can be used for picking and placing sheetrock, drywall, plywood, green board and other sheet materials. A quick-coupler-mounted sheet material handler attachment can lift up to 3,000 lbs and offer a 72-in. maximum fork spread, allowing for heavy and wide materials to be delivered at height. To reduce worker fatigue, a typical sheet material handler attachment will have a 100-degree fore and aft fork tilt and 180-degree side swing, which ensures accurate, convenient placement at the desired location.
Choosing the Tool for the Task
Understanding the nature of the work to be accomplished and the capabilities of the various fork and carriage attachments available is important when choosing the tool for the task.
For example, what type of material do you need to handle? How much material needs to be moved? Where does the material need to be moved? Answering questions like these will help you select the appropriate size and type of fork and carriage attachment for the work you need your telehandler to do.
Once you identify the correct type of attachment for your application, how can you be sure it's designed to deliver the most productivity from your machine? More importantly, how can you be sure it's safe for you to use with your specific telehandler?
Attachments that have not been approved for use with your telehandler could cause damage to the machine or pose a safety risk. For example, an overextended or overloaded telehandler can tip over with little or no warning. Equipment manufacturers spend a numerous amount of time and resources when developing an OEM attachment.
So how do you know if an attachment is approved or not? Most original equipment manufacturers will publish information to assist you in determining if an attachment is approved for use with your equipment. If you're operating a JLG or SkyTrak telehandler, for example, you can refer to the machine-specific operator's manual. There you will find information to help you determine if the attachment is approved for use with your machine.
Having the right attachment to complete the work to be done maximizes the benefits of your telehandler and contributes to a safe, efficient and productive jobsite.
John Boehme is a senior product manager for telehandlers at JLG.