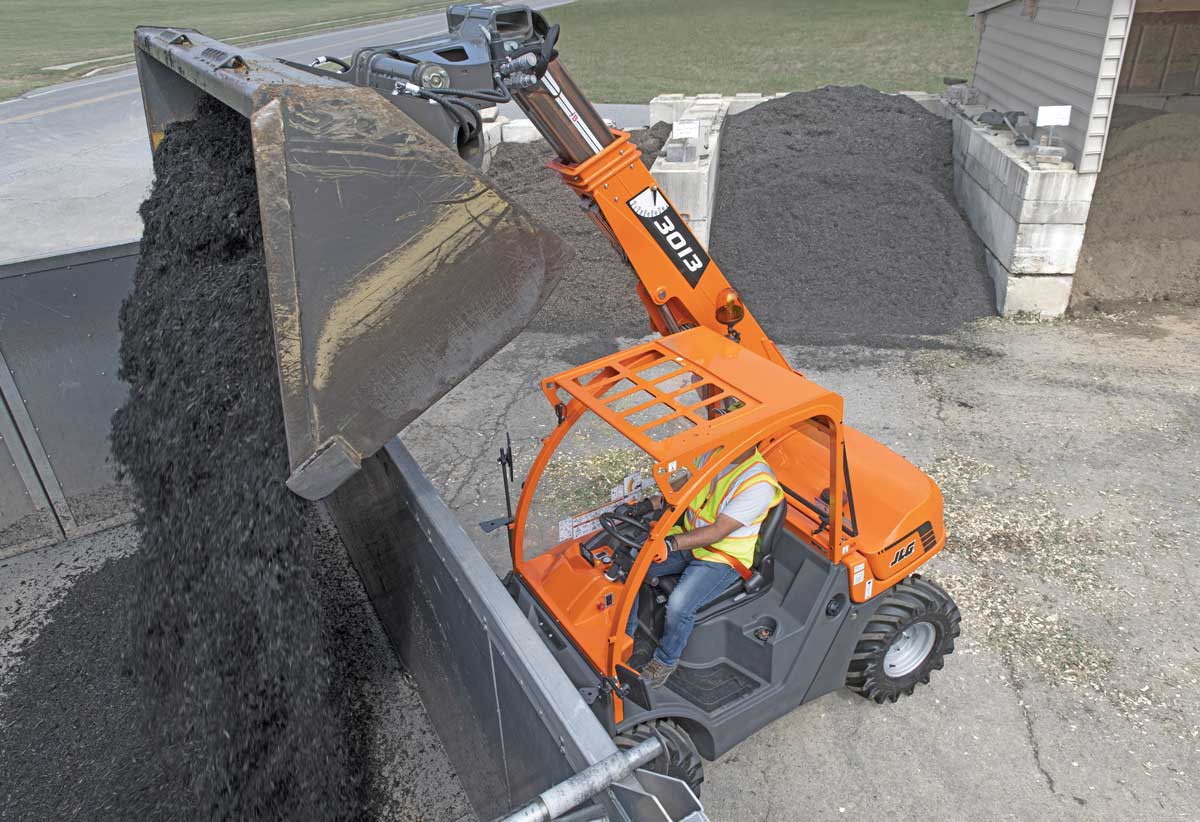 Widely popular in Europe, the compact telehandler "is probably one of the fastest-growing classes in North America," believes Malcolm Early, vice president of marketing for Skyjack. A smaller, tool-carrying version of the more familiar big telehandler, this compact machine is a two-stage boom unit that can usually reach between 13 to 19 ft. Its capability to use hydraulic attachments such as grapples, jibs and brooms makes it a versatile piece of equipment that Early sees "expanding into previously untapped markets, such as residential construction and landscaping."
As end-users witness the benefits of having a multi-tasking machine onsite to increase productivity, Early says it's "quickly becoming a machine of choice in North America." In fact, he adds, it's often the first machine to arrive at a jobsite and one of the last to leave. Expanding Early's observation, John Boehme, JLG senior product manager of telehandlers, believes it's the ultra-compact class that is the fastest-growing telehandler class. He contends that the sub-3,000-lb lifting capacity of the ultra-compact machine provides another solution to jobsite needs. "Smaller telehandlers offer low machine height and weight, making them a good equipment option to consider for work in extremely space-restricted jobsites."
Compact Telehandler Applications: Some of the most common applications for compact telehandlers using attachments include:
Unloading a pallet of material like lumber, drywall or shingles
Suspending a roof truss
Transporting wooden or steel beams
Carrying and dumping loose material like waste or recycling
Sweeping up around the site
Drilling holes for posts or poles
Transporting pipe
Lifting people with personnel work platforms
The Audience and Jobs
While Europe's traditional customer base for the compact telehandler has been the farming community, U.S. farmers don't often rent them because agricultural producers are more likely to own their machines. Instead, the American audience consists largely of "general contractors," says Tony Deatherage, Snorkel service manager, Americas. However, he adds, they also rent to homeowners, maintenance workers, contractors specializing in HVAC and water supply and sometimes even farmers.
The post-pandemic construction boom has resulted in a robust rental market for compact telehandlers, particularly as infrastructure projects commence with the warmer weather. "This means," Boehme says, "that the largest renter of compact telehandlers continues to be general construction contractors."
From unloading materials during the initial phases of a large construction project to performing landscaping and cleanup during the project's closing stages, these versatile machines are useful to hardscapers and landscapers as well as contractors. Their small footprint is comparable with that of a skid steer, but compact telehandlers provide additional lift height and forward reach. Boehme points out that they have "plenty of power to pick up, stack, load, unload, scoop, dump, lift, carry and place jobsite materials."
Available Attachments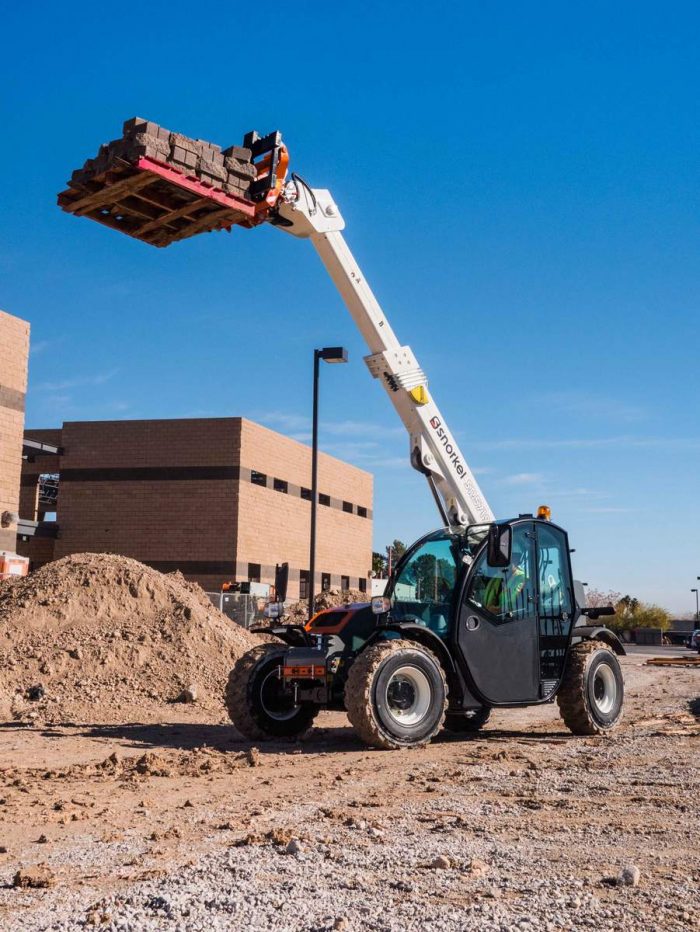 Much of their versatility is supplied by attachments. Attachment options for compact telehandlers are the same as for their larger counterparts, falling into four main categories: buckets, carriages, truss booms/lift hooks and specialty attachments. Within those categories are augers, brooms and cement, dumping and trash hoppers. There are limits, however. Deatherage points out that digging buckets cannot be used with telehandlers, as they are not excavating machines.
Skyjack's newest model, the SJ519 TH, can lift a rated load of 5,500 lbs and has a maximum forward reach of 11.25 ft and a maximum lift height of 19.1 ft. Early explains that with the addition of attachments such as the truss boom, it can be used as a low-level crane. "By using the quick disconnect carriage and adding the skid steer adaptor, the SJ519TH can work with several ground-engaging skid steer attachments such as ground sweepers, snowplows, grapples and others."
The most popular attachments for this "multitasking workhorse" are the material bucket used to keep the jobsite clean and the skid steer adaptor plate that offers the end-user the option of using their existing attachments with the machine, according to Early. Because of their size, compact telehandlers equipped with a universal skid steer coupler can also run skid steer loader attachments. This is an advantage for many construction contractors and landscape professionals because the machine they're renting can be used with attachments they already own. As Boehme says, "There's no need to go out and get another bucket."
Wanna know all about aerial lifts? You're in luck! Click here for a whole lotta articles on these high-reaching machines.
Rental Decisions
According to Boehme, the most common challenge with renting telehandlers is selecting the right attachment for the job. But it all starts with the telehandler itself. Compact telehandlers are categorized by maximum lift capacity and/or maximum lift height, and the equipment is rented based on these key attributes. However, contractors can't assume a higher lift capacity means the unit has a greater maximum lift height; some models are designed to lift heavier loads at lower heights.
Two criteria serve as the starting point in determining the best choice: how much weight will be lifted and how high the load needs to be placed. "Size, reach, power and lifting capacity all play a role in selecting the proper machine for the job," Deatherage lists. He says Snorkel and Xtreme Mfg. have engineered a wide range of options in this particular class, ranging in lifting capacity from 5,000 to 6,000 lbs.
Overall, Skyjack machines range from 19 to 56 ft in lift height and from 5,500 to 20,000 lbs capacity. "Each job comes with a set of requirements based on the type of work that is being done, the loads being lifted, height and reach necessary," Early states.
It's also helpful to know specifics about the jobsite, such as what type of surface(s) the machine will be operating on and how much space is available to operate it. Once those variables are determined, the correct machine can be selected to ensure the job gets done safely and efficiently. Prices vary, based on the machine and attachments selected, Deatherage points out, but the rental company "should be able to suggest models in a range that fit the customer's budget" as well as offer guidance about the right model, based on the job.
Know the Load Capacity
The type of material to be lifted and how much it weighs
How high the material needs to be lifted
How far the machine needs to reach to get the materials into place
What attachments will be needed and the proper load chart for each
A machine's load capacity chart, which provides specific information for each of the different attachments it can support, such as a fork carriage, bucket, or truss boom, is an important consideration when selecting a compact telehandler and attachment combo. The telehandler's load capacity chart highlights two key elements: 1) its operating range and 2) its operating envelope. The operating range of the telehandler reflects the minimum and maximum boom angles, as well as fully retracted and extended boom positions. The operating envelope is located relative to the load center position of the attachment being used.
Hauling and Operating Safely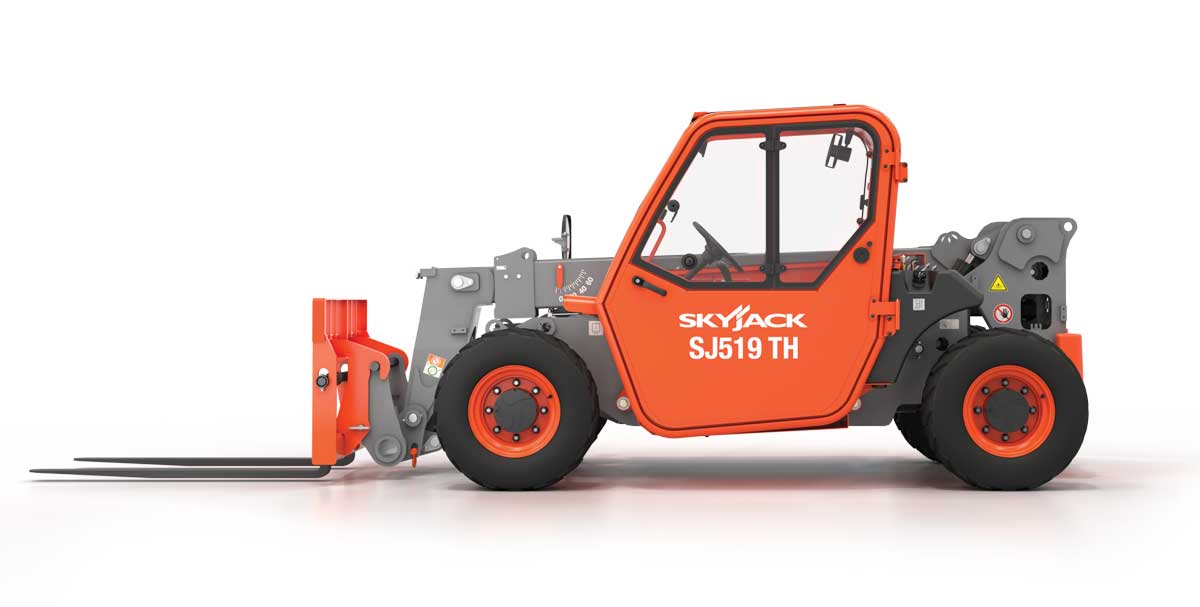 Most dealerships offer delivery or pickup of a compact telehandler. It depends on the state, but a CDL is only usually required if the combined weight of the tow vehicle, trailer and load exceeds 26,001 lbs. Because telehandlers in the compact class can range in weight anywhere from 3,000 to 11,000 lbs, most models fit on a rollback trailer, which means either the rental yard can deliver the machine or the renter can pick it up, Boehme says. "Smaller models, like the JLG SkyTrak ultra-compact 3013 model, can fit on a standard trailer, which means these machines can efficiently be picked up and transported by the renter between landscaping and hardscape jobs."
Once onsite, Deatherage says Snorkel machines are "easy to operate," given proper training and time in the seat. "The controls on our machines were engineered to be very intuitive and easy to understand."
However, as Boehme points out, all sizes and classifications of telehandlers are covered in the Powered Industrial Truck 1910.178 regulations mandated by the Occupational Health and Safety Administration (OSHA), which requires operators to be trained and certified to operate them. Training must cover operating instructions, warnings, vehicle capacity and stability, operating limitations, potentially hazardous environmental conditions and more.
In addition, ANSI (American National Standards Institute) and the Industrial Truck Standards Development Foundation (ITSDF) have developed safety standards for these machines, addressed in B56.6, and in Canada the Canadian Standards Association (CSA) B335-15 applies. Compliance with these standards is voluntary, whereas compliance with OSHA's regulations is mandatory by law.
Fortunately, Boehme says, most rental houses and telehandler OEMs, including JLG, offer telehandler training and certification programs that meet OSHA and ANSI specifications for proper telehandler training, ensuring operators have the right credentials.
Safe operation is critical to productivity. One common safety concern involves potential jobsite hazards. "Before using a telehandler, it is important for renters and machine operators to walk the jobsite to be aware of their surroundings," Boehme advises.
He also suggests that operators should investigate their route before operating a telehandler to see what the ground conditions are, where any power lines are located and where people may be, as well as what other equipment may be in the machine's travel path. "When working in heavily congested areas, it is recommended that the telehandler is equipped with beacons," says Boehme. Similarly, if the operator will be working before sunup or after sundown, it is important to make sure the telehandler has lights.
Lori Lovely is a freelance writer for Compact Equipment.
For reprint and licensing requests for this article, please click here.