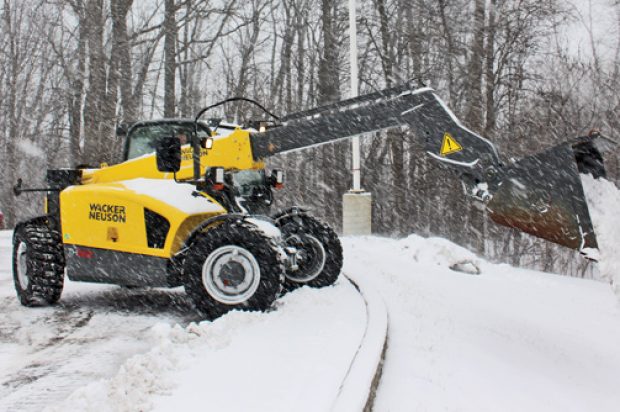 Tool-Focused Compacts Are Breaking the Mold of Lift and Place
Since the beginning of time, man has been trying to create ways to efficiently move and lift objects and materials. We have seen this transition take us from using animals and wagons to today where technology allows us to dig, haul and lift materials with the speed, accuracy and precision that the cave man could only dream of. When it comes to those modern machines that can dig, haul and lift, few reach higher than a compact telehandler.
The history of the compact telehandler can be traced back to its distant cousin, the forklift. With forklifts initially relying on manual strength to lift loads, it did not take long before the combustible engine replaced man. The original forklift morphed into the rough terrain forklift which had a wider footprint to allow for a more stable base while transporting across uneven terrain. However, because it used a similar vertical-lift system as a forklift, it lacked the ability to reach out to manage loads. Responding to the need for both lift and reach, the 1960s saw the first version of what we now know today as the telescopic handler or telehandler for short.
Today, telehandlers have maximum lift heights that range from 12.5 ft to nearly 70 ft. In North America, one of the more common telehandler classes is the compact telehandler. This machine typically has a lift height of approximately less than 19 ft and a maximum capacity of roughly 5,500 lbs. The combination of lift height, capacity and small footprint has allowed the compact telehandler to become a staple for construction sites, agriculture environments and rental fleets.
Looking Past the Forks
We typically think of the telehandler as a lift-and-place machine, meaning that it spends its life with a set of forks on the front and does just that, lifts and places pallets of material. However, changes are occurring rapidly. The newest trend in compact telehandlers is more than your run-of-the-mill lift-and-place machine. Think of them not solely as a telehandler but as a ground-engaging, telescoping, compact tool carrier. This machine has the functionality of three pieces of compact equipment in one:
A compact wheel loader: Designed to withstand the rigors and stresses of digging and ground engagement, it shows its true value with a bucket and moving materials such as dirt, silage and lime through rugged terrain.
A skid steer loader: Coming standard with a universal skid steer plate and front working auxiliary hydraulics, any attachment that you may use on your skid steer is compatible with this machine. The uses of the machine now extend well past material handling. Use a snow blower, silage defacer, sweeper broom and other high-performance hydraulic attachments to complete jobs that normally require multiple pieces of equipment.
A compact telehandler: Able to lift, reach, extend and retract, a compact telehandler can effectively perform all of the tasks that any of its larger siblings can perform, just on a smaller scale.
This versatility turns what was previously a machine with forks permanently attached into a piece of equipment that can operate 365 days a year, in any environment, performing nearly any task with any attachment. Take, for example, these tasks that are now possible with a ground-engaging compact telehandler:
Construction: Lift materials to second floors of a structure, move bucket loads of debris from one side of a jobsite to the other, load the truck to take it away using a hydraulic grapple bucket and sweep the sidewalk all with one machine.
Snow removal: Blow snow using a hydraulic snow blower, plow with a hydraulic angle blade, stack snow vertically instead of pushing it into an ever expanding-pile to clear space in your parking lot or create space by using the telescopic boom to reach and dump snow into drainage ditches and culverts.
Agriculture: Stack bales with a hydraulic bale squeeze, deface silage at heights over 19 ft, clean out stalls using a bucket by driving under doors with a cab height less than 7 ft high, move pallets of feed and other materials, dig and haul dirt with a bucket or install fence posts using a hydraulic auger.
These tasks are just the start of what can be done with a ground-engaging telehandler.
Operator-First Design
With so much versatility, it would seem easy for operators to become overwhelmed with multiple controls and other devices to distract attention away from effectively doing their job. That is not necessarily the case. The design of the machines did not start at the attachment; it started in the operator's seat. If operators do not have the comfort, visibility and intuitive controls to reduce fatigue and minimize the time to acclimate to the machine, then they cannot efficiently work.
The cabs are designed for panoramic visibility and to maximize sight lines to the four corners of the machine as well as the attachment. A single function joystick that is consistent in all machines controls drive direction, raising and lowering of the boom, extension and retraction of the boom, tilting and retracting of the attachment, auxiliary hydraulic functions, 100 percent differential lock and speed control all with one hand.
Keeping one hand on the steering wheel and one on the joystick keeps the operator focused on the task at-hand instead of looking around the cab for various controls. A digital indicator monitors weight on the rear axle and notifies the operator, both visually and audibly, that the machine is nearing or in a potential tipping situation. Load settings such as bucket mode and fork mode adjust the functionality of the working hydraulics to optimize performance of each attachment. All of these features are designed to keep the operator's focus on the job and to effectively and efficiently complete it.
On the Move
Not every jobsite offers the space to make it easy to get your job done. Compact telehandlers of today not only dig and lift but also excel in maneuverability. Three selectable steering modes enable the operator to precisely control the machine in any application. In four-wheel steering mode, all four wheels are synched to turn at the same time, delivering the tightest turning radius possible. In two-wheel steering mode, the machine operates like an automobile. The rear wheels remain fixed while all turning takes place with the front wheels. This is ideal for transport over longer distances. At top speed, a larger turning radius is more preferred. In crab steer mode, the machine can move horizontally. This is perfect for scenarios such as needing to get tight against a wall or fence. In all modes, a lever in the cab allows you to easily adjust from one to the other.
On sites such as farms and large construction projects, getting from one side to the other can take away valuable time from the operator. With travel speeds of 19 mph, operators can get from point A to point B faster, leaving more time to get work done.
One Machine, Many Solutions
On nearly every jobsite in North America, from agriculture to construction, you will find a skid steer, a telehandler and often times a wheel loader. On many occasions, you find only one of them operating. This means it takes multiple trailers of equipment with multiple attachments to get equipment to a jobsite that all have specific uses. If you are renting the equipment or have purchased the machines, those are big investments to have sitting idle. With a ground-engaging, compact telehandler, you have one machine with attachments that all fit on your skid steer or wheel loader and can perform the same tasks as all three machines.
Brent Coffey is the loaders product manager at Wacker Neuson.