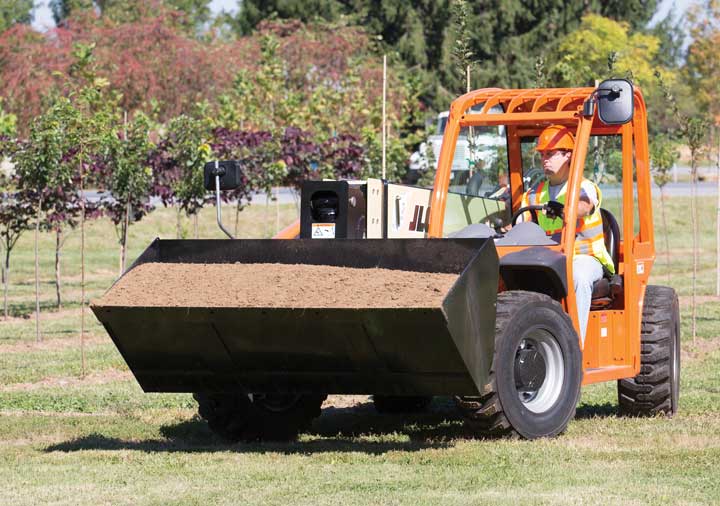 Compact telehandlers continue to reach out for new markets. The machines began as one-dimensional industrial forklifts and, 40 years ago, evolved into material movers with lift forks attached to telescopic booms. Compact models and new attachments added to the machine's versatility. Today, small telehandlers have the latitude to undertake tasks far removed from a commercial building site.
The Genie GTH-5519 is representative of this breed of multi-purpose machine. In fact, it paved the way for the compact telehandler market in North America. "It really has been the pilot machine going into new industries, including golf course maintenance and snow removal," says Josh Taylor, manager of the Genie product line for Terex Corp. "This was a function of it being a compact, productive, durable machine. Attachments have followed the machine into the new markets, as opposed to vice versa."
The compact telehandler market generally is comprised of machines with hydrostatic transmissions, power plants in the 65- to 85-hp range and two-stage booms that can reach 18 ft or more into the air. The 5-ton machines have hydraulic pumps circulating from 19 to 24 gpm and a lifting capacity of 4,000 to 5,000 lbs. This category of telehandler is powerful enough to perform a broad range of tasks but small enough to squeeze through narrow alleys and under low overhangs.
And they don't just lift, though raising material from one level to another remains a fixture of compact telehandler work. Structural material delivered by truck to a work site is of no value to second-floor crew members until a telehandler raises it up to them. So forks that slide under a stack of structural beams or a pallet of shingles remain a staple tool of the compact telehandler.
Somewhat surprising is that attachment systems for these machines are, for the most part, proprietary. That is, the forks and truss booms most commonly utilized by a particular brand of machine are attached using manual or hydraulic systems specifically designed for that brand's tools. The various systems employ a variation of the top-hook and bottom-pin connecting method but lack true universality.
On the other hand, manufacturers offer universal skid steer adaptors so that many of the tools popularized by skid steers and track loaders can be mounted on the end of a boom. This has broadened the appeal of the compact machine.
"Buckets are the most common attachment for compact telehandlers beyond the fork carriage option," says Mike Peterson, product application specialist for Caterpillar. "General purpose dirt buckets are the most common in the constructions segment, while grapple buckets are common in the ag applications."
Cat's compact telehandler is the TH255C. "It is popular on commercial building construction jobsites but also is employed in quite a number of residential, industrial, green energy, landscape and agriculture applications. Customers appreciate its big reach given its compact size," says Peterson. The 255 model is just 3 in. over 6 ft in height and less than 6 ft wide.
"It is able to enter 7-ft industrial doorways, maneuver comfortably through most parking garages and assist in the loading and unloading of ISO standard 40-ft containers," Peterson says. "The small turning radius provided by the four-wheel circle steer mode lets it handle tight driving conditions."
Compact telehandlers are indeed wonderfully maneuverable machines because of four-wheel and crab-style steering options and a turning radius often under 11 ft. Getting in and out of structures with a bucket or fork load are a hallmark of these machines. "The JLG G5-18A is ideally suited for work in congested spaces and any application with overhead height restrictions," says John Boehme, JLG's telehandler products manager.
The G5-18A can do a 180-degree turn inside 127 in. Its Tier 4 Final Deutz engine has an optional reversing fan for when the telehandler is used in dusty basements or other enclosed commercial structures where airborne material can clog the radiator. If a sweeper or rotary brush is raising a cloud in a confined space, the engine's cooling system is not impaired.
Scooping up swept-together material or cleaning up an outdoor jobsite is as easy as quick-coupling a bucket to a telehandler boom. JLG offers buckets in different widths including a 73-in.-wide bucket with a cubic yard of capacity. Boehme makes a point of noting that boom-buckets are not designed for digging — an application that stresses the boom. If a contractor wants to sink a bucket's leading edge into the ground, using a machine with a bucket more directly mounted to a frame — a small dozer, perhaps — is the better choice.
The hydraulics on compact telehandlers power grapple buckets, four-way buckets and sweeper brooms. In fact, Taylor paints a construction scene in which the compact machine is constantly in use.
"From the start of a job to the last day of cleanup, the Genie GTH-5519 can provide value on a work site. It is used for unloading trucks, moving pallets of material, placing loads at height and, with a wide range of available attachments, it can even sweep and plow the jobsite. When the job is finished, it has a rubbish bucket attachment for collecting all the debris and putting it in the dumpster. Our customers can put it in any contractor's yard and find a use for it."
Genie offers a 4-ft-by-9-ft work platform suitable for its compact telehandler, as well as a spreader bar for safer suspension of long beams. All of these attachments make compact telehandlers especially appealing to rental yards, which can rent them to a wide range of customers.
Caterpillar is tiptoeing further into the agricultural market with a compact-plus model, the TH306D. It was designed with ag customers in mind. Though Cat has introduced the model, it will have limited availability in 2017. While the 306 is still compact, it is a foot higher and 2 ft longer than the usual compact telehandler and requires 12 ft for turning. It weighs nearly 7 tons, can reach 19 ft in the air and can pick up 600 more lbs than the smaller models. Its engine is listed at just under 100 hp.
"The 306 has a wider array of work tool attachments including an auger and multiple truss booms," Peterson says. "It also has a number of attachments specifically for the ag market including bale forks, muck grapple forks and a bale grab. Industrial customers may find they like the additional lift-and-reach capacity as well as increased auxiliary hydraulic flow."
So the compact telehandler market is still expanding, an expansion that is self-perpetuating: As adaptations are made, even more adaptations are tried. Genie typifies the attitude, Taylor says. "Genie has always prided itself on being responsive and customer-focused. We are in constant contact with our partners in the field to make sure we are able to get the GTH-5519 on every job we can. If a customer has a special request, we make a concerted effort to review and see if we can make it happen."
"The popularity of super compact telehandlers continues in applications where a small footprint and lower machine height are required," says JLG's Boehme, citing nurseries and parking garage construction. "The segment is seeing some of the same trends as the overall telehandler market. The market continues to be focused on return on investment as defined not only by acquisition costs, but the cost of the product over its lifetime."
Giles Lambertson is a freelance writer for Compact Equipment.