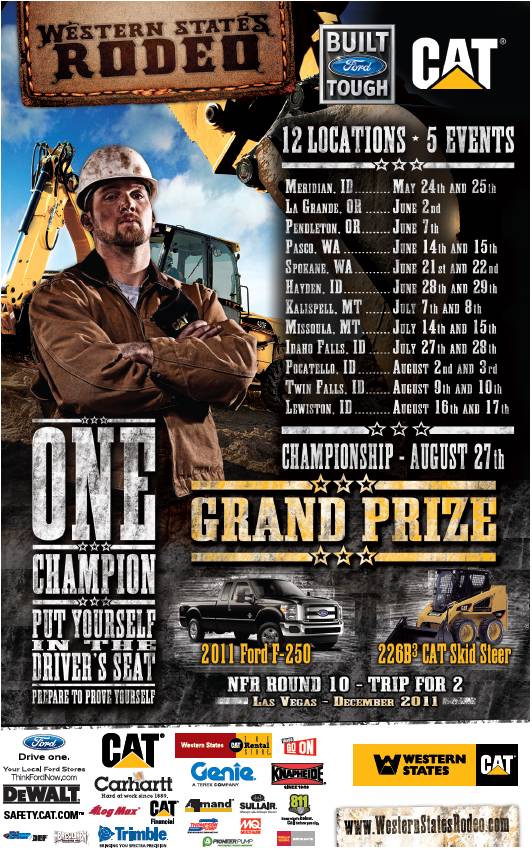 Western States Cat announced today its first ever Western States Rodeo with challenges held at 12 locations across Idaho, Montana, Oregon and Washington to determine the best heavy equipment operators in the area. Operators will compete for prizes in a number of skill-focused contests during the rodeo, including the grand prize of a brand new 2011 Ford F-250 Truck for the championship winner and a 226B3 skid steer for the winner's sponsoring company. Winners from each location will battle for the Best Equipment Operator title on August 27 in Meridian, Idaho.
"Cat equipment is known for its reliability and durability, so it is only fitting that we determine the best operators in our territory with challenges that test how they do under pressure," said Western States president Tom Harris. "We believe our customers and operators are the most talented in their industries and are excited to recognize and reward their efforts during the 2011 Western States Rodeo."
Each of the local rodeo challenges will include five equipment events to test the skills and versatility of operators, from backhoe tire stacking to navigating a skid steer through an obstacle course. Individual events may vary slightly by location, with each local contest winner receiving an award and an invitation to the Championship Round.
"Beyond the competition, the 2011 Western States Rodeo is also a great opportunity for us to give back to each of the communities we serve through local charities and we thank our tremendous sponsors for making this happen," continued Harris.
Western States Cat and the Go On Idaho campaign are partnering to donate $500 to select local charities at each rodeo event, which will range from local Skills USA, Future Farmers of America (FFA) and 4H chapters to Diesel Mechanic and Construction School programs. Each event will also provide an opportunity for the selected organization to learn more about the industries served by Western States Cat and gain valuable volunteer experience. More than $6,000 will be shared with local charities throughout the course of the campaign.
Cat, Ford, Carhartt and DeWalt are among more than twenty industry sponsors partnering to provide prizes to participants and event attendees. Together these sponsors will contribute more than $150,000 in awards and giveaways, including a new 2011 Ford F-250 Pickup Truck, a trip to Las Vegas for the National Finals Rodeo (NFR) and many other prizes. Each event will offer $2,500 in promotional giveaways. Those interested in signing up online for exclusive prizes can do so atwww.westernstatesrodeo.com.
Following are the dates and times of each local contest:
Meridian, ID: May 24-25
La Grande, OR: June 2
Pendleton, OR: June 7
Pasco, WA: June 14-15
Spokane, WA: June 21-22
Hayden, ID: June 28-29
Kalispell, MT: July 7-8
Missoula, MT: July 14-15
Idaho Falls, ID: July 27-28
Pocatello, ID: August 2-3
Twin Falls, ID: August 9-10
Lewiston, ID: August 16-17
CHAMPIONSHIP
Meridian, ID: August 27 Tags: backhoes